'It's pretty cool,' says developer about views from new Des Moines development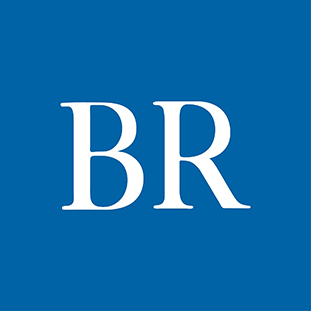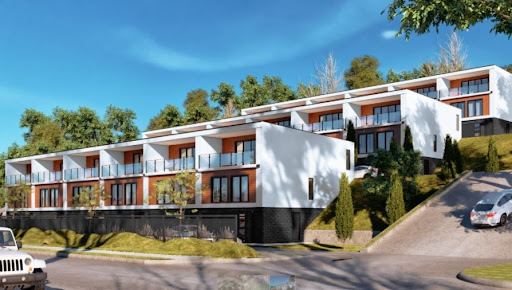 Construction has begun on the first group of row houses that are planned on a hillside overlooking Gray's Lake and the Raccoon River. Architectural rendering special to the Business Record
A little over a year ago, Adam Sieren began contemplating buying property for rentals south of the Raccoon River.

The property was located on the side of a hill south of Indianola Avenue. When he visited it, he was immediately bowled over by the views. From the site he had clear views of Principal Park, the Iowa Capitol, downtown Des Moines and Gray's Lake.

"You can see the Des Moines River winding north," said Sieren, owner and founder of Premier Construction, located in West Des Moines. "It's pretty cool."

Sieren, with business partner Ryan Gruss, began making plans for an owner-occupied row house development that would provide residents with the panoramic views of the central business district and surrounding bodies of water. Property on the hillside was purchased, and in June the Des Moines Plan and Zoning Commission approved a site plan for an 18-unit row house development.

The development, called Elevate Townhomes, will include three three-level rectangle-shaped buildings, each with six units that will feature large windows and patios that provide views to the north. Each unit will have 1,550 square feet of space, a tuck-under two-car garage, two bedrooms and an area for an office. Stairs will connect the three levels. The units are expected to sell for $425,000 each, Sieren said.

Existing structures on the property, which will be readdressed as 550 Indianola Ave., have been razed. Construction on the first building is underway, Sieren said.

The project is in an area being eyed for redevelopment.

More than a year ago, Des Moines city planners began looking at infrastructure needs in the southwest quadrant of the city. As part of the review, the city hired Confluence Architecture to help create a master redevelopment plan for the 140-acre area called the South of Gray's Lake District. The area is on both sides of Thomas Beck Road between Southwest Seventh Street and Fleur Drive and currently includes industrial, office uses and vacant land.

Members of the Urban Review Design Board this week were updated on the master plan, which shows a redeveloped area that includes retail, commercial and a mix of multifamily residences, including the Elevate project.

Sieren said a model unit could be ready to view in late January. Units will be available for sale in March, he said. Construction of the other two buildings is expected to be completed by fall 2022.

Sieren and his business partner are also purchasing property at 508 and 520 Indianola Road. The property is the site of the High Dive Bar, an establishment that has had numerous calls for police in the past year, including in October when two people were injured in a shooting. Sieren said he expects the building to be torn down next spring. Eleven row house units are planned on the site, he said.

"That one will be directly facing downtown," he said.

The projects are Sieren's first developments.

"I've done developments for clients, but nothing like this," he said. "It's a learning curve, but I've been doing a lot of studying and learned a lot."

BNIM selected to develop state agency's campus
BNIM architectural firm has been selected to develop a master site plan for the Iowa Finance Authority's campus at 1963 Bell Ave. The firm, which responded to a request for proposal from the state agency, was awarded a contract not to exceed $20,000, according to a spokeswoman. Iowa Finance Authority's campus anchors the southwest corner of the 140-acre South of Gray's Lake District. According to the RFP, the agency wants to integrate into the master site plan best practices involving green infrastructure, renewable energy, public art, and health, wellness and active living. The master site plan process is expected to be completed by early February.
Facebook Notice for EU! You need to login to view and post FB Comments!