J. Ann Selzer: 2011 Women Business Owner of the Year
President, Selzer & Company Inc.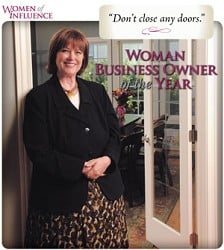 J. Ann Selzer found her calling at the age of 5. Her first attempt at polling involved only neighborhood mothers who happened to be at home, and the question was a bit slanted, but still.
That poll found widespread support for making the other kids abandon the nickname they had given Selzer. In the years since, she has proved her value as a pollster well beyond the neighborhood. Operating as Selzer & Co. Inc., she does the polling for The Des Moines Register and conducts a national poll and a global poll for Bloomberg News. Colleges and corporations call upon her services.
Her accuracy in political matters has put her on the "CBS Evening News," the Fox News Channel, "PBS NewsHour" and NPR, among other media outlets. In 2004, she received the Research Award of Merit from the Newspaper Association of America.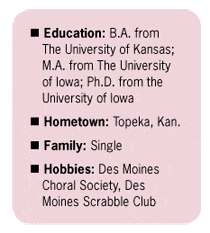 In short, if you want to know what people are thinking, she can find that out for you.
Selzer, 54, grew up in Topeka, Kan., the daughter of a surgeon father and a journalist mother. She was the middle of five kids, and often missed out on activities involving just the oldest two or the youngest two. "I thought, 'I'll show them,'" she said.
After graduating from the University of Kansas and receiving a master's degree and a Ph.D., both in communication research, at the University of Iowa, she started her professional career here as director of research for Starr & Associates. She moved to a public opinion research firm in Washington, D.C., then landed a job at the Register, running its venerable Iowa Poll operation. In 1992, after building up "the J. Ann Selzer Freedom Fund," she struck out on her own.
First came Selzer Boddy Inc., then in 1996 she went solo with the company she runs today. She works out of a building that she had constructed in 2010 at 308 Fifth St. in West Des Moines' Valley Junction.
Outside interests include the Nexus club and the Powwow discussion club, which assembles once a month to present and critique papers. Selzer also sings first alto with the Des Moines Choral Society, where "everybody is pushing for excellence, and I don't have to be in charge," she said.
But for the most part, she loves to be in charge. When she got into a dispute with a landlord, Selzer argued the case in district court by herself, no attorney, and won.
She also has the competitive streak a business owner needs. When she joined the Des Moines Scrabble Club, she found herself losing regularly to former Principal Financial CEO David Hurd. "I figured out how to counter his strategy," she said, "and when I began beating him, I knew I was ready for the Iowa Senior Olympics."
Where she won a gold medal.