Jasa renews fine-dining focus with Zingaro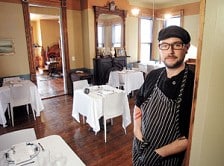 Hal Jasa hung up his corporate chef's hat when he opened Underground Inc., a roving restaurant that made use of several locations around the city.
That two-year venture, which in 2007 attracted national attention from Food and Wine magazine, ended a year later.
Since graduating from the Iowa Culinary Institute in 2001, Jasa has cooked in a number of local kitchens, including Phat Chefs and 25th St. Café. He has also worked as executive chef of 801 Chophouse downtown.
Now he has resurrected his fine-dining-events business with the December 2010 opening of Zingaro, which is defined as a gypsy or laborer who moves from place to place, in Sherman Hill.
Jasa, 32, said providing quality dining experiences with food prepared from locally produced ingredients in personal settings is more important to him than fat paychecks.
"We want to make fine dining affordable, without a pretentious feel," said Jasa, who prepares and cooks three-course meals for the approximately 60 or more people each week who visit the restaurant in the Sheuerman House at 1605 Woodland Ave.
Jasa leases the first floor of the 106-year-old Queen Anne style house, which has been furnished by its owner, York Taenzer, with Victorian furniture, fine art and a baby grand piano. It seats up to 20 people in the main dining area, as well as parties of six to eight at the chef's table in the kitchen.
"We are not here to see how many people we can pack in," Jasa said. "I know what I need to make in a night to sustain me and my staff."
Jasa, who is employed part time at Mars Café and cooks occasionally at Café di Scala, said his main motivation for the new restaurant was to spend more time with his 11-year-old son.
"My son helps me with the menus," he said. "He's great with desserts."
Zingaro, which is open on Thursday and Friday nights from 5:30 until close, will offer a Valentine's Day menu of chocolate-infused foods on Feb. 10-11, as well as on the holiday, Feb. 14.