Jefferson draws a crowd at Rural Forge opening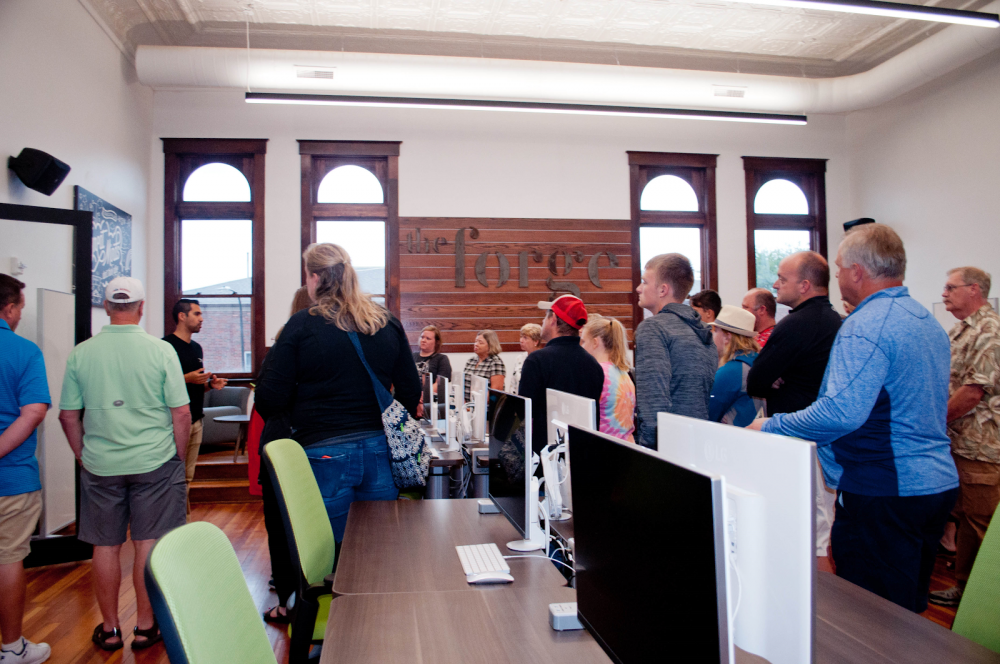 Jefferson, a small community just shy of 5,000 residents, drew some big names at the latest business opening on Saturday.

More than 500 people turned out to the grand opening of the Pillar Rural Forge, including Gov. Kim Reynolds, U.S. Rep Ro Khanna of California, and executive leadership from Facebook, Accenture and Corteva Agriscience. The new remote office for Pillar employees is designed to bring tech jobs to the county and offer a future technology Forge Academy in partnership with Des Moines Area Community College and Corteva Agriscience, which pledged $187,500 toward 25 computer science scholarships.

The Forge was already more than a year into planning when Accenture Industry acquired Pillar Technology in October 2018, said Chad Jerdee, Accenture's global head of responsible business, corporate sustainability and citizenship. Two other Forges are located in Columbus, Ohio, and Detroit.

"We foresee huge demand for tech and software skills, and the Forge is one of our Industry X.0 offices that did come with the acquisition of Pillar, and it's part of a larger global strategy that we have in place. … We believe companies have a role to play in addressing those issues and rebuilding the health of the economy in certain areas," Jerdee said.

While Accenture hosted a community open house on Saturday, future employees have not yet been hired — the company said it will begin accepting applications later in September and has room for 30 employees, although it does not know yet if it will hire that many, a spokesperson said.

Glidden student Safura Kahn is the first Corteva scholarship recipient who will enroll in DMACC's computer languages department, a prerequisite to Accenture's Forge Academy, said Corteva Agriscience CIO Debra King. Corteva's rural scholarship program will financially support students from 40 rural communities that make up the so-called Lincoln Corridor, King said.

"It was a perfect opportunity for us to get involved and help those in rural communities, and create great opportunities for them at Corteva," King said. "When this came to my attention early this year, from a contact at Accenture, I raised my hand and was more than happy to say, 'We're in.'"

Scholarship students will need to graduate from DMACC before they can begin a four-month training period with Accenture at the Rural Forge.

"We're not just giving out scholarships. We have a vested interest in the students who get the scholarship because we want them to come in for internships, we want them to come work at Corteva, [and] we're going to provide mentoring for them," King said.
Facebook Notice for EU! You need to login to view and post FB Comments!