Koehns to receive Bravo Award at Feb. 5 Gala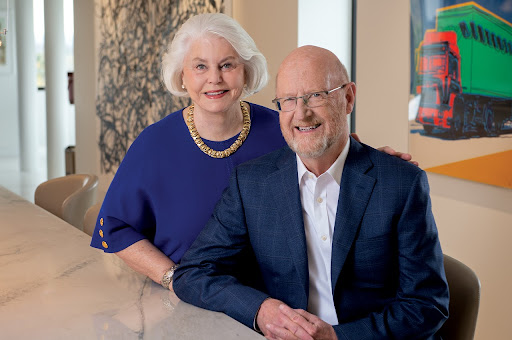 Linda and Tom Koehn will receive the Bravo Award at the Bravo of Greater Des Moines Gala on Feb 5. Photo by Duane Tinkey
Tom and Linda Koehn will be honored with the annual Bravo Award at the Bravo of Greater Des Moines Awards Gala on Feb. 5.

The award is given each year to a person, family or foundation whose commitments to arts, culture and heritage have had a positive effect on the region.

According to a release, the Koehns have a long history of charitable giving and volunteering. They have provided leadership, vision, capacity building and advocacy for every organization they have been a part of, helping to drive a stronger, more robust cultural landscape for the future.

They have served on boards or participated in fundraising for various organizations, including the Des Moines Symphony, Des Moines Metro Opera, Des Moines Art Center, Science Center of Iowa, Greater Des Moines Botanical Garden, Des Moines Performing Arts, Hoyt Sherman Place and the Des Moines Community Playhouse. The Koehns were awarded the AFP Pillar of Philanthropy Award in 2015. They also serve as honorary chairs of the Des Moines Metro Opera's 50 Next campaign to advance the opera's artistic legacy and serve a growing and diverse population.

Tom Koehn said he and his wife are fortunate to live in a community that has benefited from generations of generous people who have "helped create and nurture the great community we all share today."

"Our desire is to do our part in continuing that long tradition," he said in the release.

The Koehns' commitment to the community also includes quality of life initiatives, such as ICON Water Trails, the Des Moines Water Works Park Foundation, Friends of Des Moines Parks Foundation, and higher education, where they have supported Drake University, Simpson College and Cornell College.

According to the release, the Koehns also are passionate about organizations – including United Way of Central Iowa, the Food Bank of Iowa, Hope Ministries, and Variety – that work to improve the lives of everyone in the community.

Tom Koehn, who serves as chair of the Waldinger Corp., was also inducted into the Iowa Business Hall of Fame in 2020.

Along with the Koehns being honored with the Bravo Award, the event will recognize two of Bravo's cultural partner organizations who will receive Spotlight Awards.

The annual Bravo Awards Gala celebrates the organization and its work to maximize the impact that arts, culture and heritage have on the community.

Tickets are available now. Proceeds help offset Bravo's operating costs, and 100% of revenue beyond those costs will be distributed directly to the more than 70 local cultural partners Bravo supports.
Facebook Notice for EU! You need to login to view and post FB Comments!