LAUNCH: Cognizant Technology Solutions Corp.
After striking deal with ING U.S., Cognizant will establish 'insurance centers of excellence' in Des Moines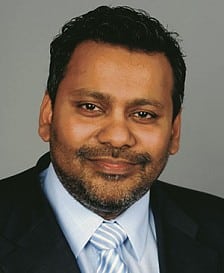 Greater Des Moines has gained the presence of another major global Fortune 500 insurance company without losing an existing major insurer to a buyout or merger.
On June 14, Cognizant Technology Solutions Corp. and ING U.S., a subsidiary of Dutch financial services giant ING Groep NV, announced they had entered into a seven-year agreement in which Cognizant will establish an "insurance center of excellence" that will have operations in Des Moines and Minot, N.D.
The agreement, which developed out of a six-year relationship between the two companies, is a recognition of "an emerging and robust business opportunity that's beginning to show up in the insurance industry," said Gajen Kandiah, Cognizant's managing director of business process services. Since 2006, Cognizant has been working as an information technology partner with ING to provide end-to-end processing services for ING's annuities business. Now, with the center of excellence, Cognizant will also provide those business process services to other insurers, he said.
To quickly ramp up the operation, the $330 million agreement calls for more than 1,100 ING employees in Iowa and North Dakota to become Cognizant employees. About 400 of those employees work at ING's downtown Des Moines office, where Cognizant will sublease one floor. In Minot, Cognizant has purchased ING's facility and plans to absorb about 700 ING employees there.
"The exciting part of it for us is the ability to bring our expertise and combine it with the expertise of the ING team that will come on board," Kandiah said.
From ING's perspective, the expanded relationship with Cognizant will enable the insurer to operate more efficiently, ING President and Chief Operating Officer Rob Leary said in a release.
"While this expanded relationship represents job continuity for our transitioned employees, it also allows us to focus on our ultimate mission – providing the retirement, investment management and insurance solutions that help our clients meet their financial needs," he said.
Kandiah said it's too early to know how many of the employees who have been extended offers to join Cognizant will accept. "My hope is that all of them will," he said.
Cognizant has reached similar agreements in the past with client companies to acquire a portion of their work force, Kandiah said, among them UBS AG, CoreLogic Inc., UnitedHealth Group Inc. and American Express Co. In August 2011, for instance, Cognizant acquired CoreLogic's India-based operations, including approximately 4,000 associates, to enhance its capabilities in the residential mortgage processing business.
"Certainly, within the U.S., (the ING deal) would be largest opportunity of this type, to integrate a reasonably large group of people," he said.
Cognizant, which joined the ranks of the Fortune 500 last year, began in 1994 as the technology arm of The Dun & Bradstreet Corp., and within 10 years was recognized as a leading provider of information technology services by prominent industry analysts. Its financial services practice, which generates 41 percent of the company's revenues and is its largest industry segment, has as clients nine of the top 15 North American financial institutions, all of the top 10 European banks and seven of the top 10 global insurers.
Last year Cognizant, which employs more than 140,500 people globally, reported revenues of $6.22 billion. In May, Cognizant reported a nearly 25 percent year-over-year increase in revenues and revised its guidance for 2012 revenue growth to at least 20 percent. The company also announced an expansion of its share repurchase program from $600 million to $1 billion.
In the insurance industry, Cognizant works with property and casualty insurers, life insurers, reinsurance firms and insurance brokers, focusing on areas such as business acquisition, policy administration, claims processing, management reporting, regulatory compliance and reinsurance.
"Overall, we see the insurance niche as a very good niche for us," Kandiah said. "The growth has been robust in this market, and our growth supporting that within our insurance practice has been robust."
For now, the sublease agreement with ING "allows us to get up and running quickly," he said. "But we anticipate a long-run presence. This will become our office in Des Moines."