Flexible office space provider opens 2nd area location, this one in the downtown district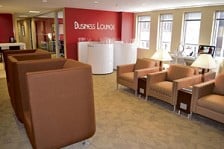 The demand was there; the location made sense. And so far, the response has been positive.
Regus PLC, a global provider of flexible workspaces, recently opened its second location in Greater Des Moines, this one at Hub Tower downtown. The first area location, in West Des Moines, opened about three years ago.
"We've had some pent-up demand for this district, and really Des Moines has a demand that's rising for new and alternative places to work," said Scott Ravenscroft, area director for Regus' Heartland district, which includes Iowa, Minnesota, Wisconsin, Nebraska and Kansas City. "We want to meet that demand. It has really been there."
The downtown location, which opened in late May, is serving about 45 clients, he said, which is about 40 percent capacity, in addition to more than 100 clients in West Des Moines. The downtown location is off to a good start considering it has been open fewer than two months, Ravenscroft said.
Regus offers a number of options for businesses. It offers short-term or long-term lease agreements, spaces that are already fully equipped with a phone system and Internet access, and coworking spaces. It will even manage the mail and phone system of a home-based or virtual business.
There are also mobile membership options, where Regus clients can use facilities all over the world when traveling.
The space differs from an incubator in that there are no on-campus mentors, but by nature tenants in different businesses will work together or share ideas, said Jennifer Espeland, market team leader at the Des Moines location.
The location of the downtown office was ideal for Regus, Ravenscroft said, because of the growing start-up and entrepreneur scene, fueled in part by what has been called "Silicon Sixth Avenue." About 50 or 60 percent of businesses that lease space from Regus worldwide are in the start-up stage, many in high-tech businesses, Ravenscroft said.
That, coupled with a good business climate in downtown Des Moines, made the location a "no-brainer," Ravenscroft said.
"Des Moines is a great market for us," he said. "We've got two locations now. I can see a third on the horizon. It's that strong of a market."