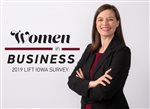 For almost five years, Lift IOWA has worked to be a resource for women and men committed to advancing female leadership and business ownership throughout the state. Lift IOWA also supports efforts to increase the presence of women on boards, on commissions and in political office.
Each year we see progress, but will the momentum continue? Will the events of the past years translate to positive change?
In our fourth annual Lift IOWA survey, we hope to put a finger on the pulse of this momentum and where our readers believe it is headed.
Of note, we had record male participation in the survey this year, as 20 percent of respondents were men.
As always, please remember this is not a scientific survey, and is only intended to provide a window into a variety of sentiments and opinions on the topic.
Thank you to those who participated in this survey, and thank you to everyone for the role you play in helping Iowa companies and residents move the needle on female leadership.
WHO TOOK THE SURVEY
A total of 329 people — about 20 percent men — took the online survey between March 11 and March 18.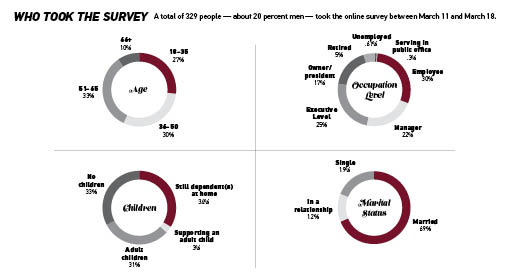 AGE
18-35 – 26.89%
36-50 – 30.21%
51-65 – 33.23%
66+ – 9.67%
OCCUPATION LEVEL
Employee
29.70%
Manager
22.12%
Executive level
24.55%
Owner/president
17.27%
Retired
5.45%
Not currently working
0.61%
Serving in public office
0.30%
MARITAL STATUS
Married
68.79%
In a relationship
12.42%
Single
18.79%
CHILDREN
Still dependent(s) at home
33.74%
Supporting an adult child
3.04%
Adult children
30.70%
No children
32.52%
QUESTIONS:
1. Some have called the past two years "a turning point for women's rights." Do you feel we are witnessing a turning point?

2019 RESPONSES:
YES
68.35%
NO
9.17%
UNDECIDED
22.48%
2018 responses:
YES
73.33%
NO
6.67%
UNDECIDED
20.00%
Editor's Note:
We first asked this question last year as the #MeToo movement was really gaining steam. It appears there has been a slight shift away from the belief that we are witnessing a turning point, as the percentage of respondents who thought so was down 5 points from last year. Based on comments in the survey, the primary reason for a 'no' or 'undecided' vote is that "time will tell" or concern that this will end up being a blip as in other movements in the past. That being said, a large majority, 68 percent, still believe we're witnessing a turning point.
YES
Jackie Norris – President and CEO, Goodwill of Central Iowa
I think misconduct in the workplace can no longer be overlooked. Employees (men and women) are aware of their rights and responsibilities in the workplace, and organizations have been put "on notice" regarding sexual misconduct. Organizations who choose to ignore it do so at their own peril.
YES
Brenna Finnerty – Director of Development, Blank Children's Hospital
Although I'm not sure we've moved the needle to the point where we've seen change in behaviors, what we have done is start a conversation … and that's a start.
NO
Eric Heininger – Managing Director, EDEN+ Fundraising Consulting
Exposing misconduct and the gender pay gap is the bare minimum we need to be talking about in our community. There is still so much more that needs to occur before we can declare it a turning point. A turning point would be going from a backslide of unethical behavior to actual progress.
UNDECIDED
Mona Bond – President, Capitol Communications Inc.
Having lived many years, we have seen these "pop up" efforts … sustaining this will be the true test. Does this generation have the ability to stick to it?
2. Do you believe the #MeToo movement, as well as other publicized events (e.g. Women's Marches) will result in positive change for gender equality?

2019 RESPONSES
YES
63.30%
–
NO
6.88%
–
UNDECIDED
29.82%
2018 RESPONSES:
YES
59.73%
NO
13.42%
UNDECIDED
26.85%
Editor's Note:
While a majority — 63 percent, up 4 percentage points from last year — of respondents believe there will be positive change for gender equity, nearly 30 percent are undecided. Those in the undecided camp seem to be there out of a place of caution, and a desire to take time to see if the efforts will result in sustained change.
YES
Georgia Van Gundy – Executive Director, Iowa Business Council
I believe the movement has elevated the issue. Now we have to make sure we find a balance in how we position issues and involvement so that men who are our allies continue to feel comfortable in their support of women and gender equity.
YES
Loren Bawn – Operations Manager, Iowa Bureau of Refugee Services
Sexism and paternalism are pernicious, and those who formerly excused such behaviors as "locker room talk" or "boys will be boys" have new opportunities to grow up and start behaving like decent adults.
UNDECIDED
Sherri Nielsen – President/CEO, Easterseals Iowa
The movements and events increased conversation. The next step is celebrating men and women who demonstrate integrity and respect in their actions.

UNDECIDED
Anonymous Manager – Female, 51-65
There is a good chance it can as long as the radical fringe of the movement doesn't get the majority of the attention from it. Hope it can focus on making changes for the mainstream.
3. Do you feel the #MeToo movement has been helpful to professional and working women?

2019 RESPONSES
YES
67.58%
NO
14.16%
UNDECIDED
18.26%

2018 RESPONSES
YES
59.33%
NO
13.33%
UNDECIDED
27.33%
Editor's Note:
This question saw one of the most sizable shifts from last year's results, as "yes" responses increased 8 percentage points. That appears to be due to a shrinking of the "undecided" pool of respondents in comparison with last year. In total, 68 percent of respondents believed the #MeToo movement had been positive for professional women. For those who voted no or undecided (and in some cases from yes respondents), there seemed to be two primary concerns with the movement, based on survey responses. One was a concern that men were withdrawing mentoring support out of fear ? we explore that further in question 4.The other was that perhaps the movement had led to an increase in false allegations or more situations where women were using the movement inappropriately or for personal gain.
YES
Peggy Fleming – Director of Communication and Engagement, West Bank
It's changing the whole face of the workplace for women. In the old environment where women (and sometimes men) were treated as less than human, women learned to succeed by pushing other women down. Now, when our voices are being heard and we can see that there is room to advance our careers, we are more able to lift up other women and help each other to succeed. Our success is not dependent on putting up with abuse and acting like "one of the boys."
YES
Mike McCoy – CEO, NCMIC Group
The movement called attention to behavior many of us were not familiar with or that we thought ended some time ago. The movement also helps all of us get behind ensuring misconduct is eradicated from the workplace.
UNDECIDED
Jaimie Miller – Executive Director, Iowa Credit Union Foundation
I am concerned to read reports that men now feel that they can't mentor women. I have many male mentors and need male and female mentors to continue my leadership growth.
NO
Mary Kramer – Kramer and Associates
The discussion has lost two major things ? due process and the notion of the competencies required to compete successfully in the workplace. We don't win because we're women ? we win because we're competent.
NO
Diane Ramsey – CEO, Awakened Woman
I believe that men who were uncomfortable with helping/sponsoring women pulled back rather than moved forward as a result of #MeToo. And, companies that were not truly supportive of advancing women would not go out on a limb for women.
NO
Anonymous Employee – Female, 18-35
I think it is an inappropriate movement that is encouraging other motives and I think personal issues such as sexual harassment are better addressed in other ways. I think general discussions about sexual harassment are appropriate in such settings, but broadcasting specific facts and names is not necessary. I believe more lives have been negatively impacted by false allegations as this movement has provided many people with the idea of "coming forward" with such stores.
NO
Anonymous Executive – Female, 51-65
Women have become quite scary to have as employees … because in the court of public opinion, all they have to do is allege something, and they must be believed. Given a choice between a man and a woman, everything else being equal, the man would now be a safer choice.
4. Do you believe men are more or less likely to mentor a woman since #MeToo?

MORE LIKELY
18.91%
LESS LIKELY
81.09%
Editor's Note:
We can't compare this with last year's survey, as we asked only men to respond to the question last year. We reframed the question this year to allow for all respondents to take the survey. The results were overwhelming. Eighty-one percent of respondents believed men are less likely to mentor a female. However, there are two factors to consider here as well. One, the question doesn't give an option, as some readers pointed out, to vote "Just as likely." And two, in hindsight, the phrasing of the question included leading information about a survey that had found there was the possibility that men were recoiling from mentoring situations. This was a major point of discussion at out #MeToo Power Breakfast last fall, and certainly requires a nuanced conversation. We tried to pick a sampling of viewpoints from both men and women on the topic.

LESS LIKELY
Rowena Crosbie – President, Tero International Inc.
Acknowledging a problem is an important first step to meaningful change. But it is only one of several steps required. Until men and women alike learn how to communicate and interact effectively, many will choose to retreat from situations where they perceive they may be at risk of making a misstep. As with so many things, education must follow awareness. Simply pointing out problems is never enough.
LESS LIKELY
Janette Larkin – Retired
With increased awareness comes increased apprehension. Hopefully this is just a transition period until greater education alleviates the fears that the newness of #Metoo brings.
LESS LIKELY
Megan Culver – Senior Account Executive, Palmer Group
I've had these conversations both in the workplace and outside of the workplace with people I feel are fairly open-minded. The fear that something could be taken out of context that's very unintentional is very high.
LESS LIKELY
Anonymous Manager – Male, 36-50
I think many men will perceive a risk (even if not actually a risk) of being targeted or labeled a predator if a mentoring relationship goes south.
LESS LIKELY
Jed Gammell – VP, Risk Management, Lincoln Savings Bank
Apprehension among males is a real concern (though misplaced), but it's one that should settle down as we continue to move forward together on this issue.
LESS LIKELY
Anonymous Executive – Female, 51-65
There should have been a third choice: just as likely as ever. Men are part of the process of helping women succeed. We shouldn't be excluding them, and there are many men who champion the success of women. After all, they have wives, daughters, girlfriends, why wouldn't they want them to succeed? Men with high moral principles will see the value in continuing their mentoring women and will carry on as they have in the past.
LESS LIKELY
Anonymous Employee – Female, 18-35
From what I've heard, even from my own husband, men find themselves uncomfortable with women one-on-one in the work environment. I find this to be incredibly short-sighted and frankly, despicable. If you just treat a woman with respect, you have no reason to worry. Men are too focused on their own concerns rather than what women go through.
LESS LIKELY
Anonymous Manager – Female, 51-65
I believe there is real fear among men that they will be wrongly accused or taken out of context if they put themselves in that position. I do think it will eventually work itself out and a new normal will get established.
LESS LIKELY
Anonymous Employee – Female, 36-50
The only thing that will make men change is other men. The men that are willing to stand up and say something isn't right. That are willing to call out other men on their locker room talk and locker room behavior. If they are uncomfortable mentoring women, it's probably because they are concerned about their own actions.
LESS LIKELY
Anonymous Manager – Female, 51-65
Those that choose a path not to mentor may have a past that is questionable. Those men that don't should not feel threatened and will participate. My view is there are a lot of men "hiding" from their pasts.
MORE LIKELY
Reo Menning – Executive Vice President, FUELIowa
Confident, forward-thinking men will always be ready to mentor and will step up their game to make the world a better place. I have watched them rise to the occasion repeatedly and have been a benefactor of this mentoring.
MORE LIKELY
Anonymous Manager – Male, 36-50
You didn't provide an option for "just as likely." I have been in leadership for 15 years and have always been open to mentoring male and female equally. I think that the #metoo movement has empowered more female employees to take a more active role in their development and therefore would create more mentoring opportunities.
5. Rate how supportive you perceive these institutions/groups to be of women in business, on a scale of 10:

2019:
Women – 7.00
Men – 5.57
World – 4.97
U.S. government – 5.08
State of Iowa – 5.41
Banks/lenders/investors – 5.54
Media – 6.18
2018
Women – 6.6
Men – 5.4
World – 4.9
U.S. government – 4.3
State of Iowa – 5.0
Banks/lenders/investors – 5.3
Media – 5.8
2017
Women – 6.6
Men – 5.4
World – 4.6
U.S. government – 4.4
State of Iowa – 4.9
Banks/lenders/investors – 5.5
Media – 5.8
2016
Women – 6.58
Men – 5.23
World – 4.72
U.S. government – 5.22
State of Iowa – 5.28
Banks/lenders/investors – 5.18
Media – 5.49

Editor's Note:
Although responses haven't changed dramatically over time, they have all continued to trend in a more supportive direction since we began the survey in 2016. All seven categories are perceived to be more supportive than last year, while six of the seven are more supportive than in 2016. The one outlier when comparing to 2016: the U.S. government.
Facebook Notice for EU! You need to login to view and post FB Comments!