Links in the wind energy chain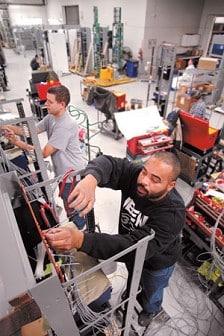 The factory floor at Electrical Power Products (EP2) in Des Moines is about as busy as Santa's workshop these days. Though you won't find any elves among the company's 150 employees, the sense of urgency is similar as they build relay panels for utility customers across the country.
The company, which has nearly doubled its work force within the past couple of years, now attributes about 30 percent of its annual sales to the U.S. wind energy industry.
"It certainly has given us a boost," said Tim O'Donnell, president of EP2 .
The manufacturer is currently working through a backlog of orders, including a large project for Southern California Edison, one of the nation's largest utility companies, which is adding capacity for wind and solar energy producers to connect to the electrical grid. In Iowa, EP2 supplies relay panels to MidAmerican Energy Co., the state's largest wind farm operator, as well as to another wind energy developer that's building wind farms throughout the Midwest.
Electrical Power Products is one of 80 companies that form the links of a wind energy supply chain stretching across Iowa. The companies were identified in a report recently published by the Environmental Law and Policy Center (ELPC), a Chicago-based nonprofit organization that advocates environmentally friendly business strategies.
The study, "The Wind Energy Supply Chain in Iowa," estimates that approximately 2,300 manufacturing jobs in Iowa are directly related to the wind industry, which may be the most of any state, said Howard Learner, ELPC's executive director.
"I think what we're seeing here is some old-line Iowa manufacturers who are retooling to get into the clean-energy economy," he said. "That's good for economic growth and good for the environment."
In addition to the 80 companies already in the supply chain, "we came across 30 companies that said, 'This is an industry we want to get into,'" Learner said. "They're all revved up and ready to go if market demand increases – everything from steel manufacturers to companies that make tool boxes."
Iowa has benefited from good state incentive programs and policies that have encouraged strong growth by wind energy companies, Learner said. "What's needed is the continuation of good policy that will continue to drive development," he said. "It's a part of the economy we need to be smart about."
State officials estimate a higher number of companies supplying the wind industry – more than 200 Iowa in 26 counties. ELPC says its lower figure of 80 includes only companies that directly supply the industry and does not count companies involved in transporting equipment or site preparation for wind farms.
Among the state policies that have made a difference are the Renewable Energy Production Tax Credit program, as well as a sales tax exemption on wind energy equipment and all materials used to build wind energy projects, according to the report. At the federal level, ELPC is advocating for adoption of a U.S. renewable energy standard, and the American Council on Renewable Energy recently proposed a global standard at climate talks in Cancun, Mexico .
On average, wind energy accounts for approximately 19 percent of the electricity generated annually in Iowa, according to the latest estimates by the Iowa Utilities Board. Three years ago, the average was just 6 percent.
"The biggest opportunity is to grow the market," Learner said. "A rising tide, if you will, floats all boats. It allows existing businesses to grow and others to get into the market."
Going up?
In 2008, the growth in North American wind farms prompted Elevadores Goian S.L., a Spanish manufacturer of elevators for wind turbines, to establish a production facility in Ankeny. Though the recession has temporarily delayed production of new elevators at the plant, Goian has contracted with three additional U.S. companies and expects to commence production sometime next year, said Jon Ayerbe, the division's operations manager.
Goian expanded to Iowa in 2008 intending to supply elevators to a large turbine manufacturer that prior to the recession had expected to build between 200 and 300 turbines a year, "but unfortunately, they have not been that active in the last year and a half," Ayerbe said.
Instead, "we've been focused on servicing existing clients and getting new clients," he said, and those companies are now in the process of adapting their tower designs to accommodate Goian's elevators. The company also specializes in supplying platforms, handrails and other equipment installed in turbine towers.
Worldwide, Goian has supplied more than 4,000 elevators for wind energy projects, including more than 500 elevators purchased by U.S. wind farms, and trends suggest that future sales will be strong.
"Over time, we are seeing more companies wanting to have elevators because they have more experienced technicians, so they want systems that will prevent injuries," Ayerbe said. "Also, technicians are less likely to want to climb a tower for a late-afternoon repair and may wait until the next day. So installing elevators should help to reduce down time of turbines as well."
Goian is also seeking a foothold in the industrial elevator market, to sell to construction firms or others needing access to tall structures.
The company currently has two teams of three technicians working in the field out of Ankeny. Early next year, it plans to hire two salespeople, one for wind projects and another for industrial elevator sales, as well as a person to focus on building a local supplier network for components. Within a few years, Ayerbe expects to have a work force of about 25 people in place.
Building a strong network of local suppliers for its components continues to be a goal for Goian, Ayerbe said.
"Currently, we purchase 15 to 20 percent of components for our elevators in the United States; our goal is to increase that percentage to approximately 50 percent," he said. "The goal is to buy as locally as we can to reduce costs and improve quality."
Increasing demand
EP2, which is not as dependent upon the wind energy industry as Goian, has seen substantial growth from cities' increasing energy needs, particularly from customers in the Northeast.
The company specializes in custom fabrication of electrical panels for utility companies. The manufacturing process, which includes stamping out the sheet metal panels, painting them, installing electrical relays and wiring them, takes 10 to 12 weeks. Building complete room-sized relay enclosures takes about 16 weeks. The panels are the brains that tell large-scale circuit breakers whether to trip to protect circuits from overloads.
For wind-related projects, "we're a large provider for MidAmerican (Energy Co.), which is doing a lot of work around here," O'Donnell said. He said his company is also a major supplier for another wind developer that is building turbines in several states, but declined to name the company for competitive reasons.
A number of states have mandated that utilities generate a minimum percentage of their power from alternative sources, he said, which has helped drive demand for EP2's relay components.
EP2 recently purchased a large warehouse building adjacent to its primary manufacturing plant in northeast Des Moines, which it uses as an assembly area for its large relay enclosures, some of which are as long as a semitrailer. Last week, workers were finishing enclosures to be shipped to utilities in Arizona, Colorado and Maryland.
Employment at the 23-year-old company, which had reached a high of 107 in 2002, is now at a record 150, a level that O'Donnell said should be sustainable. About two months ago, EP2 began operating a second shift in its metal fabrication and painting divisions to address "a pretty good backlog," he said.