Local manufacturers show optimism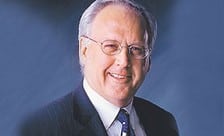 Maurice Taylor is optimistic about 2011, and he's not alone.
Taylor, CEO of Illinois-based Titan International Inc., expects a record-breaking year for his company, which operates agriculture and off-road tire company Titan Tire Co. in Des Moines.
"It's like everything in Iowa. Farm business is going good," said Taylor, a 1996 Republican presidential candidate better known by some as "The Grizz." "We believe 2011 is going to be one of our best years ever."
It's a sentiment that seems to be shared by other manufacturers in Greater Des Moines, who say 2010 was an improvement over 2009 and that 2011 should be even better.
"Money is starting to free up where cash availability was very tight all over the world. Banks were pulling back and becoming more cautious, investors were pulling back and becoming more cautious, so it really shut things down, so to speak, in 2009," said Kevin Kacere, president and CEO of Urbandale-based Insta-Pro International. "Now, initiatives have been put in place here in the U.S. and throughout the world to start getting money moving again."
Insta-Pro, which manufactures farm and feed-processing equipment, has seen about a 40 percent increase in shipments in the past year, and estimates a 50 percent increase in 2011.
Manufacturers in Des Moines were hurt by the recession, but fared relatively better than other metro areas in the nation or other parts of Iowa, said Ron Cox, director of the Center for Industrial Research and Service (CIRAS) at Iowa State University. According to CIRAS research, the number of manufacturing jobs in Iowa stayed at a higher level than the national average throughout the recession, though it still dropped at a rapid clip, and is now rebounding more quickly than the national average.
Not only are jobs starting to recover, but other indicators show the manufacturing industry is starting to recover in Iowa.
The latest numbers from the Purchasing Managers Index (PMI), which measures manufacturing industry growth based on a formula that includes production level, orders, deliveries, inventories and employment, shows manufacturing in Iowa to be steadily growing since last January after hitting rock bottom in January 2009. The numbers don't differentiate Greater Des Moines from the rest of the state, but in general Des Moines should be in a better position, Cox said.
Cox attributes Iowa's relative strength primarily to the state's strength in agriculture machinery. Des Moines is in an even better position than the rest of the state to recover, he said, because typically metro areas are able to weather an economic downturn better than rural areas and mid-sized towns.
Two of Des Moines' largest manufacturers specialize in agriculture, and both have seen gains at the corporate level. Deere and Co,, parent company of John Deere Des Moines Works in Ankeny, reported a 14 percent increase in net sales for fiscal year 2010. Bridgestone Americas Tire Operations LLC, parent company of Firestone Agricultural Tire Co. in Des Moines, reported a nine percent increase.
"It's not just the Iowa ag economy that's helped, but the agriculture economy in general in the Midwest has helped a lot of these ag machinery companies," Cox said. "For those that export, obviously the growing, improving global economy helps," he added, noting that even smaller agriculture manufacturers who are part of a major exporter's supply chain should have been in better shape in 2010.
He warned that manufacturing jobs might not ever get back to pre-recession levels, as economic downturns force companies to learn how to do more with less. Also, even if sales and orders are improving, companies might be hesitant to hire without seeing sustained growth.
Cox expects to see slow growth across the state in 2011, a sentiment echoed by Heidi Chico, president of vending machine manufacturer The Wittern Group Inc., who expects double-digit growth.
"It is slowly but surely going in the right direction," Chico said. "We had a spike of business in (the fiscal year 2011 first quarter). We're seeing that spike continue in the second quarter. We're cautiously optimistic."
She credited part of the growth to President Barack Obama's Small Business Jobs Act, but noted that the company's customer list has gone down significantly since the recession.
Others are more optimistic, echoing Taylor's "best year ever" claim. Electronic utility infrastructure manufacturer Keystone Electrical Manufacturing Co. saw sales improve "dramatically" last year and expects sales to top pre-recession levels, said Darren LePage, director of sales and marketing, speaking on behalf of company president Fred Buie.
Just as optimistic is Insta-Pro, whose president Kacere sees a resurgence in the global economy.
"We see us growing beyond where we were prior to the recession," Kacere said. "We are definitely seeing growth in the global economy, where the majority of our sales actually occur. We are seeing the global economy come back again."