Maddie's Circle builds on Levitt's legacy of giving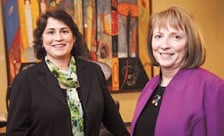 If Maddie Levitt could see what the members of her namesake Maddie's Circle are doing, you can bet she'd tell each of them, "Baby, I'm so damn proud of you!"
The memory of the inspirational community leader, fund-raiser and philanthropist lives on in Maddie's Circle, a program developed by her family and friends to provide a living memorial to her. Levitt passed away three years ago this month at the age of 82.
After Levitt passed away, a group of her closest friends met at 801 Chophouse to consider how they could best honor her life, said Mary O'Keefe, chief marketing officer for Principal Financial Group Inc. At the table with her, she recalled, were Bob Burnett, Jim Cownie, Allison Fleming, Johnny Danos, Lynn Graves, Dick Hurd, Mell Meredith Frazier, Tom Press and Martha Willits.
"There was kind of a consensus, without talking a great deal about it, that Maddie's memorial should be a living memorial; it should be something that inspires people," O'Keefe said. "We talked about getting people more involved with philanthropy, about empowering people, especially women. Mentoring was a natural, giving was a natural, volunteering was a natural."
Using those ideas, O'Keefe and Graves devised a plan for Maddie's Circle, a program in which a small group of business leaders who wanted to become more involved in the community and philanthropy would come together to provide their time, talent and money to an organization of their choice.
It wasn't long before Levitt's friends and family raised $1 million for an endowment to provide matching funds for the program.
Each participant in Maddie's Circle contributes $1,000 in each of the two years of the program, and that $10,000 will be matched each year with $10,000 in interest from the endowment.
The initial group of women met for the first time last month at the nonprofit organization they chose to support, the Young Women's Resource Center.
"We wanted the group to drive it," Graves said, "so part of what we wanted to make sure we did was to go through the process of choosing the organization they wanted to support."
"Because this first circle has extensive financial and accounting backgrounds, they really wanted to focus on financial literacy and on working with young mothers," she said. After researching numerous organizations, the group narrowed the field to three and heard presentations from each.
"The group asked just phenomenal questions, wanting to know how their money is going to be spent, and how they can get involved in the organization," Graves said. "It's not about just giving your money to them; it's about teaching them how to use their time, talent and their money."
Graves and O'Keefe are among six mentors who will guide the groups, along with Shannon Cofield, Allison Fleming, Loretta Sieman and Willits.
Heather Soener, executive director of the Young Women's Resource Center, said the concept of Maddie's Circle is "just fabulous."
"It's a great use of talent and resources of women in the community," she said. "We're excited about what a great addition this will be to the programming here at the center."
The Young Women's Resource Center has wanted to add a financial literacy component for some time, Soener said. "This program will be worked into each of our groups over time, and will just make a huge difference in what we're able to teach them," she said.
One of the circle's members, Nancy Dop, found out about Maddie's Circle from Cara Heiden, co-president of Wells Fargo Home Mortgage, where Dop works. Heiden had sent an e-mail inviting leaders from the company to participate in a focus group to gather input for the program.
"The whole concept of this group is a great idea," said Dop, 49, who manages Sarbanes-Oxley Act compliance for Wells Fargo. "I'm involved heavily in church activities, but hadn't been involved in the Des Moines community. Just getting the chance to interact with the mentors in the program and seeing how they've done all this volunteer work in the community has been invaluable."
Dop said she feels honored to have been chosen to be part of the first circle. "Hopefully with our combined resources and time, that will make an impact on these girls."
With the funding from the endowment, Maddie's Circle will be able to support up to five circles at a time, and the process of forming a second circle is now under way, O'Keefe said.
O'Keefe said she did a pretty good job emulating Levitt's fund-raising style as she was seeking contributors for Maddie's Circle. After one person told her that it "just wasn't his type of thing," O'Keefe replied, "I didn't want it to be a no because I didn't ask."
"That's what Maddie would have said," the person told O'Keefe.
"Once you met Maddie," Graves said, "your level of confidence in doing fund raising and getting out there just increased tenfold. I think the giving circles was a way of saying, 'Thank you, Maddie; this is our way of passing it on.'"