Making investors' voices heard
The Wealth Consulting Group brings socially responsible investing focus to Des Moines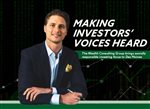 Ask wealth advisers the importance of socially responsible investing, and about 6% will show strong interest. But pose the questions to their clients, and about 75% on average will respond that it's important, according to a study by the Morgan Stanley Institute for Sustainable Investing.
The disconnect reflects the relative scarcity of wealth advisers who actively apply the principles of socially responsible investing, said Clinton Akerberg, former principal of Disciplined Equities Management in Des Moines.
Socially responsible investing, also known as sustainable investing, mission-related investing or screening, takes into account environmental, social and governance (ESG) factors alongside financial factors in the decision-making process.
For the past two years, Akerberg's firm has affiliated with the Wealth Consulting Group, a boutique wealth management firm based in Las Vegas and San Diego that specializes in socially responsible investing. Effective April 22, D|E Management rebranded under the Wealth Consulting Group name and has become a managing partner in the firm.
"We are one of a few firms in the state that manage portfolios based on sustainable investments," Akerberg said. "This means we only invest in businesses that have a sound record when it comes to environmental, social and corporate governance."
Socially responsible investing is a small but fast-growing piece of the U.S. investment industry. Nationally, investors now consider ESG factors across nearly $12 trillion of professionally managed assets, a 38% increase since 2016, according to the 2018 Report on U.S. Sustainable, Responsible and Impact Investing Trends published by the Forum for Sustainable and Responsible Investment (US SIF).
Based in Washington, D.C., the research and advocacy organization's mission is to "rapidly shift investment practices toward sustainability, focusing on long-term investment and the generation of positive social and environmental impacts."
Aligning portfolios with values
"We believe the flow of money changes the trajectory of the world, for better or for worse, and when we otherwise blindly invest in a diversified portfolio it's possible our money is unknowingly supporting companies that go against our principles," Akerberg said. "By aligning our investment portfolios with our values, we can be confident our money is supporting companies that are doing what we feel is right."
Akerberg said that he had met and become good friends with the founder of the Wealth Consulting Group, Jimmy Lee, which cemented his decision to affiliate with the firm. Lee launched the firm in 1995 as a sole proprietorship in Las Vegas, and grew it into an independent wealth management business with clients and offices across the country.
The Wealth Consulting Group also reflects a belief in diversity and inclusion in the makeup of the firm, with a team made up of more than 50% women, minorities and LBGTQ individuals, Akerberg said. "Last year they won the Investment News magazine award for Outstanding Diversity and Inclusion. This is huge in an industry that is most commonly run by middle-aged white males," he said.
Akerberg, 37, a successful investor in his own right with a portfolio of investments in Iowa-based companies, also invests in real estate. In 2017 he launched a coworking space, Collaborate DSM, in the Ingersoll Avenue building where he also bases his wealth management firm.

"I got into wealth management right out of college; it was just something that kind of intrigued me," Akerberg said. A native of Lawrence, Kan., he graduated from Iowa State University in 2004 with a double major in international business and finance. After working for a bank's wealth management office for 4½ years, he launched D|E Management in 2013.
"The idea of being financially secure for myself and helping clients with that is something that's important to me," he said. "I think having a foundation of wealth is paramount to be able to truly pursue passions and help others to lead their best life." The firm's investment minimum is about $250,000, but it does engage with clients who haven't yet reached that asset level.
The Wealth Consulting Group, which works with investors across the country, manages about $1.5 billion in advisory accounts, and has approximately $3 billion total in all investments.
"We engage mutual fund companies that have adopted socially responsible portfolios, and we only partner with firms that have a mandate in their prospectuses to align themselves with corporations that follow strict ESG guidance," Akerberg said. "So those are really our partners. And we need them because they become our advocates; they become our voice for change."

Some of the fund companies the firm partners with are Trillium, Calvert and Rockefeller Brothers Fund. Growth in investments locally with ESG funds through D|E Management has mirrored the national pace.
"A lot of our clients have been really excited when we present the portfolios that are focused on socially responsible investing," Akerberg said. He estimates that between 80% and 90% of investors choose to adopt socially responsible portfolios once they learn about them.
"I think that will compound as we go through the rebranding and really engage our community as the wealth Consulting Group, with a national presence and forward-thinking investment methodology with regard to socially responsible investing," he said.
Facebook Notice for EU! You need to login to view and post FB Comments!