Maturing young companies move downtown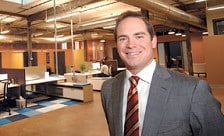 Three young companies with strong ties to the city's social media and technology scenes are growing up downtown.
Bit Method LLC, Catchfire Media LLC and Lava Row Inc., all of which were formed within the past four years, recently began occupying newly leased office spaces in Des Moines.
The companies, which help clients expand their Web presence with social media and customized applications for mobile devices such as the iPad and iPhone, are part of Greater Des Moines' blossoming entrepreneurial community.
Each firm had considered other sites in the metropolitan area, yet chose to locate their headquarters near the city's core, where a mounting number of smart phone- and Internet-savvy young professionals in their 20s and 30s often collaborate. As they compete for fresh talent and new customers, the companies maintain close connections with their peers in person and online. All are vying for a larger share of the marketplace.
The oldest enterprise, Lava Row, was founded in February 2007 by Nathan Wright, a well-known speaker and consultant whose company uses digital and social tools to help its clients communicate.
On Oct. 1, Lava Row moved into a ground-floor business condominium in Brown-Camp Lofts at 100 Market St. Wright, 33, decided that a larger, more accessible shop was more suitable for his growing business.
"We wanted a place that felt a little more mature," he said, adding that his former space in the East Village wasn't as conducive to hosting larger groups of clients and friends.
The new office, which is located near the intersection of West Martin Luther King Jr. Parkway and Southwest Second Street, will also give Wright's company more exposure as the Southeast Connector is extended east across the river to Southeast Sixth Street.
"I think Lava Row and our whole company is intertwined with the culture of Des Moines and kind of the resurgence of downtown and the East Village," Wright said. "I just think the location is just perfect for that."
Norah Carroll, 21, who this month will graduate from Drake University with degrees in English and magazine journalism, interned with Lava Row last summer. In January, Carroll will start a full-time job there as a social media strategist.
Wright, who said the larger space will allow him to accommodate more employees as he considers breaking into other Midwestern markets, said he would like to hire someone next year to spearhead the educational component of his business.
"I want to add a fourth person to ideally run the whole education line of our business, kind of as its own profit center," Wright said. "I'd really like to hire in that space, empower them to run that side of the business, give them a long leash."
Catchfire, the youngest of the three companies, moved in September to the recently renovated Chamberlain Building in Western Gateway Park.
Jon Troen, who in September 2009 founded Catchfire with business partner Nathan Kring, said the move from West Des Moines to a second-floor office at 1312 Locust St. will help the company attract top-notch talent.
"A big part of the value proposition is quality of life, quality of work," Troen said of Catchfire's efforts to hire and retain employees. "As the technology community continues to grow in Des Moines, this is a good place to be."
Catchfire, a social media strategy and consulting services firm that during the past six months has seen increased demand from clients for Web and mobile-based applications, in October hired 23-year-old Ryan Formanek, a 2009 University of Iowa graduate, to focus on that area.
Troen, 34, said the office, which overlooks the John and Mary Pappajohn Sculpture Park, appeals to young professionals such as Formanek, who within weeks of joining Catchfire moved his personal residence downtown to AP Lofts from Knoxville.
"I want us to be the Goldman Sachs of social media, where the best and brightest minds in this space want to work for us," Troen said.
Bit Method, which was launched in May 2009 by Daniel Shipton, relocated on Nov. 1 to the top floor of the Liberty Building at 418 Sixth Ave.
Shipton's move coincided with the closing of Impromptu Studio at 300 S.W. Fifth St., the shared coworking space he founded in 2008. He said the time was right for his maturing company to forge ahead.
"The proper feeding and care of two businesses is hard," Shipton said, noting that Bit Method is positioning itself for the future. "We had to make a statement that I have moved on."
Bit Method, which develops applications for mobile devices and the Web, is working to help clients integrate those tools into their operations as the company considers its own long-term goals.
Shipton described Bit Method's target market.
"We love working with clients who are looking for passionate technology leadership in emerging areas such as mobile, Web services and social integration," he said. "We choose clients who embrace change and know that building something with real value is a process, whether it be a house, a new mousetrap or a mobile application."
Shipton, who has no immediate plans to hire, said Bit Method's relocation to the 12th-floor office allowed him to informally carry forward the shared coworking space concept.
"We get a lot more usable space for a lot better price," he said, adding that he is subleasing two of the 3,000-square-foot space's offices to two budding entrepreneurs who shared space with Bit Method at Impromptu.
Shipton, who said he wanted Bit Method to remain downtown, expects the relocation to help him and his employees expand their networks as they work and socialize with others in the area.
"I love the skywalks," he said. "It makes you want to connect with each other more."