Medical building takes a bite out of Altoona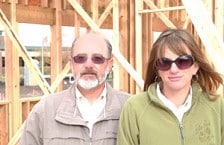 An owner of Medicap Pharmacy franchises in Central Iowa has teamed up with a Newton dentist to construct a medical office building in Altoona that will house their businesses.
Greg Johansen, whose GRX Holdings LLC owns 13 Medicap stores, is building a 7,425-square-foot structure along with Eric Forsberg at 950 28th Ave. S.W. Forsberg's Altoona Smiles dental office will occupy part of the building and a Medicap Pharmacy the remainder.
Johansen said that in recent years his company has been identifying properties that developers are anxious to sell. Since 2008, GRX Holdings has opened a Medicap in Waukee and another combination pharmacy and dental office in Norwalk.
"We've built a couple of buildings in the last couple of years; we can buy land a little cheaper and construction costs are a little lower," he said. "I think that all three of the properties that we bought had been on the market a long time with developers that needed to have something happen."
Johansen and Forsberg formed FOJOMLT Investments LLC to buy the property in August from a company operated by Randy Walters. The purchase price was $400,000, according to Polk County property records.
Plans are to construct the building with enough vacant land remaining to build a second building if a tenant is found. All underground utilities are in place for quick construction of the second building.
"If, five years from now, someone wants it … it won't be hard to put up four walls and a roof," Johansen said.
Nicolle McClure, director of marketing for GRX Holdings, said the pharmacy will offer standard Medicap fare, with over-the-counter sale of prescription drugs, a retail space with medical supplies and the ever-present Medicap drive-up window. Medicap also provides immunizations.
Construction should be completed early in the new year, depending on the weather, she said.
Downing Construction Inc. of Indianola is the general contractor.
Medicap was founded in 1971 in Des Moines and was first called the Medicine Chest. A franchise operation was started two years later, when the company was known as Medicap. It has locations in 35 states. The company was acquired in 2003 by Medicine Shoppe International Inc.