Mid-Iowa Council to build $10.6 million service center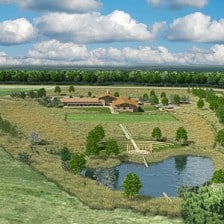 The Mid-Iowa Council of the Boy Scouts of America (BSA) plans to build a state-of-the-art Scout center in Des Moines that will serve the regional training needs of Scouting leaders as well as offer free meeting space for other nonprofit organizations.
Last week, BSA Chief Scout Executive Bob Mazzuca was in Des Moines as the council kicked off a $13.5 million capital campaign for the facility, which will be known as the Fred Maytag II Scout Center. The project has an estimated construction cost of $10.6 million.
The Maytag family contributed a lead gift of $3.5 million for the project, which included a $1 million challenge grant to establish an endowment for the center. Fred Maytag II, who assumed leadership of Maytag Corp. at age 29 following his father's death, was an Eagle Scout and a longtime volunteer with the council.
The 30,000-square-foot center will be built on a 16-acre site purchased by the council two years ago on Southwest 63rd Street, just south of Loffredo Fresh Produce Co. Inc. It will incorporate a conference center with seating for 200, an administrative wing and a National Scout Shop. Outdoor features will include a lake, an amphitheater and a wilderness preserve.
"It will be a collaborative community center, because it will be able to accommodate groups for training or team building," said Anne Herriage, development director for the Mid-Iowa Council, which serves more than 20,000 Scouting members in 27 Iowa counties. "We're serving a growing population of Scouts, and right now we don't have a place to bring moms and dads to conduct training."
The council's current service center at 1659 E. Euclid Ave. has been flooded several times recently and does not have any training space, she said.
The National Scout Shop will be among a small number of such shops in the country and will add to the center's regional draw, Herriage said.
Graham Construction Co. will be the general contractor for the project, which was designed by SVPA Architects Inc. Construction is expected to begin this month, weather permitting.