Molding the future of plastics in Iowa
Plastics manufacturers see steady growth despite the pandemic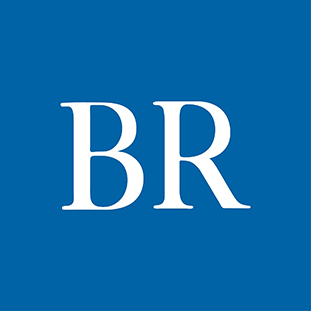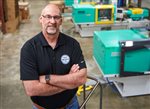 Chad Dielschneider can point out some highly automated plastic molding machines at Bruin Manufacturing in Marshalltown that have been tirelessly producing millions of plastic components on a nearly nonstop, 24-hour schedule since 1965.

A 40-minute drive south from Marshalltown at its relatively new Newton facility, the company recently took delivery of one of its largest and most sophisticated molding machines — a two-shot molding machine, which can add a second type of plastic atop another in the same mold for specialized products such as toothbrushes. "It's another area of potential growth," said Dielschneider, the company's president and CEO. "We couldn't be competitive doing it manually."

Despite the pandemic, 2020 was a record-setting sales year for Bruin Manufacturing, following a 35% dip in revenue in the initial months of the public health emergency last spring, Dielschneider siad. "We popped right out of that and by June [2020] we were in full swing and finished with a record year — that's an amazing thing."

Other Iowa-based plastics manufacturers have seen similar growth during what has been a perilous time for the manufacturing industry as a whole.

In March, the Iowa Economic Development Authority awarded West Des Moines-based Innovative Injection Technologies tax incentives for a $10 million warehouse expansion project at its West Des Moines plant. The company plans to create an additional 60 jobs with the expansion, which will add 45,000 square feet of space to the 24,000-square-foot warehouse.

In April, Engineered Plastic Components Inc. in West Des Moines, which operates a dozen plastics molding plants across the country including locations in Grinnell and Kalona, announced its latest expansion. The $8 million renovation of a 125,000-square-foot plant near Birmingham, Ala., will enable EPC to create 75 new jobs in Alabama with that newest project.

Also in April, a Central Iowa entrepreneurial couple closed on the acquisition of the plastic molding division of Des Moines-based Innovative Lighting. The new owners, Ryan Gruhn and his wife, Lana Leander, are taking on a new — but not unfamiliar — challenge with their acquisition of Hawkeye Molding Co. in the Story County town of Roland. The couple recently got a $3.9 million Small Business Administration-backed loan to buy Innovative Lighting's IL Molding, its plastics molding subsidiary.

"We're excited to really focus on the plastics business," Gruhn said. "There are a lot of opportunities for plastics companies. With all of the supply chain disruptions with COVID, a lot of corporations that had outsourced from overseas are rethinking their choices."

Gruhn and Leander, along with their 30 employees, are among nearly 14,000 Iowans who currently work directly in plastics manufacturing across the state. When the myriad industries that are dependent upon plastic components, products, containers and packaging are considered, the impact of plastics on the state's employment swells to about 470,000 workers in Iowa, according to the latest statistics from the Plastics Industry Association.

Nationally, economic indicators point to continued growth for the plastics industry. North America shipments of primary plastics machinery for injection molding and extrusion rose by double digits in the fourth quarter of 2020, the third consecutive quarter of growth, according to statistics compiled and reported by the Plastics Industry Association Committee on Equipment Statistics. Shipments of injection molding equipment increased 23% from the previous quarter and were 21% above the fourth quarter of 2019.
Mitigating risk with an added facility
Bruin's expansion into a new facility in Newton signals optimism for continued growth by the family-owned company, which was founded in 1949 and still occupies the same city block in Marshalltown where it started more than seven decades ago.

"The history of Bruin is built around innovation," said Dielschneider, who in his 37 years with the company has worked for each of Bruin's three generations of owners, including the current family owner, Sam Devick.

The Marshalltown-based company, which began as a machine shop, was among the early pioneers in the plastics industry, and along the way helped perfect once cutting-edge advancements such as hot-runner technology that made it possible to drop finished parts from a molding machine directly into a shipping box without interim steps.

The Newton facility, which has been on the company's planning horizon since 2017, overall uses more robotics, conveyors and quality-check stations than its 71-year-old sister facility in Marshalltown, which houses 45 molding machines. Now equipped with nine molding machines, the Newton plant provides a risk-mitigating second location for the company while also serving as a test bed for new technology.

Although the majority of the plastic-molding machines that Bruin operates were designed and built by the company in its earlier years, since the 1990s the company's leaders have realized that keeping up with the pace of technology requires purchasing machines to integrate the newest innovations.
Plastic components for the medical technology industry are among the high-growth areas for the company currently, Dielschneider said. "We've stuck our toe in the water a little bit [with medical components] — all noninvasive components used outside of the body."

The company has also recently discovered other relatively overlooked but high-value areas "that we'd rather keep under wraps," he said. "We're finding some good diverse industries that fit our niche well."

Until recently, Dielschneider described that niche to customers as any components that could fit in the palm of one hand. Now, with larger Arburg brand molding machines coming online, that description has changed to any plastic components that can fit in two hands.

Having a second, separately located facility provides a risk-mitigation cushion for some "very high-profile companies" that are customers, particularly from the highest risk locally — tornadoes. If either location is damaged or destroyed, "we should be able to dig the molds out of the rubble and bring them over to the other facility," Dielschneider said.
A supply chain crunch
Hawkeye Molding co-owner Ryan Gruhn, who earlier in his career had worked for Schafer Systems Inc., an Adair-based maker of plastic lottery machine components, later owned Des Moines-Winterset Monument Co. with his wife. The couple sold that business in late 2019 and while looking for another company to invest in, they found the opportunity to buy Innovative Lighting's plastics molding division, with its plants in Albia and Roland.

"The older plant in Albia did business as Hawkeye Molding, and we are continuing forward with that name as our identity," Gruhn said.

Supply chain issues due to the COVID-19 pandemic have posed both a challenge and an opportunity for plastics manufacturers.

"I think every industry is feeling the supply chain crunch right now," Gruhn said. "We've had companies we work with that buy products from us, but also import from overseas, and that's been very challenging."

An added challenge is the lingering effects of the record freezing temperatures and power outages in Texas this past winter. "There was some damage done to some of the chemical companies down in the Houston area," he said.

"There are a lot of products that feed into the plastics industry that are down in the Houston area. And so there are some specific materials that are long lead time and a little bit challenging to find right now. So we've been working with a lot of our customers to find alternative materials, something with similar physician properties that can replace what they've been using so that we can keep making parts for them and keep their production moving instead of coming to a stop."

Delays in shipping containers getting offloaded at the ports also have had an impact on the industry. One customer told Gruhn that a ship that had arrived on the West Coast in January didn't get offloaded until April, causing the company to wait for needed parts for more than two months.

While higher labor costs in the United States may still be a factor in deciding whether to make plastic components here rather than in China, the shift by China to more consumerism may level the playing field somewhat, Gruhn said. Also, risk mitigation has become a big consideration. "Even if it costs a company like us a little more, they may be willing to absorb a price difference — if there is one — if the products are a little bit more reliable," he said.

Demand for plastic components in the agriculture manufacturing sector should see some positive effects due to higher commodity prices, Gruhn said, and he has heard from some of their customers in other industries that there is a lot of pent-up consumer demand, particularly for recreational equipment such as boats and associated components. "There's a lot of companies sold out for the next year. They're kind of playing catch-up right now."

Overall, the state's plastics industry probably won't experience double-digit growth, Gruhn believes, but Iowa has usually had steady growth around the 3% to 5% range.

Because Hawkeye Molding did a large amount of plastics molding for Electrolux before it shut down operations in Iowa in 2012, the company has extra capacity currently on some of its machines, Gruhn said. "That's an area right now where we would have some opportunities to take on some more work."
Facebook Notice for EU! You need to login to view and post FB Comments!