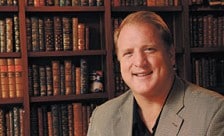 Sitting around feeling sorry for himself was not high on former Gov. Chet Culver's priority list after being voted out of office in favor of Gov. Terry Branstad last November.
"What I tell people is, winning is more fun. Let's be honest about it," said Culver, who took over as governor in 2007 after eight years as secretary of state. "The fact of the matter is that I had a unique privilege of serving the people of Iowa for 12 years at an elective office. Losing is not fun, but the question is, how do you respond? Do you let that define you, or do you try to move on?"
Culver and others had no choice but to move on after the most recent election cycle, and he's not the only person in a high-profile position who has found work outside of political office.
For Culver and his lieutenant governor, Patty Judge, the cruel reality in November was that the political winds had shifted. For three Iowa Supreme Court justices, an unprecedented decision by the state's voters left them searching for their next job and trying to make sense of what happened.
The Business Record caught up with Culver and former Supreme Court justice Michael Streit.
The most important issue
Culver is out of elected office and, by and large, out of the political arena. But he is still focused on what he believes is an unavoidable issue.
"I don't think there is a more important issue than energy security facing the world right now," Culver said. "I think it is literally the most important public policy issue around the globe. The question is, how can we secure enough to provide for our needs, whether here in Des Moines or anyplace in the world?"
The table has been set for Culver's new consulting business. Chester Culver Group LLC, or The Chet Culver Group for short, will focus on helping renewable energy businesses be successful. Culver's first client is Viryd Technologies Inc., an Austin, Texas-based company that manufactures small wind turbines and has a large focus on wind energy in the Midwest, he said.
The former governor said he has always had a passion for renewable energy, and touts a number of accomplishments in that field while in office. Iowa moved to first in the world per capita in the use of renewable energy, and Culver also points to the development of 40 wind farms during his time in office.
After being voted out, Culver had a choice to make. He said he had opportunities out of state, including in Washington, D.C., but decided to follow a career path that wouldn't uproot his family and would give him the flexibility to be more involved with his two children.
So he decided to enter the private sector with a for-profit business. Culver said the business will start small, both in the number of clients it helps and the number of employees it hires.
When he does add clients, Culver wants to add them in multiple areas to try to cover a large portion of the renewable energy industry, including solar and biomass.
"I'm not in a rush," he said. "I'm very fortunate to have established this small business, and I feel very good about the opportunities to grow and expand. At the same time, I want to be smart about how quickly we do that."
Even though he's not in politics, Culver knows that renewable energy is a political issue, and plans on working with politicians such as U.S. Secretary of Agriculture and former Gov. Tom Vilsack; the two remain in touch.
He touts the economic benefits of renewable energy as a reason that voters should – and he believes will – care about renewable energy issues. All it takes is people comparing the (government-subsidized) price of corn-based ethanol to regularly priced gasoline, or using small wind turbines from Viryd Technologies to save energy costs for Iowa farmers. Even homeowners and businesses stand to benefit from using renewable energy, he said.
"If we don't push the limits of discovery and focus on research and development and support these emerging new renewable energy technologies, that's going to have very negative consequences," Culver said. "The fact is, the energy demands are going to continue to grow. I believe as a people, and certainly Iowans have showed this, we're up to the challenge. We're doing in Iowa what most states haven't done."
Of course, as a former governor, Culver is planning to stay involved in politics. He said he will focus on advocacy work, especially with "bipartisan" issues such as civility and anti-bullying initiatives. He plans on keeping busy, but seems to enjoy the freedom of not being in office.
"I couldn't be any happier right now with what I'm doing," Culver said. "In a lot of ways, life is just getting started. I'm 45 years old. So I'm looking forward, not backward."
Different skill set
Michael Streit said he reads many of the articles and blogs written about him, though he thinks he might sleep better if he didn't.
It took him a while to understand exactly what happened after not gaining retention. Streit, who was recently hired by the Ahlers & Cooney P.C. law firm, said when the Iowa Supreme Court in 2009 ruled unanimously that banning same-sex marriage is unconstitutional, he knew there would be strong disagreement by some. It soon became obvious, he said, a large amount of money would be spent to campaign against the three justices who were up for retention.
"But we did not want to become political animals," Streit said. "We thought the citizens of Iowa would see through this. … But when you look at the campaigns, a lot of people voted and didn't even know we were human beings or what we did, the careers that we had."
The vote forced Streit to question his future. He was age 60 at the time, and he knew he could afford to retire, but that wasn't what he wanted. He said he felt he had more to offer.
He decided to go full circle. Streit started his career at a law firm in 1975 before being appointed by Branstad as a district judge in 1983. He said he interviewed at several firms but was "taken aback by the quality" at Ahlers, where his emphasis will be on complex mediations and arbitrations.
His first arbitration at Ahlers dealt with a grain bin collapse. He said many of the cases he will deal with will be complicated disputes that affect the bottom line for a business.
"I enjoy problem solving. I enjoy helping people," Streit said. "It just fit, and it took me a while to analyze what I wanted to do in my life, but it just fit for me to do this."
After working as a judge for more than 25 years, going back to being a lawyer will take a different set of skills, he said. A judge is presented the facts and competing interests, while a lawyer must be an advocate for the client.
"I've already had clients come in and lay their problems out, and these people are dependent on me," Streit said. "And that's a different feeling than as a trial judge or a Supreme Court justice."
He also plans on teaching at Drake University Law School, depending on whether his schedule at Ahlers will allow for it.
Streit's name will go down in history books for the court's controversial same-sex marriage decision, a ruling that ultimately cost him and two fellow justices their spot on the bench. He doesn't regret the decision.
In fact, if a campaign is mounted against Justice David Wiggins, who is the only Iowa Supreme Court justice up for a retention vote in 2012, Steit said he would speak up to "do whatever I can to maintain the court system that we have today." That likely wouldn't include raising money for a campaign, but would include trying to make sure voters are educated, he said.
"Are (the justices) just supposed to sit there and be voted out? At some point in time, if that continues on, you will not have good people applying for these jobs," Streit said. "It sounds egotistical for a former judge to say, 'I'm really good people,' but do you want politicians to be the ones running our court system? I don't think the answer is 'yes' to that."