Music lovers pour passion into On Pitch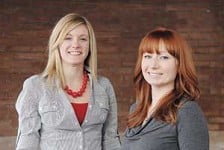 Before launching On Pitch LLC in March 2010, Hillary Brown and Jill Haverkamp each had left Des Moines to study music marketing in larger cities.
Brown, 31, moved to Los Angeles in 2001 to pursue a career in entertainment marketing. Working for A.D.D. Marketing & Advertising, she cut her teeth in the fields of street marketing and event planning.
Haverkamp, 28, earned a marketing degree from Columbia College Chicago and after graduation worked as a freelance writer for the Illinois Entertainer and helped develop artists' careers while working for Victory Records Inc. and Paperwork Media.
She returned to Des Moines in 2007, followed by Brown the subsequent year. Upon their homecoming, both women immediately got involved with the Des Moines Music Coalition and helped to promote the inaugural 80/35 Music Festival.
"This is what we love to do," said Haverkamp, who also works full time as a marketing manager with Old Main Brewing Co. in Ames. "I think everyone outside of their full-time jobs has some sort of passion."
"We were spending so much of our time doing this stuff," said Brown, a full-time social media strategist at Lava Row Inc., a social media consultancy firm in Des Moines. "We should get paid; we're working hard on these projects and seeing results."
Haverkamp said forming On Pitch legitimized their efforts.
"It's our passion project," she said. "It allows us to kind of fulfill these passions that we have of working in the music and entertainment scene, as well as utilizing our experience."
Now, as On Pitch continues writing biographies and seeking blogger attention for bands such as The Nadas and The Envy Corps, it promotes venues such as Vaudville Mews and events such as the Simon Estes Concert Series.
"As we progress," Haverkamp said, "I see working with bands and things outside of Des Moines, too."
On March 17, at the South by Southwest music conference in Austin, Texas, On Pitch will lead a panel discussion about the feasibility of launching a music career outside large metropolitan cities. Brown will moderate the session, titled "Landing a Music Career in Flyover Country."