NEW EVENT: Wonder of Words Festival
A new event targeted to bookworms and writers will debut this fall in Des Moines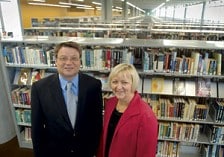 The Downtown Community Alliance (DCA) and the Des Moines Public Library are hosting the Wonder of Words (WOW) Festival, the city's first-ever readers festival, Oct. 21-26 in locations across downtown Des Moines.
Readers festivals have been popping up in cities across the country for the last 30 years and have been gaining popularity recently, said Glenn Lyons, president and CEO of the DCA.
He pointed to the success of Miami Book Fair International, which is now in its 28th year and attracts hundreds of thousands of visitors, as well as the Tucson Festival of Books, which has only been around for four years and is already attracting 80,000 people.
But one of the biggest deciding factors for bringing a readers festival to Des Moines is the popularity of the Des Moines Arts Festival, which attracts 250,000 people each year.
"Des Moines is ready for it," Lyons said.
However, unlike most book festivals, which traditionally offer author readings and presentations, Lyons said WOW will use "all of the humanities to celebrate the written word."
To do so, the DCA and the library have joined with various sponsors to put on events throughout the month, such as a film screening about Pulitzer Prize-winning Des Moines Register editorial cartoonist J.N. "Ding" Darling put on by Simpson College, a Pub(lishers) bar crawl sponsored by Full Court Press and a hands-on children's publishing session put on by the Rotary Club.
Jan Kaiser, marketing manager for the Des Moines Public Library, said one reason the groups are hosting so many types of events is to attract readers of all ages.
In addition to the various programs, the festival will feature 50 to 75 Iowa writers as well as an internationally renowned author, who will give a reading and presentation at Hoyt Sherman Place on Oct. 25. The DCA expects to announce the author later this summer.
This may be the festival's inaugural year, but the DCA and the library have high expectations, and hope to attract 12,000 to 15,000 people. The groups also still have some plans in the works.
"One problem is, it can't be too big in its first year," Kaiser said. "There are some great ideas, and 10 years from now, I hope we're doing all of them."