New exterior design for Hy-Vee grocery stores revealed
Architects for the grocer have been working on an new exterior design for future stores for about 10 months, a Hy-Vee official said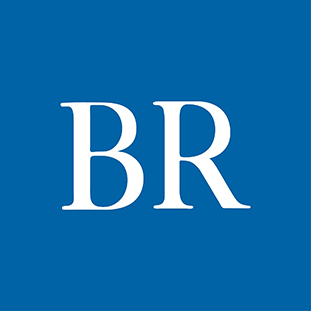 A Hy-Vee grocery store planned for Grimes will include a new exterior design with brick, precast concrete panels and metal flashings in gray shades that range from light to charcoal.
The store will also include a nail salon, DSW Shoes, Joe Fresh Clothing, Starbucks, pharmacy, wine and spirits, and Aisles Online, according to a site plan approved by the Grimes Planning and Zoning Commission on Tuesday. Also planned is outdoor patio seating and charging stations for electric vehicles.
The store, which will be located at 351 N.E. Gateway Drive in Grimes, is scheduled to open in September 2021.
"Our architects have been charged with [providing] a new look for Hy-Vee and you folks are lucky to get the first model," Randy Downs, Hy-Vee's assistant director, site plan, told the commission. The company's architects have worked on the new design for more than 10 months, he said.
The exterior design of existing Hy-Vee groceries includes shades of tan and brown and at some stores, green awnings over entryways.
"On the inside, there's a lot of new things as well," Downs said citing the nail salon and shoe store.
The store will have a food court-like area in which customers will have a variety of freshly prepared meals from which to choose including sushi, Italian, Asian cuisine and barbecue, Downs said.
The 92,989-square-foot grocery store will be among the largest of the West Des Moines-based grocer's 275 retail stores located in eight Midwestern states. The chain's largest store is about 98,000 square feet and is located in the Minneapolis-St.Paul, Minn. area, Downs said.
"This is going to be a flagship store," Downs said of the new Grimes grocery.
The store is planned on about 10 acres west of Iowa Highway 141. The parcel is part of a tract the retailer bought in 2018 for $3.85 million from Hope K Farms LLC. Included in the purchase was 1.7 acres that Hy-Vee in August sold to Dupaco Community Credit Union.
The new Grimes store will include a larger outdoor pickup area for its Aisles Online service. Ten parking spaces are designated for Aisles Online.
"During this pandemic, the Aisles Online shopping has reached almost a peak of 15% of our business," Downs said. "Where does it go from here? We don't know. But we're trying to plan ahead."
Also Tuesday, the commission approved a site plan for a second Hy-Vee Fast & Fresh that is proposed for 1401 E. First St. The Fast & Fresh is the second proposed for Grimes. Last week, the City Council approved a site plan for a Fast & Fresh store and Smokey Row coffee shop at 3605 S.E. Gateway Drive.
"Hy-Vee's investment in Grimes is an exciting moment," City Administrator Jake Anderson told the Business Record. "The project brings more services to the community, making the case for 'Why Grimes?' all the more compelling."
The 4,095-square-foot Fast & Fresh is about half the size of Hy-Vee's other convenience stores. A coffee shop had been proposed but the plan was scrapped after push-back from a vendor that would be located in the grocery store, Downs said.
"If we have those folks inside the food store, they don't want to have another shop out front that would be competing" against other vendors, he said.
Facebook Notice for EU! You need to login to view and post FB Comments!