New feature planned along popular High Trestle Trail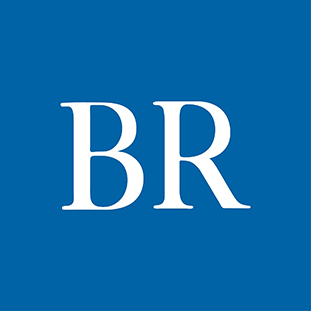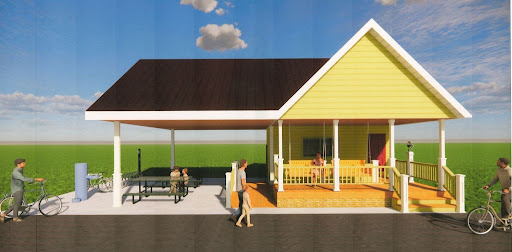 A new feature on the High Trestle Trail – a house-like structure that will include a shaded picnic area and restroom. The structure will be located in Ankeny adjacent to the trail along Northwest Irvinedale Drive. Rendering courtesy of Matthew Mazzotta
Construction of a new structure along a portion of the High Trestle Trail that goes through Ankeny is underway and expected to be completed by early spring 2022, according to city documents.

The structure, described in city documents as a "public art installation," resembles a craftsman-style house with an elevated front porch and overhang that protects a picnic area from the sun, rain and other elements. Two swings will be installed on the porch and picnic tables will be set up under the overhang. Also included will be bike racks, a bike repair station, water fountain and a restroom. A gramophone is also planned.

The structure will be located along the trail adjacent to Northwest Irvinedale Drive north of Northwest 18th Street in Ankeny.

The council approved the art installation earlier this month.

"Drop In is designed for visitors traveling the High Trestle Trail," wrote artist Matthew Mazzotta of Canton, N.Y., to the city of Ankeny. "Visitors will use this structure for rest, use the restroom, get water, eat at the tables, repair a bicycle, listen to music on the custom-design gramophone or swing on the porch."

Mazzotta's projects have been named "Architecture Project of the Year" by the Dezeen and Tate Modern awards. He is a TED Fellow, Guggenheim Fellow and Loeb Fellow at Harvard University, according to
his biography.
More than a year ago, the Ankeny council was presented with a proposed plan to install artwork and other amenities along a 4.1-mile stretch of the High Trestle Trail that bisects the community.
A report provided
to the council included proposed sculptures and other public art from artists across the country, including Mazzotta.

The proposed artwork "authentically expresses Ankeny's most-loved characteristics," the report said.

The 25-mile High Trestle Trail is bookended by Ankeny on the south and Woodward on the north. An iconic half-mile-long, 13-story-high bridge that crosses the Des Moines River valley attracts more than 250,000 visitors annually.

According to the public art master plan, "Ankeny has yet to capitalize on its potential to capture trail tourists."

While the city developed the Ankeny Market and Pavilion, a trailhead located near its Uptown shopping and dining district, more needs to be done to attract trail users to the area, the master plan said.

The council, during the summer, approved a contract to work with Mazzotta on the trail feature. Cost for the total project is estimated at $275,000. The project will be paid for with money from the city's capital improvements budget budget and a $50,000 grant from Bravo.

Mazzotta will construct much of the structure off site, according to a city document.


To see more renderings of Drop In, click
here
.
Facebook Notice for EU! You need to login to view and post FB Comments!