New Initiative: Ankeny Miracle League Field and All-Inclusive Playground
Project has launched million-dollar fund-raising campaign; targets spring 2013 construction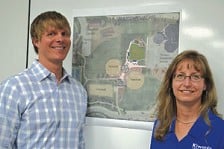 Even before Iowa's first Miracle League field was completed four years ago in Des Moines, organizers were discussing the need for a second ball field for special-needs children in Greater Des Moines.
Now, a $1 million fund-raising effort is well under way to construct a facility in Ankeny to incorporate both a Miracle League field as well as an accessible playground. The field and playground will be located in the city's Hawkeye Park, 504 W. First St. The all-inclusive play area will also serve as the playground of Terrace Elementary School, which is adjacent to the park.
"We are essentially creating a park for kids with special needs," said Ryan Penning, recreation supervisor for Ankeny Parks and Recreation, which is spearheading the project with the Ankeny Kiwanis Club. "It's not just a playground or a program. It's those two combined, creating a park where they can come."
Co-chairing the Ankeny project is Kerry Walter-Ashby, immediate past president of the Ankeny Kiwanis Club. As a member of the Des Moines Miracle League board, she has seen firsthand the program's value.
Community groups across the country have constructed more than 250 Miracle League fields. Like the Des Moines Miracle League field adjacent to Principal Park, the Ankeny Miracle League field will be built using rubberized playing surfaces that enable children with disabilities to play baseball with assistance from volunteer "Buddies."
"That's where we really hope that Kiwanis can get involved with helping us get those volunteers," Penning said. "It's a great opportunity for high school kids."
The parks department estimates that approximately 800 Central Iowa kids with disabilities could take advantage of the facility.
Last week, John Deere Des Moines Works announced a $240,000 contribution. Other large donors are Karl Chevrolet, which has donated $200,000, and Hy-Vee Inc., which is contributing $50,000. Individual donors collectively contributed more than $8,000 during a kickoff event held May 3 at Otter Creek Golf Course.
The original plan was to raise funds for the better part of a year and break ground in spring 2013, "but it may be even quicker than anticipated if fund raising continues to go so well," Penning said.