New initiative: Central Iowa SourceLink
Website designed to be a starting point for small businesses and entrepreneurs to find resources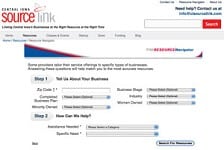 Kevin Lentz was stumped when a friend asked him "where would you even begin the process" of starting a small business.
There are a number of resources in the area, from local and state programs to lawyers and accountants. There just isn't an easy way to find them, Lentz said. He hopes to change that with Central Iowa SourceLink.
"(The resources) are all out there, but there really isn't this umbrella starting point," Lentz said. "And that's really what I see that SourceLink can ultimately become, (which) is the place where people will start."
Lentz started his own business, Performance Marketing of Iowa Inc., in 1999. He worked with the Greater Des Moines Partnership to set up SourceLink in the area. Lentz credits Meg Fitz, senior vice president of regional business development at the Partnership, and Joe Folsom, Des Moines district director for the U.S. Small Business Administration, for helping spearhead the efforts.
SourceLink was originally created in part by the Kauffman Foundation in Kansas City, Mo., and has grown to 20 networks across the country.
The Central Iowa SourceLink website, www.cisourcelink.com, went live in May. It is free to use, and provides users with a way to search for the services they need.
About 50 organizations are listed as resources on the site right now, but Lentz hopes for more, especially through private business involvement.
"Right now you've got start-up organizations and you've got tax-supported entities, but there are a lot of people in the Des Moines market – for instance, banks, attorneys, accountants – that really do play a role in helping businesses start up or be successful," he said. "We want to be able to link them as well in time."
The resource is not just for new entrepreneurs; Lentz hopes that established small businesses, such as his, will find the site useful as well.
The launch of Central Iowa SourceLink comes as the Iowa Economic Development Authority works to create a statewide SourceLink program.
It is Lentz's belief that small business failures are often the result of not starting with a solid foundation. SourceLink, he said, will hopefully help solve that problem.