New owners promise a refreshed, safer, family-focused experience as Adventureland begins a new season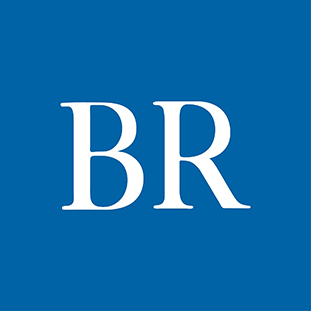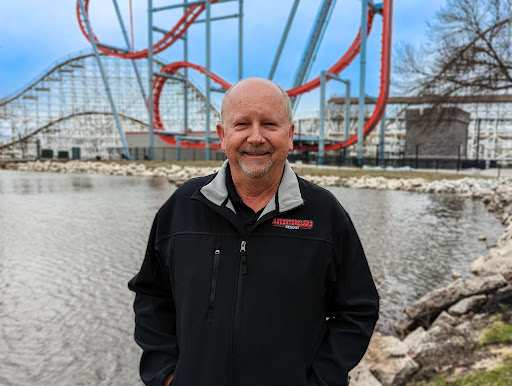 Bill Lentz, the new general manager of Adventureland, stands at the park with the Dragon Slayer roller coaster in the background. The amusement park opened this spring under new ownership. Photo submitted by Palace Entertainment
Adventureland Resort, the summertime tradition for many Central Iowa families, opened for a new season earlier this month under new ownership with a promise of a fresher look, new rides and increased safety.

Palace Entertainment purchased the amusement park and hotel last year from the Krantz family, which founded the theme park in 1974. According to the Polk County Recorder's Office, Palace Entertainment paid $24.5 million for the park and adjacent hotel. The acquisition closed in late December.

Palace Entertainment is a subsidiary of the Madrid, Spain-based amusement park company Parques Reunido, which owns 65 properties worldwide. Palace Entertainment owns 22 properties in the U.S. and Sydney, Australia.

While Adventureland opened earlier this month, its water park, Adventure Bay Waterpark, is scheduled to open for the season on Friday.

Adventureland's new general manager, Bill Lentz, has more than 30 years in the industry, beginning his career at Knotts Berry Farm in Southern California in 1989. The Business Record sat down with Lentz before Adventureland opened to learn more about what Palace Entertainment's plans are for the park.

Part of that plan is an enhanced commitment to safety following the July 3, 2021, accident on the Raging River, in which an 11-year-old boy died. The ride will remain closed this year while Palace Entertainment conducts a review of the ride with its manufacturer and a third-party inspector. State inspectors found 17 safety violations that would need to be resolved before the ride could reopen.

About Lenz:

Age 62.

Married, three children, eight grandchildren.

Education: Bachelor's degree in business administration.

Interests: Golfing, travel and family time.

What special challenges did you face as a new operator in preparing the park to open this spring?
A lot of it is timing. It would have been nice if the sale closed in September; we would have a longer run getting people hired and getting staffing in place and getting the park ready. Staffing has been a challenge, which it has been for everybody, so we've done some things to increase wages. We had wages that maybe were $9 and depending on experience, we might be bringing people in as high as $14. We're doing things to make us more competitive. We're also bringing in nine new attractions, so getting them certified and ready to open is another big challenge. Another thing we're doing is we're big on guest experience. That doesn't mean just having good rides and attractions. It also includes making sure the park looks as good as it can. We only get one chance to make that first impression as the new owner so we want to make sure they come in and understand that we're invested. The five-year investment plan is pretty close to what we paid for it. It's a tens of million dollar investment in rebranding, new attractions and growth. We believe there are a lot of opportunities here.

What are your goals for Adventureland?
The immediate goal is to get the park staffed, get it trained, get it opened and get the message out there that this is still a family park and that this is a safe park. My goal is to make sure we get this park opened and operated safely and ensure the best guest experience possible. Long term is to ensure we invest and grow it effectively. There's a lot of opportunities here. There's a lot of land. We just need to figure out as we grow that it is done right.

What is the park doing to increase safety?
We've added a lot of different safety elements layered in and we've added a position the company has never had before. It's a director of health, safety and environment. That individual checks everything about the property, not just rides. Not just the water park rides; they check the buildings. Everything. Their job is to check everything and make sure all the right safety protocols are in place. These are safety professionals, that's all they've done their whole career.

How has the industry changed over the years?
You had your major players, the Disneys, the Universals, the Sea Worlds — those are your destination resorts. And then you have your regional players. I think one of the things that has changed is at one time the parks worked more autonomously. Now, there's a lot more working together through safety protocols. There's more opportunities to reach out to others and help, and from a business side of things, that's been a big change. I think the focus on customer experience, that's been huge. There's a lot of thought that goes into what attraction you're putting in. There's a lot more new research that's done. We won't even consider an attraction until we've done the market research and get the feedback to make sure we're doing the right thing.

How has the industry recovered from the pandemic?
One of the things that has been surprising is when the pandemic happened in 2020, people didn't spend any money. People didn't go anywhere. So when they got out they were willing to spend more. What we found last year at our parks is the average amount spent had increased, and we believed it was because people hadn't been out and hadn't been spending any money so they were OK to spend it now.

Have the supply chain disruptions affected the operation of the park?
It's really the timing. Even getting some of the plush toys for our games, a lot that comes from overseas. And some of our ride parts. These rides are made all over the world and you can only get parts from certain suppliers, so that can be a challenge. It's just in the lead time. We went to try to buy a forklift and it was 12 months. Before, you could get it in just so many weeks. It's part of what we talk about on a regular basis. Any project we go into, one of the first things we talk about is what are the lead times?

Are changes planned for the hotel?
We are planning a makeover for the hotel. We are doing a few things now, but we're planning a pretty big investment in it next year.

What are some other changes visitors will see this year?
There's a lot of kids' rides we're putting in. There's going to be a lot of focus on the family. We're going to share a big announcement for later this year because we have some big plans for some new attractions in 2023. One of the other things that is changing is the pricing and delivery of our tickets. Online is going to be the way to go. If you go online you can get as much as 30% off that [gate] price just by going online. The other thing we are working on is becoming cashless as a property. That's a step a lot of parks are taking to be more efficient. And the understanding that we're doing everything we can to check our attractions and our check our facilities. We want people to know it is safe.
Facebook Notice for EU! You need to login to view and post FB Comments!