New year brings changes for Business Record and Daily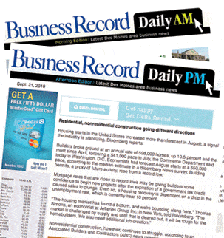 Readers of the Business Record and one of its companion e-mail newsletters, the Business Record Daily, will see a change as the calendar turns to 2011. Beginning on Dec. 31, the Business Record will be published on Friday each week, a change from its traditional Monday publication. Then on Jan. 3, the Daily will double; subscribers to the free e-mail newsletter will receive both a morning edition and an afternoon edition each workday.
If you already receive the Daily, you'll automatically start receiving the extra service. If you don't currently receive it but wish to subscribe, send your e-mail address to circulation@bpcdm.com.
The Business Leads e-mail newsletter will cease publication, but its contents will be absorbed into the Daily. Business Publications Corporation Inc. will continue to send out the Commercial Real Estate Weekly and Business Record Iowa e-mail newsletters on their usual schedule.