Nonprofit: Association of Boards of Certification
The Iowa organization has a 40-year history of ensuring qualified water plant operators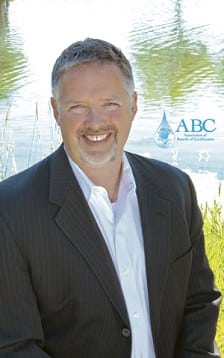 The Association of Boards of Certification (ABC) is assuming a broader role as it gains international members and develops a model certification program for water industry professionals.
"The primary focus of what we do is to certify the front-line wastewater treatment plant operators," said Paul Bishop, the group's CEO. "They really are on the front line of your public health system."
Originally formed in Ames in 1972 by a group of water and wastewater professionals, ABC has more than 100 organizational members in 42 states and 10 Canadian provinces. A majority of the more than 240,000 North American water system operators have taken certification tests administered by ABC.
Bishop recently returned from a visit to Jordan to meet with water industry officials there, an indication of growing international demand as countries build infrastructure.
Additionally, demand for trained water system operators will continue to grow significantly in the United States, where an estimated $1 trillion in infrastructure upgrades is anticipated in the next generation.
The member-based organization is governed by a nine-member board that includes water system operators, regulators and trainers from North America. Bishop, who was recruited to lead ABC in February 2008, formerly served as director of development at Iowa State University.
"The old saying that people don't know much more about their water than when they turn on their tap or flush the toilet, that was me," Bishop said. "Now, to understand all that goes behind what it takes to have safe drinking water is really fascinating."
To complement its niche in exam development, ABC is in the process of creating a model certification program, an additional optional certification to serve as a bridge for operators moving between jurisdictions that have differing certification programs.
ABC, which moved to new leased office space in Ankeny three years ago, is undergoing a voluntary program through the American National Standards Institute (ANSI) and the International Organization for Standardization (ISO) to qualify for ISO 17024 accreditation of its certification programs.