Nonprofit: CIVIC MUSIC ASSOCIATION
This nonprofit organization brings classical and jazz artists to Des Moines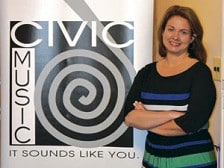 Now in its 87th season, the Civic Music Association is one of the city's oldest cultural institutions and brings world-class classical and jazz artists to Des Moines.
In 1925, three women were tired of traveling outside Des Moines to find classical music, so they decided to start Civic Music, an organization that would bring the musicians to them, said the nonprofit group's executive director, Carrie Clogg.
Originally focused on classical music, the group added jazz artists to its mix of performers about 10 years ago, Clogg said, adding that those concerts have become very popular, especially with younger audiences. Civic Music now holds a six-concert season, consisting of three classical and three jazz concerts each year.
In addition to its annual concert season, Civic Music puts on a free summer concert series featuring the Belin Quartet. The string group puts on lunchtime concerts each Friday from May 25 to July 27 in locations around the city.
"This is the first time they're moving around." Clogg said, pointing out that the group used to only perform in Nollen Plaza. "But as downtown has expanded, we are expanding where we perform."
The other pillar of the organization's foundation is music education, Clogg said. Each artist contracted to perform also takes part in an educational outreach activity in the community. Clogg said these range from teaching students during school music classes to performing at retirement homes.
It's important that the artists are accessible, she said. Concert attendees also have the opportunity to meet and speak with the artists after performances.
Clogg said many people call the Civic Music Association one of Des Moines' hidden gems, but she's ready for it to come out of hiding. Recently, the group has turned up the volume to expand its reach in the city. She even created a marketing position to help share its mission.
Clogg grew up in Indianola and received her degree in music business. Before starting at the Civic Music Association five years ago, she worked at several opera houses, including ones in New York and Kansas City. She said she never planned to return to Iowa, but Des Moines' revival excited her.
"What Des Moines was doing thrilled me," she said. "Its commitment to arts and culture was just what I was looking for."