Nonprofit: Des Moines Metro Opera
DMMO celebrates its 40th year with improved turnout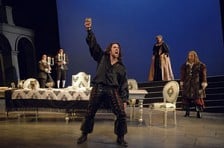 In Puccini's critically-acclaimed opera "La Rondine" the poet Prunier opens the first Act saying that romantic love has returned.
At the Des Moines Metro Opera (DMMO), the love of romance, drama, tragedy on the stage returned for its 40th anniversary season.
Puccini's "La Rondine" – the first opera ever performed at DMMO – made its return to the Indianola-based company to celebrate the anniversary, as it did in 1997, for the 25th anniversary. DMMO is also performing Mozart's "Don Giovanni" and Tchaikovsky's "Eugene Onegin."
"As you go through a summer season like ours, there's no where else that you can get three operas in a weekend," said Karol Nickell, executive director of DMMO. "Even the major metropolitan opera house does not stage operas back-to-back like we do."
Nickell said DMMO is a "rare and cultural gem" because she knows of only 12 summer opera festivals and the opera brings in talent from across the country to perform.
"We should feel very fotunate as Iowans to have this type of performing arts company within our midst," she said.
Over the last 40 years, DMMO has brought 125 operas to Greater Des Moines and will bring "Romeo and Juliet" by Gounod, "Peter Grimes" by Britton and "Elektra" by Strauss to the opera house next summer. Nickell said DMMO doesn't discriminate in terms of material and tries to bring in operas from every era – "La Rondine" premiered almost 130 years after Mozart's masterpiece.
DMMO also is committed to educating students in Iowa about the history of opera, which it does through Opera Iowa, a traveling troupe of six singers. Opera Iowa visits 80 schools in Iowa and a few surrounding states each year, exposing about 22,000 students to the style, Nickell said.
"It's probably in many cases, the only live performance you will see in those communities on an annual basis," she said.
The opera has seen a good turnout this year for its performances as well. Nickell said DMMO has had 100 more subscriptions – ticket purchases for all three operas – than last year and has seen more than 470 households purchasing tickets for the first time, an increase of 20 percent.
Nickell said people should consider going to the opera for the music, drama and the glamour.
"It's not like you can say you can go to that movie or see it on Netflix; it's a once-in-a-lifetime performance," she said.