NONPROFIT: Link Associates
Organization celebrates donors who helped it acquire new headquarters building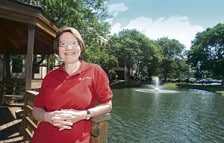 Let in the light.
Those words could become a common theme for Linda Dunshee, her staff and the clients whom they help navigate a challenging day-to-day existence.
The light, literally, is from the sunshine that streams through Link Associates' new headquarters at 1452 29th St. in West Des Moines.
Link is a 56-year-old nonprofit organization that helps people with varying degrees of mental disabilities to acquire the skills necessary to hold a job, plan a vacation and live a life with as few limitations as possible.
For several years, those skills were acquired in a converted warehouse on Northeast 14th Street, a building that served Link's purposes until the costs to make needed repairs to its roof, heating and cooling system, plumbing and lighting were estimated at $8.8 million.
The building didn't yield much sunshine.
In 2009, the organization, through its foundation, launched a campaign to raise the funds necessary to acquire a building where it could locate its administrative offices and have enough space – and light, with windows surrounding the buidling – for the roughly 150 people who use its on-site services every day. Link serves about 1,200 people through its various programs.
The Weitz Co.'s Mike Tousley led the campaign, which raised about $2.4 million, some of it collected in pennies by clients, or consumers as they are called at Link. In October 2011, Link bought its new, 57,000-square-foot headquarters building for $1.9 million and spent $1.6 million on renovations, said Linda Dunshee, the nonprofit's executive director.
On May 8, the organization held an event to celebrate campaign donors, which included a raft of prominent Greater Des Moines business people. One wall is covered with quotations from donors.
It is a relief to be "located in an environment that is not industrial," Dunshee said.
The building provides consumers "more space, more dignity, more privacy," she said.
Link also has five large rooms that are available for other nonprofits, rooms that could be used for strategic planning or a board retreat, Dunshee said.
"We want to be able to help others who engage in fund raising," she said.