NOTEBOOK: Casey's refreshing logo, store exteriors
New logo is 'approachable, fun,' says Casey's official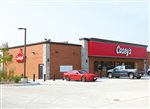 For years, people identified Casey's General Stores by their multicolored logo of a barn with a rooster-topped weather vane on it.
But after 52 years, the Ankeny-based convenience store chain is replacing the logo with one that has only one color and includes a modern-font type. In addition, the Fortune 500 company is updating the exterior of its stores with a new, fresher look.
"Over the past two years, the pace of change we've made to our guests' experience has really accelerated … so much so that it was getting further and further out ahead of our visual look and feel of the brand," Casey's Chief Marketing Officer Chris Jones said about the change that took effect Oct. 1. "We knew it was time – probably past due – to refresh our look and feel."
The new logo keeps three elements of the original: the outline of the barn, the weather vane with rooster on top and the color red. The sleeker-looking logo with one color includes the name "Casey's" printed across the middle in a modern script. Dropped from the original logo are the words "General Store." Also gone are the shingles on the roof of the barn as well as the black, brown and yellow colors.
Casey's, with more than 2,200 convenience stores in 16 states, is one of several well-known companies in recent years to introduce a new logo, often considered the most important aspect of a business's brand. Among businesses that have changed their logos in recent years are IHOP, Google, Twitter and Starbucks.
Logos typically are considered the face of a company and its products and services, experts say. It is the logo, they say, that often connects a brand with its consumers.
So why change after using the same logo for decades?
"Look at how the way we deliver messages has changed over the course of the past 20 years," said Sandy Henry, a professor with Drake University's School of Journalism and Mass Communication. "Almost all of our communication is taking place in a digital environment now, and graphic design logos look different in a digital environment than they do in an analog environment."
Having a digital presence means having a cleaner, simpler look, she said.
"Brands feel that if they don't continue to evolve their look to keep up with changing tastes of their consumers, they will feel outdated and out of touch," Henry said.
When brands change their look, they need to be careful to not alienate loyal customers, Henry said. "Longtime customers have a feeling of comfort that a particular brand brings with it."
Companies that make wholesale changes to their brand identity risk becoming disconnected with customers, she said.
"If you're doing a complete about-face – a total change – you can run the risk of people who maybe only knew you a little bit thinking that is a completely different brand or a completely different business," Henry said. "You run the risk of creating a disconnect in people's brains."
In the past two years or so, Casey's has added a new mobile app, a rewards program, third-party delivery through DoorDash and curbside pickup.
Casey's increased digital presence meant creating a more contemporary logo, a process that began more than a year ago, Jones said.
"Ultimately, what guests will notice is that [the logo] is very approachable, it's fun and conveys the message that 'This looks like a place that sells great food,'" Jones said. Focus groups, which included current consumers, said the new logo reminded them "of the Casey's that they knew loved but that it also suggested to them that there's new and exciting things coming from Casey's in the future."
"We considered that a real win from a brand identity standpoint," he said.
The rollout of the new logo, designed by New York City-based Interbrand, begins today and a new advertising campaign begins this month, Jones said. The company's digital platforms have been updated, as well as products such as pizza boxes, he said.
The next things to be changed are the signs outside the stores, which could take several years to complete, Jones said. Stores that are under construction will all include the new signs; new signs at existing stores will be added in the coming years, he said.
Jones declined to reveal the costs associated with the logo change.
The first store with the new signage is a site in Ankeny, Jones said.
Casey's is the fourth-largest convenience store retailer in the U.S. and the country's fifth-largest pizza chain.
'General store' dropped from Casey's logo
Several focus groups were held with current and prospective customers of Casey's convenience stores before decisions were made to change the logo, a company official said.
One of the things officials quickly realized was that no one called the retailer Casey's General Store, said Chris Jones, the Ankeny-based company's chief marketing officer. "People call us by our first name – Casey's," he said.
Customers new to Iowa and other states where Casey's is located also didn't call the store by its full name, he said. "They said they thought of a general store as a place that might have horse feed and saddles and farm implements. …
"We really identify more closely with a pizza place or a convenience store. So we felt like it was time to leave behind that 'general store' moniker. Our guests certainly agree with that sentiment."
Facebook Notice for EU! You need to login to view and post FB Comments!