NOTEBOOK: Leaders Survey: Stress at work and how Greater Des Moines compares with other regions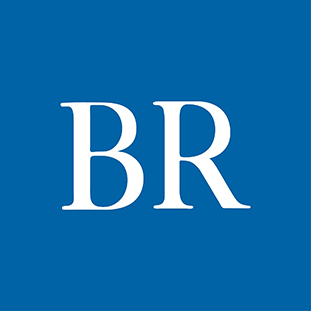 Editor's note: This is a continuation of our 2021 Leaders Survey coverage, which we began publishing in the Nov. 26 issue. Our annual survey asks business leaders to share what they feel are some of the top issues affecting business in Central Iowa, and in particular the Greater Des Moines region. As you read, you'll see the responses and also select remarks from those who opted to leave comments as they took the survey.
This year's guest editor, Jake Christensen, is the founder and president of Christensen Development. He provided analysis of each question.
---
On average, how many hours per week are you working?
2021: 48 hours
2020: 50 hours
2019: 51 hours
---
Agree or disagree:
Greater Des Moines' economy is better off than regions of similar size around the country.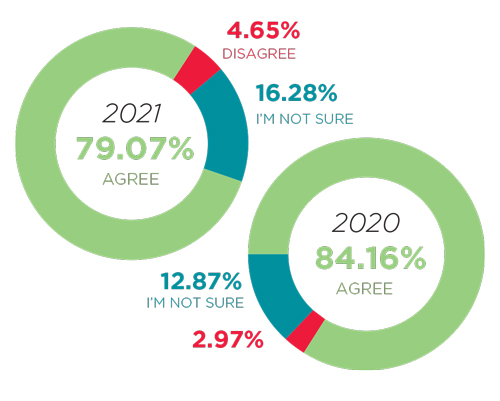 Guest Editor Jake Christensen:

The vast majority of readers agree that Greater Des Moines is better off than our peer cities. However, the percentage is lower than last year. The responses focused on the regional approach to problems, the strong employment in financial and insurance services, as well as the history of public-private partnerships for long-range planning. I agree that Des Moines outperforms our peer group and continues to set long-range goals, even in times of uncertainty. Our region continues to dream and succeed, but we still have work to do in areas of affordable housing, workforce and diversity.
Agree. Key metrics continue to indicate the strength of our region as we continually outpace other major Midwest metros in population growth, real domestic product growth and employment growth. Our community has a history of continuing to invest in itself even during challenging economic times, and we expect this investment will pay off during the economic recovery phase.
Jay Byers, president & CEO, Greater Des Moines Partnership
Agree. We have a great balance of public-private partnerships.
Steven Simon, CEO, South Story Bank & Trust
Agree. Collaboration and regionalism is the key to our success in the region. When one jurisdiction succeeds, we all succeed.
Jen Cross, vice president of donor relations, Great Outdoors Foundation
Agree. Des Moines continues to progress and lead the pack by way of public-private partnerships. These help to develop new and exciting quality of life initiatives that also grow our economy and habitats.
Cory W. Sharp, architect, principal, FEH Design
Agree. We continue to grow, and every time I drive throughout Des Moines and the surrounding area, it continues to grow in spite of the pandemic.
Michael Wolnerman, vice president, pharmacy and real estate, OneroRx
I'm not sure. There are various ways to measure being "better off," but I again contend that wide and growing inequalities threaten our community.
Mark Core, education advocate, YSS
I'm not sure. Our organization works on a national platform, and the feedback I get from other areas is mixed.
John Bergman, president, SPMC LLC
---
How stressed are you feeling at work? (1 being not very stressed)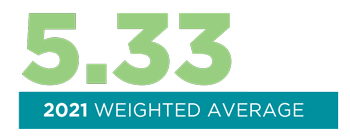 Guest Editor Jake Christensen: The Central Iowa workforce responded that they are working slightly less over the last year, and their stress level has decreased as well. The flexibility that a remote option for work offers has improved some employees' control over their workday, thereby lowering their stress. Professions that focus on relationship-building are challenging in a virtual meeting workplace, thereby increasing the stress for that segment of business. There are also ongoing concerns about the uncertainty around the return to work. Employers and their human resource departments face challenges in keeping workers safe as well as having them feeling safe during the return to the in-person work environment.
10. Working remotely is very difficult. Also, with companies giving less to nonprofits there is much more pressure to raise funds.
Kathy Salisbury, director, Go Red for Women, American Heart Association
8. The last 18 months have presented HR professionals with new, unprecedented challenges asking them to step into areas with low experience (e.g., medical). In addition, the mental health of our workforce and communities is struggling. Being in a role where caring for others is paramount has been trying.
Stephanie Gott, vice president of human resources, Kreg Tool
7. Nearly every aspect of how our operations are executed has changed in the past 18 months. From our physical infrastructure to our staffing levels, this transition has created an incremental impact. The amount of time and resources it takes to deliver the same result we used to get is creating a cumulative and sustained issue of team members being over capacity.
Beth Shelton, CEO, Girl Scouts of Greater Iowa
5. COVID is present, but we have our arms around it. Business is strong, just challenging to get supplies in a timely manner.
Rob Mauritz, president & CEO, LBS/Corporate Image
3. Having more control over when to engage with the job (work) has made it seem much more balanced and reduced the old 8-5 M-F work box mindset. Maybe ultimately working more but feeling less stressed about it.
Eric Burmeister, executive director, Polk County Housing Trust Fund
3. Business operations are running smoothly due to great staff, efficient and effective systems, and great clients that appreciate what we are doing for them.
Keith J. Gredys, chairman and CEO, Kidder Advisers Inc.
2. The initial days of COVID were stress on steroids. We have a solid plan for how to address food insecurity; a talented, passionate team; and the support of the community. During COVID we did more. We are now turning our attention to doing better.
Michelle Book, CEO, Food Bank of Iowa
Facebook Notice for EU! You need to login to view and post FB Comments!