Old and new traditions take hold in Des Moines again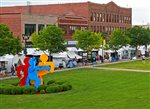 The COVID-19 pandemic altered many of Des Moines' activities and entertainment options that we hold dear as traditions. For this year's photo issue, we wanted to show some of the old and new traditions bringing a renewed optimism into the community. Our photographers captured just a few of the many traditions and our readers told us what they are most excited to have back this year. Have a story idea we should be covering as Des Moines embraces its return to community gatherings and events? Email emilybarske@bpcdm.com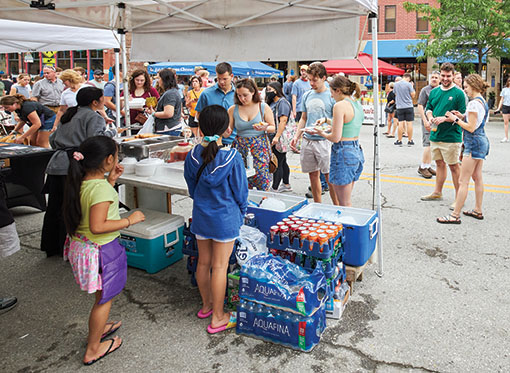 Downtown Farmers' Market evolves, brings back tradition
The Downtown Farmers' Market rang the opening bell on Court Avenue on May 1 to kick off a new season of live, in-person markets. The long-awaited season has been exciting for the market's staff, who last year had to find creative ways to keep vendors and customers connected after the in-person market was canceled because of the coronavirus pandemic.
In 2020, they held Facebook Live events, online markets and drive-thru markets. With safety guidelines in place to protect patrons and vendors from coronavirus, the in-person market was able to return this year.
Plans were made before a mid-May announcement from the CDC, which said vaccinated people were safe to gather and not wear masks in most settings. The Downtown Farmers' Market then adjusted some of its plans, allowing more vendors to participate and more activities to be held, while still recommending that patrons take safety precautions. Photo by Joe Crimmings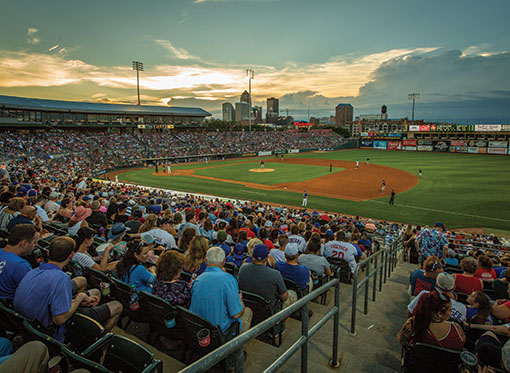 Back in the ballpark
A Principal Park crowd watches an Iowa Cubs game. Due to the coronavirus pandemic, the minor league baseball team didn't have a season in 2020. Photo by Iowa Cubs team photographer Dylan Heuer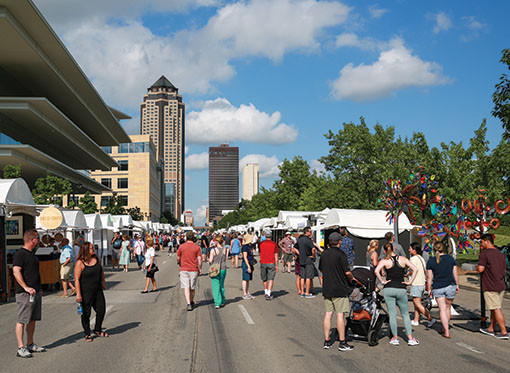 Arts Festival
After a year off due to the pandemic, the Des Moines Arts Festival returned June 25-27 in downtown Des Moines at the Western Gateway Park. The event featured more than 160 artists in the categories of visual, performing, interactive, music and film. Photos by John Retzlaff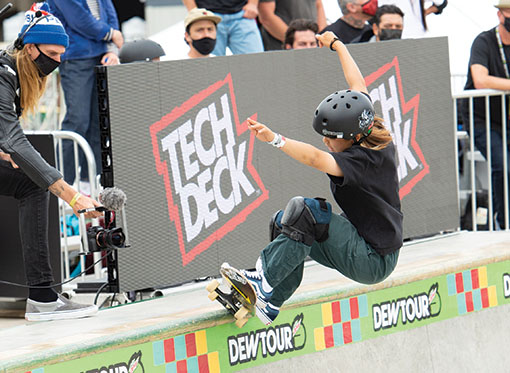 Dew Tour takes on Des Moines
Within weeks of its official opening, the Lauridsen Skatepark hosted the Dew Tour in early May. The events were World Skate-sanctioned men's and women's skateboarding street and park competitions, serving as the only U.S.-based global Olympic skateboard qualifying events for the Olympic Games in Tokyo this summer.
Skateboarding is scheduled to make its debut at the Tokyo games, and the Lauridsen Skatepark's street and park courses had been approved as an Olympic-level competition venue.
At 88,000 square feet, the Lauridsen Skatepark is the largest in the country.
The Des Moines skatepark is the result of a partnership among Polk County, Catch Des Moines, Skate DSM and the local skateboard shop Subset. It was built by California Skateparks, the skatepark architects of the Dew Tour since 2014. Photos by Duane Tinkey
Facebook Notice for EU! You need to login to view and post FB Comments!