Opus Group digs in on Hewlett-Packard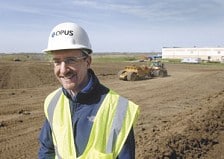 On May 2, The Opus Group kicked off an expansion of Hewlett-Packard Co.'s South Side facility as wet spring weather gave way to sunny skies in Des Moines.
The Twin Cities-based design-build firm, which in October 2008 completed a 320,000-square-foot build-to-suit industrial project for TPI Composites Inc. in Newton, is focusing its attention on Greater Des Moines as the economy recovers.
On April 20, Opus acquired a 23-acre site adjacent to Hewlett-Packard's existing 410,000-square-foot warehouse and distribution center at 3600 Army Post Road and plans to construct a 300,000-square-foot industrial building.
Opus will own and manage the new building. Jeff Smith, a director of project management who administers the company's office in West Des Moines, said approximately 20 to 25 subcontractors will take part in the development.
Hewlett Packard's new high-cube warehouse will have 25 loading docks, energy-efficient fluorescent lighting fixtures and a climate-controlled enclosure that will connect the one-story buildings.
"We're going to be connecting the two buildings with an on-grade link," Smith said. "There is a fair amount of product between the two buildings that they share."
Construction costs are estimated at $13 million. The national consolidation of the company's logistics operations will also include a $1.4 million investment to upgrade electrical and security services and add new equipment, according to city records.
Official documents also indicated that Hewlett-Packard's expansion in Des Moines is dependent on obtaining state and city incentives to help finance the development. The project is vying for a $1.6 million financial assistance package consisting of a $600,000 forgivable loan from the Grow Iowa Values Fund, a $450,000 refundable credit for sales and use taxes on construction materials, a $60,000 sales tax refund, and jobs tax credits totaling $498,000.
The Des Moines City Council, which approved the final subdivision plat for Airport Business Park Plat 3, has also proposed a three-year, 100 percent tax abatement on the planned improvements. Hewlett-Packard plans to hire 150 people and retain 440 employees at its present location.
"With the downturn in the economy, things really slowed down from a development standpoint," Smith said, referring to The Opus Group's presence in the metropolitan area during the recession. "So this is really the first new development deal since the economy bottomed out. Now things are kind of turning around, and we are seeing more activity."
In the past two to three weeks, work crews have displaced nearly 200,000 tons of dirt on the site as others prepare to install footings and erect precast concrete walls. As part of the project, Gannett Drive will be extended from the site's eastern border to Southwest 34th Street, a portion of which was vacated by the city and sold to The Opus Group.
Construction is expected to last seven months and wrap up in December. Hewlett-Packard could begin occupying the space in February. The initial build-out will include 150 employee and guest parking stalls. Smith said there is room on the site to accommodate a potential 75,000-square-foot expansion.
The Opus Group, a commercial real estate developer that specializes in the design, construction and management of office, industrial, retail, institutional, governmental and multifamily properties, has annual revenues of approximately $300 million.
It purchased the Army Post Road expansion site from ABC Partners LP, an investment group managed by Richard Margulies. Hewlett-Packard holds a long-term lease on its current facility and signed a 10-year lease on the new building with options to renew.
Elsewhere in Iowa, The Opus Group is developing a $38 million Armed Forces Reserve Center in Cedar Rapids. This summer, the company plans to start a $7.5 million remodel of two eight-story residence halls at Luther College in Decorah. That project is scheduled for completion in fall 2012.
The company's subsidiaries include Opus Holding LLC, Opus Holding Inc., Opus Development Corp., Opus Design Build LLC and Opus AE Group Inc. It has offices in Chicago, Denver, Indianapolis, Kansas City and Milwaukee.
Smith said The Opus Group has approximately $60 million worth of construction under contract in Iowa.
"We kind of have a renewed focus on the Iowa market," he said, noting that Opus entered the Greater Des Moines market about 10 years ago and in 2006 opened an office in West Des Moines.