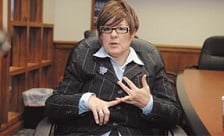 Well before her first day today as Iowa's new economic development director, Debi Durham was working the phones and traveling the state.
"When I read about a company looking at Iowa, I've been picking up the phone and asking (community leaders), 'How can I be helpful?'" said Durham, "That's the kind of thing they've not had before."
Durham, 50, has led the Siouxland Chamber of Commerce and its economic development arm, the Siouxland Initiative, for the past 15 years and is well-known throughout the state's business and community development circles.
"I'm really all about problem solving, and I'm really about partnerships," Durham said during an interview with the Business Record last week. "We all have limited resources, whether it's skill sets, talent or knowledge. So whether it's a prospect or a community challenge that we're dealing with, I'll sit down with my notebook and say, who are my key stakeholders, who do we need to bring along? And I pick up the phone and call people and say, 'I need your help on this.'"
Having someone with hands-on experience in regional economic development is valuable, said Kathryn Kunert, the 2010-11 president of the Professional Developers of Iowa.
"I think she'll be extremely effective," said Kunert, vice president of communications and economic development for MidAmerican Energy Co., who has worked with Durham on a number of projects over the years. "She knows what it takes to attract businesses and how to retain them. She knows what tools we need to put into our toolbox to remain more competitive."
Though Sioux City was rocked when John Morrell & Co. shut down its plant, putting nearly 1,500 people out of work, the city has also seen successes, among them expansions of American Pop Corn and Industrial Design Fabrications and Installations Inc. earlier this year.
Mike Ralston, president of the Iowa Association of Business and Industry, said Durham's skills are evident from Sioux City's overall growth during her tenure.
"Sioux City is really an exciting place, and it wasn't always that way," he said. "It's because of Debi that it is. … Debi is a smart woman, a successful economic development professional and a close confidant of Gov. Branstad, and those three things make her a great pick."
Help wanted
A native of Joplin, Mo., Durham and her husband, Joe, moved to Oklahoma after college when he landed a job running the cable television system in the small town of Miami.
"The headline at that time was that the chamber was without a director, the finances were grim and they weren't sure what to do," said Durham. Less than a year out of college, her only experience at that time was a brief stint selling advertising for a community magazine in Missouri.
"So I started calling board members, saying, 'This seems to be the perfect fit for me.' I really convinced them that they had nowhere to go but up, because of where it was."
After 10 years in Oklahoma, the couple moved to Sioux City, where she was offered a position with the chamber's government relations division, and a year later became the first woman to be named a CEO of the Siouxland Chamber.
'All kinds of sense'
As the Iowa Department of Economic Development is reorganized as the public-private Iowa Partnership of Economic Progress, Durham said the department will likely return to a decentralized structure, similar to that used during Branstad's first administration.
"Does it make sense for all project managers to be in Des Moines? Certainly, it makes sense in certain areas of expertise, but should we have people out in the regions working with those communities?" she said. "Our thought is that sometimes communities around the state are missing opportunities, just because we don't have enough knowledge of what's out there, and (the communities) don't have the resources to put together some of these proposals."
Durham has been meeting with the Legislative Service Agency's bill drafters to craft a public-private model that she said is the product of extensive research.
"It's something that we've been talking about for a long time," said Durham, who ran for lieutenant governor in 2002 with Republican candidate Doug Gross, who proposed that Durham serve a dual role as the state's economic development director. "I have a white paper that I co-authored with (incoming director of the Department of Management) David Roederer in 2001 that kind of outlines this same idea."
Though many states have established public-private development partnerships, many are in name only, and Iowa's model will attempt to use the best ideas from each state, Durham said.
"What we've landed on is something that has a nonprofit side which companies can build up with private contributions," she said."On the other side, there will be a quasi-governmental entity that will have all the checks and balances and transparencies that will deal with the public funding of economic development."
Ralston said he thinks a renewed emphasis on public-private partnerships "makes all kinds of sense."
"We've had those in the past, and emphasizing those even more makes even more sense," he said.
Durham said the new model doesn't mean the end of offering direct incentive programs to businesses seeking to move into or expand in Iowa.
"I think there's a misconception out there that government doesn't have a role to play in economic development, and that's not true," she said. "That's not what we're proposing. As long as you've got international competition and state competition, there will always be a role for incentives."
The Enterprise Zone program is among those Durham believes has been effective, and legislation proposed by the department should make it easier for cities and counties to use the program, she said.
Durham said it's "very unfortunate" that the Research & Development (R&D) Tax Credit Program has been under review for possible reduction or elimination by the Legislature, because "they're a true competitive advantage for the state."
Conversely, there are other incentive programs that are ineffective and should be eliminated, she said.
"Some of them try to anticipate every possible scenario, and then you create an incentive that's very difficult to use. We have to evaluate every incentive that we have, and offer up those that are not effective and say, 'This isn't working.'"
The department's review of incentive programs will build on the work begun by outgoing director Bret Mills, whom Durham credited with strengthening the organization's accountability by restructuring its accounting and information technology areas.
Long-term proposition
Durham said she's supportive of the new Iowa Innovation Council, which she said should "remain a long-term business unit for the department." The council was established by the Legislature to coordinate economic development efforts for the state's three targeted industries – advanced manufacturing, biosciences and financial services.
"It is a long-term proposition; it's not going to be something that creates a lot of jobs overnight. … Sometimes people lose patience with this, and there's risk involved, which is why the private sector needs to be involved for seed capital."
Durham thrives on interaction.
"I will not be a director you'll see often in my office," she said. "I'll be on the road, I'll be out in communities, because I need to know what's going on. You'll see me do a lot of public speaking to say, here's what we're doing; here's why we're doing it."