Paying it forward: Norkaitis daughter keeps parents' legacy of giving alive with donation to MercyOne NICU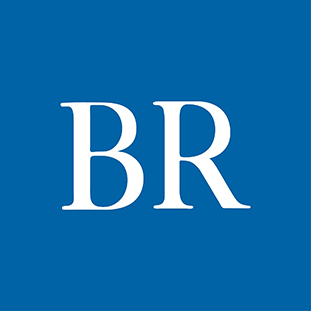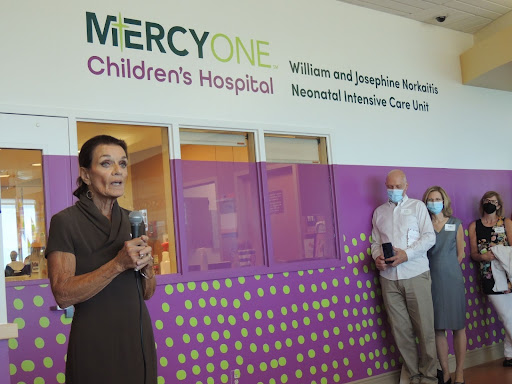 Top photo:Florence Burch speaks at Wednesday's ceremony naming the MercyOne Children's Hospital neonatal intensive care unit after her parents, William and Josephine Norkaitis. Middle photo: A new plaque hangs in the lobby of the MercyOne Children's Hospital intensive care unit. Bottom photo: Florence Burch, right, and Dr. Cary Murphy, medical director of the Norkaitis Neonatal Intensive Care Unit, speak before Wednesday's ceremony. Photos by Michael Crumb.
Bill and Josephine Norkaitis spent their lives helping others.

Whether that was Josephine handing out bread from the bakery where she worked in Rockford, Ill., to those who were less fortunate or the couple giving out meals to the hungry from the McDonald's restaurants he ran. Or the family of an employee who had cancer and couldn't work. For them, Bill paid the employee's wages for a year and then paid his wife all of her husband's profit sharing after he died. The couple never hesitated to use their good fortune to help others.

Now, their daughter, Florence Burch, is working to keep their legacy of giving alive with a $1 million donation to the MercyOne Children's Hospital neonatal intensive care unit, the largest single private donation in the hospital's history.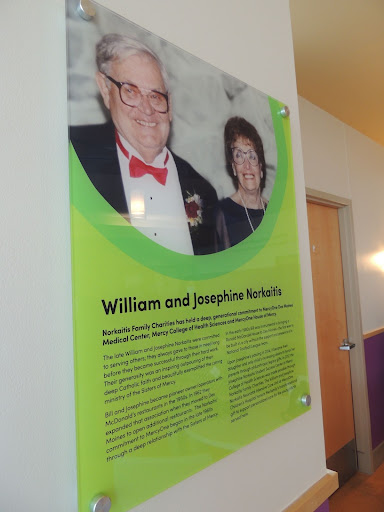 The neonatal unit has been named the William and Josephine Norkaitis Neonatal Intensive Care Unit, and a ceremony was held Wednesday to unveil the new name and celebrate what the donation will mean for the care of infants and their families. The ceremony was attended by more than 60 friends, family members and members of the hospital leadership.

During an interview in advance of the ceremony, Burch talked about her parents, their work to help others, and the legacy she hopes to carry on in their name.

Her parents, whom Burch described as having little means, developed their sense of giving as children and continued that as they grew up, had success in business and had a family of their own. Burch said she hopes to use that same love of giving that was instilled in her as a child to continue sharing with the community that her parents loved.

"I can do things for other people that I wouldn't otherwise be able to do," she said. "I hope they [her parents] are happy with my decisions. The whole thing is due to their efforts. I was just along for the ride. They worked hard. That's just what they did."

Burch said her dad found joy in helping others.

"He wouldn't do for himself what he would do for other people," she said. "That's where he found his joy. He found his joy in working and in giving. There is no question about it."

Her father was a manager of a Western Tire automotive store in Rockford, and Josephine worked at a local factory.

Burch isn't exactly sure how it all happened, but her dad met Ray Kroc, the founder of the McDonald's restaurant chain, in the 1950s. An opportunity came up to open a franchise and Norkaitis sold the family's home and used the proceeds from the sale — $25,000 — to become a partner in a restaurant in Cheyenne, Wyo.

A few years later McDonald's wanted to expand and an opportunity came up in Iowa, and in 1962 Norkaitis moved his family to Des Moines, opening a store on Grand Avenue. By the mid-1970s, he had opened a total of six restaurants. He ran the restaurants until the 1990s when he sold them, Burch said.

Bill Norkaitis died in 1998 at the age of 81 after a battle with prostate cancer that spread to his bones. Josephine died in 2014 at the age of 104.

A devout Catholic family of strong faith, the Norkaitises always gave back to the church and even helped their parish buy a bus. Burch said her dad also made it a habit of always giving food from his businesses to the priests, nuns and police officers in the community.

During their lives, they created the Norkaitis Family Charities, and their commitment to the hospital began with their connection to the Sisters of Mercy after Bill Norkaitis began experiencing health problems in his 40s.

Norkaitis successfully pushed for the opening of a Ronald McDonald House in Des Moines, one of only a few nationwide within a hospital, to serve families whose children were being treated at the hospital.

After their deaths, the William and Josephine Norkaitis Student Success Center at Mercy College of Health was opened through a donation from the family.

The recent donation to the neonatal intensive care unit is personal to Burch and her parents' legacy.

Burch's mother had five pregnancies. One baby died in childbirth. There were three miscarriages. Burch was the result of the fifth pregnancy and is an only child.

Her father, whom Burch described as a "big man" at 6 feet, 4 inches tall and about 260 pounds, was born prematurely and wasn't expected to survive. That was one factor in the decision to donate to the NICU at Mercy, she said.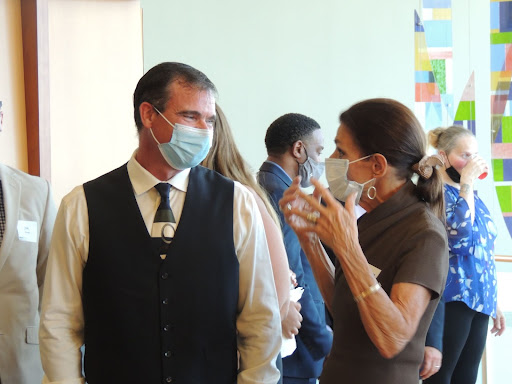 Dr. Cary Murphy, neonatologist and medical director of the Norkaitis Neonatal Intensive Care Unit, said the equipment that will be funded by the Norkaitis family's donation was the result of consultation and collaboration with Burch and the medical staff.

Items will include a specialized camera that takes pictures of a premature infant's developing eyes, looking for abnormalities. There are specialized beds that mimic the environment of the womb. The funding will help purchase specialized isolettes, some with ventilators built it, to help move babies who are born prematurely. There are specialized ventilators to help treat newborns whose lungs aren't fully developed, and then there are simulation dolls that help hospital staff practice certain situations before they occur.

"Flo likes to be involved in where the money is going," Murphy said. "People want to give money but they want to see the direct impact of it. When you have gifts like these where you know you can make big equipment purchases, you really want to look at what you're doing and optimize the money to the best of its ability."

The NICU serves 700 infants in 62 beds annually, caring for babies as young as 22 weeks old who need equipment to help them breathe.

Murphy said if it weren't for donations, such as those from the Norkaitis family, the financial effect on the hospital would be significant.

"We're going to deliver the care we need to deliver these babies and we'd be able to purchase the equipment, but it would put a stress and strain on all the hospital, all the patients, all the facets of care, so to be able to have these tremendous gifts we've been able to optimize the care of these infants," Murphy said.

During Wednesday's ceremony, Murphy became emotional talking about the impact the Norkaitis family's gift will have and the importance of people coming together to benefit those who need help.

"I can guarantee you that you're going to impact another generation of parents that are going to have that opportunity to pass on those types of characteristics of giving," he said.

For Burch, the donation and the collaboration with hospital staff will ensure her parents' legacy of giving will live on to help children and their families.

"They moved their feet in the direction that they believed," she said of her parents. "They did what they believed they should do."
Facebook Notice for EU! You need to login to view and post FB Comments!