'People who were already struggling to make ends meet … were the hardest hit' by storm
Area food pantries are experiencing an uptick in demand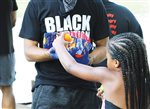 It wasn't long after a severe storm swept through Iowa on Aug. 10 that Izaah Knox realized the wallop it gave to Des Moines and its residents.
The uprooted trees and snapped utility poles meant residents and businesses likely would not have power restored for days, if not a week or more.
Without electricity, refrigerators and freezers could not operate and hundreds of pounds of meat, dairy products and other foods would spoil. Many losing food were people who could least afford to replace it, the executive director of Urban Dreams said.
One of the first things Knox did after the storm passed was to reach out to partners of the nonprofit community service group. The response was overwhelming, Knox said.
Atlantic Coca-Cola Bottling Co. donated 100 cases of shelf-stable milk and 50 cases of Powerade. Community Choice Credit Union provided free ice. Fong's Pizza handed out free pizza slices. Other organizations provided fresh fruits and vegetables and other food staples.
"When we called Coca-Cola Bottling, they said they had the milk and asked if we thought people would like it," Knox said. "I'll tell you what, that shelf-stable milk flew off the shelf. … It's the small things like that that are important."
Before March, when the pandemic shut down the country's economy, hundreds of Iowans struggled to put food on their tables. Since the outbreak of the novel coronavirus, nearly 1 in 5 Iowans have experienced food insecurity, an estimated 67% increase since March, according to Feeding America, a network of 200 food banks across the country.
Last week's storm, which the National Weather Service reported had wind gusts of up to 103 mph in some parts of the state, exacerbated the issue.
On Aug. 3 — a week before the storm hit Iowa, leaving at least three people dead — Urban Dreams distributed hot meals to 73 households through a citywide program. On Aug. 10, 278 households were provided meals, according to information provided by Food Bank of Iowa.
"It's the people who were already struggling to make ends meet that were the hardest hit," said Michelle Book, president and CEO of Food Bank of Iowa. "We have seen a big increase in orders coming from our pantry partners that are located in the storm zone, and many of them are without power as well."
Urban Dreams, located at 601 Forest Ave., was among the entities that lost power. The community service organization had three refrigerators filled with food when the power went out. The day of the storm, with help from community members, the food was distributed throughout the area, Knox said.
The Food Bank of Iowa didn't lose power to its 55,000-square-foot warehouse where thousands of tons of meat and other foods are stored. However, it did lose phone and internet service, which is how the more than 600 agencies the group distributes food to place orders.
Food Bank employees this week have been texting photos of food at the warehouse and agencies are placing orders via Food Bank employees' cellphones. The employees have been typing the orders into the system, Book said.
Before the Food Bank updated its system, the organization faxed a list of its inventory to member agencies who returned the list via fax with the items they wanted circled.
"We were so proud of ourselves when we got rid of that archaic system," Book said. "Now we're thinking we need archaic stuff again."
Many community agencies still are without power and cannot store frozen foods or dairy products, Book said. Instead, the Food Bank has been distributing large quantities of pasta and pasta sauce, peanut butter, canned meats and other food staples.
"We were tested when the pandemic started," Book said. "We were tested again and we've shown we can be quick and agile."
Sidebar: Huxley copes with long-term power outage
Huxley, a community of about 5,000 people located in southern Story County, was mostly without power for a week, City Administrator Rita Connor said.
A transmission line that serves most of the community was down, which meant "we're looking at a long-term outage," Connor said.
A grocery store and convenience stores were also without power, meaning residents' only option to purchase food was to travel to other communities.
Connor said most residents lost a substantial amount of food from their refrigerators and freezers. "A lot of people just go out occasionally to get food because of the virus, so many of our residents had a lot of food on hand," she said. Many residents couldn't cook because they didn't have power.
City officials worked with various organizations to do things like bring in food trucks, she said. Groups like the firefighters prepared hot meals for residents.
"We are worried about our senior citizens and our disabled residents," Connor said.
The power outage came during a time when the community is also conserving water. Earlier this summer, Huxley's water treatment facility was not able to keep pace with demand caused by water usage from new developments laying sod and installing new irrigation systems. Connor said about 40% of the city's water was being used by the new developments.
"We just got tapped out," she said. "We don't have any issue with people right now getting water. We just need to make sure that everyone continues to use water to drink and water for emergencies."
Facebook Notice for EU! You need to login to view and post FB Comments!