Perishable Distributors of Iowa undergoing $38 million expansion
The company was an 'early pioneer in commercial retail business operation investment in Ankeny,' according to a city official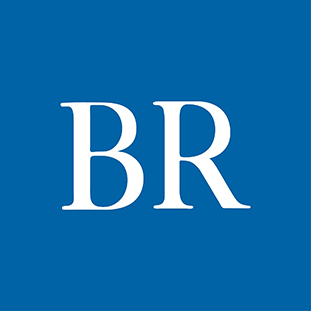 Perishable Distributors of Iowa Ltd. is expanding its cold storage warehouse in Ankeny, adding more than 175,600 square feet to the facility as well as trailer parking and loading dock areas.

The expansion will increase the size of the warehouse and distribution center by one-third, from 523,598 square feet to 699,283 square feet, according to city records.
The building permit issued for the addition is valued at $38 million.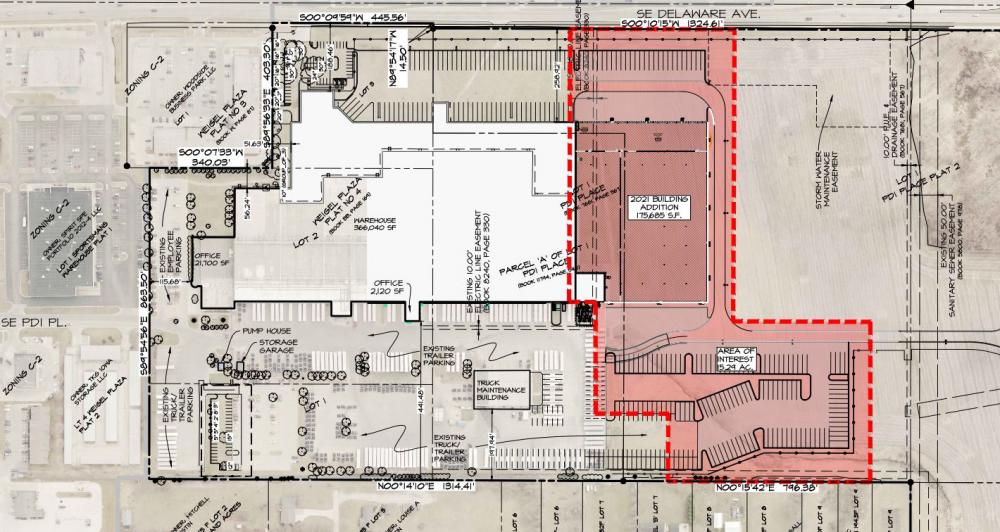 Since 2017, Hy-Vee Inc., of which Perishable Distributors is a wholly-owned subsidiary, has invested more than $124 million in projects in its Ankeny campus, state and local records show. The West Des Moines-based grocer in 2018 completed construction of a $64.3 million facility that houses its central bakery and production of foods and meal kits. The same year, Hy-Vee completed a 108,000-square-foot addition to Perishable Distributors. The $21.6-million project included additional freezer and dock space and a floral distribution center, according to state documents.

In all, 897,737 square feet of space for food production, cold storage and offices is located on the campus.

"In the last four years, there hasn't been any [company] that has made that much investment in Ankeny," said Derek Lord, the city's economic development director. Hy-Vee, which includes Perishable Distributors "is our third largest private employer and that doesn't include their retail stores."

More than 1,100 people work at the Ankeny food production-distribution campus, according to a Hy-Vee spokesperson. The company has openings for additional workers. John Deere Des Moines Works and Casey's General Stores, whose corporate headquarters are located in Ankeny, are the community's top two largest private employers.
Perishable Distributors of Iowa Ltd., located at 2741 S.E. PDI Place (see map),
began in 1982 with a goal to provide a distribution system that supplied perishable products in a cost-efficient and timely manner, according to its website. In the late 1980s, the company bought more than 120 acres in Ankeny; all but about 40 acres has been developed.

"They were a very early pioneer in commercial retail business operation investment in Ankeny," Lord said.

The company built its original 68,000-square-foot warehouse in Ankeny in 1988, according to a Hy-Vee spokesperson. Several expansions have occurred since then.

The latest addition is to "accommodate for additional freezer product since we continue to grow our stores throughout our eight states," a Hy-Vee spokesperson wrote in an email. Hy-Vee acquired Perishable Distributors in 1990.

Hy-Vee has more than 280 grocery and convenience stores in Iowa, Illinois, Missouri, Kansas, Nebraska, South Dakota, Minnesota and Wisconsin. This fiscal year, the company plans on opening 12 new grocery stores, including one in Grimes, and 11 Fast & Fresh convenience stores, according to an article in Progressive Grocer.

Perishable Distributors' expansion will be added on the south of the facility, whose property borders the west side of Southeast Delaware Avenue.

Construction materials will include the use of insulated metal panels that will aid in maintaining cold storage temperature s of between -15 degrees and 34 degrees, according to documents submitted to the city. The building's exterior will include precast concrete and metal canopies, both of which will match the existing building.

Construction is expected to be completed by June 2022, according to city documents. Future expansions of the facility are planned, documents submitted to the city say.

In fiscal year 2020, Perishable Distributors had sales of more than $1.5 billion and a product list of more than 7,600 fresh and frozen items, according to its website. The company says it is one of the largest food distributors in the Midwest.
Related article: Busy year of construction underway in Ankeny
Facebook Notice for EU! You need to login to view and post FB Comments!