Popular fine-dining steakhouse planned in West Des Moines
The Ruth's Chris Steak House is expected to open in late 2022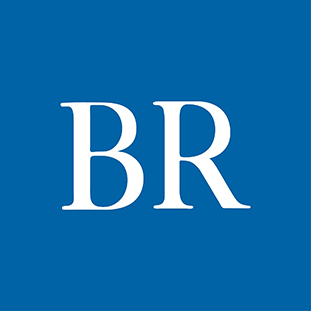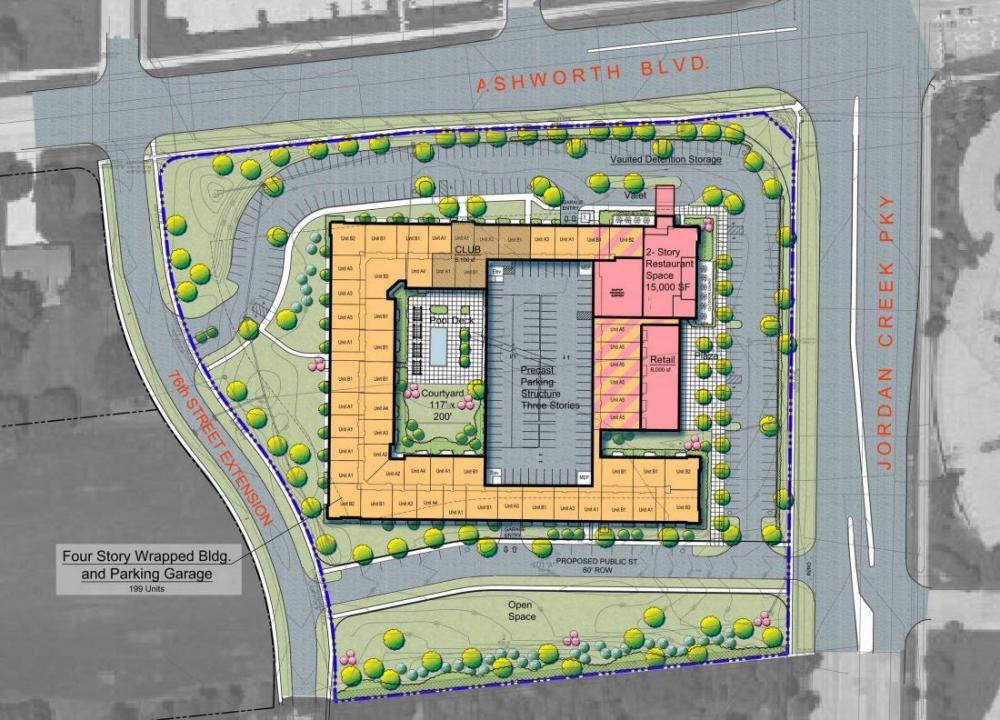 A Ruth's Chris Steak House will anchor a residential and retail development proposed on the southwest corner of Ashworth Road and Jordan Creek Parkway. Site plan special to the Business Record
Ruth's Chris Steak House, billed as the largest fine-dining steakhouse in the U.S., will anchor a new development planned on the southwest corner of Ashworth Road and Jordan Creek Parkway in West Des Moines, the Business Record has learned.

"Having Ruth's Chris Steak House choose West Des Moines as their first Iowa location reaffirms our city as a premier location for business," Steve Gaer, West Des Moines mayor, said in a prepared statement.

The development, planned on about 9.5 acres, is proposed to include 199 high-end multifamily units whose residents will have access to a courtyard and salt-water pool. The multifamily units will be located in a four-story building that wraps around a three-story parking garage and the pool and courtyard. The residential building will connect to the restaurant and other retail space, the site plan for the proposed project shows.

The steakhouse, the project's anchor, will be located in a 15,000-square-foot, two-story building with three patios. The restaurant will be visible from both Ashworth Road and Jordan Creek Parkway.

Also planned is a 6,700-square-foot landscaped plaza with public seating and an acre of green space for outdoor activities is planned. An 8,000-square-foot retail building that faces Jordan Creek Parkway is planned south of the restaurant.

The project is being co-developed by Great Lakes Capital and CRG Residential.

Backers have been working on the proposed project for more than a year, said John Lassaux, CRG Residential's director of development. "We've looked all over the Des Moines area for the right place for a Ruth's Chris Steak House, which you can't just put anywhere."

Lassaux said the site for the proposed development is near Interstate Highway 80 as well as Jordan Creek Town Center. "This is a prime location in terms of visibility and traffic. … Marrying a retail site and residential site is not always the easiest thing to do," he said. "We felt like this site met all the criteria for both uses – retail and residential."

Houses are currently located on a portion of the site on which the multifamily and retail development is planned. The development group has been acquiring the residential properties over the past year. Four houses along Ashworth Road and three along Jordan Creek Parkway will be demolished, Lassaux said.

Prime Hospitality Group LLC, a family-owned franchise group headquartered in Indianapolis that operates Ruth's Chris franchises in Missouri, Arkansas and Indiana, contacted CRG Residential about the possibility of opening a steakhouse in the Des Moines area, Lassaux said.

"Des Moines had come up on their radar and they obtained the franchise rights to this marketplace," he said.

Construction of the development is expected to begin in the fall, once all the necessary city approvals are in place. The restaurant is expected to open in late 2022.

"This is a pretty high-end restaurant," said Clyde Evans, West Des Moines' director of community and economic development. "Typically, they are in much larger metropolitan areas. I think by them locating here, they think that there's a really good market for them here."

Lassaux said developers have been concerned about the rising costs of material as well as their availability. "That's been a concern the past several months with all projects, including this one. Right now, we still feel confident with where we're at in terms of pricing with this project."

Great Lakes Capital is a real estate private equity firm headquartered in South Bend, Ind. The group focuses on several core asset classes including mixed-use, multifamily, industrial and medical office.

CRG Residential, based in Carmel, Ind., specializes in developing and constructing complex mixed-use residential projects.
Facebook Notice for EU! You need to login to view and post FB Comments!