Prairie Trail clinic takes shape in Ankeny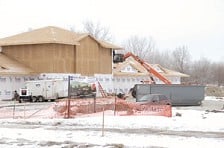 Iowa Health Physicians and Clinics is building a 14,000-square-foot comprehensive primary care clinic in Ankeny. The new clinic will be located at 2615 S.W. State St. in the Prairie Trail development. Scheduled to open in May, the clinic will be part of a complete "network of care" for Ankeny residents, said Eric Crowell, president and CEO of Iowa Health – Des Moines.
"Ankeny continues to grow and needs more specialized and accessible health-care services," Crowell said. "There's a growing senior population, and a high birth rate – Ankeny is growing across the age spectrum. With clinic locations throughout the community, now enhanced by the new physicians and staff who will be a part of Prairie Trail, we feel we're doing everything we can to provide great health-care services for Ankeny and other nearby communities north of the Des Moines metro."
The new Family Physicians at Prairie Trail and Internal Medicine at Prairie Trail clinics will house family medicine, internal medicine and occupational medicine physician practices, digital radiography services and an on-site medical laboratory. The clinic will operate with extended hours several days of the week. Iowa Health also plans to have visiting medical specialists provide care at the clinic in areas such as cardiology and orthopedics.
The clinic will be staffed with five family medicine physicians, four internal medicine physicians and one occupational medicine physician and have room for visiting specialists. In total, about 40 medical professionals will work at the clinic when it is fully staffed.
Simonson & Associates Architects LLC designed the building, which is being constructed by Hubbell Construction Services, a division of Hubbell Realty Co. Hubbell Realty will own the building and lease it to Central Iowa Hospital Corp., also known as Iowa Health – Des Moines.
Iowa Health Physicians and Clinics is also reconfiguring the Ankeny Pediatric Clinic into a women's and children's clinic, and has moved Blank Children's Hospital Pediatric Physical Therapy to a new location at 2701 Convenience Blvd.
"Prairie Trail is just part of several important changes that Iowa Health Physicians and Clinics will be making this winter and spring to enhance medical care in the growing Ankeny community," said Robin McNichols, executive vice president and chief operating officer for Iowa Health Physicians and Clinics. "We're very excited to offer our patients new services throughout the community to meet their health-care needs."