PROJECT UPDATE: VizyPay to move offices to new Waukee office building, event center

VizyPay, a payment processing company currently located in West Des Moines, will move its offices to the second floor of an office and event center under construction in Waukee. Construction of the building, shown above, is expected to completed by summer. Photo by Kathy A. Bolten Photos below: A conceptual rendering of the interior of VizyPay's new office space. Rendering by Downing Construction An architectural rendering of the completed building. Rendering by Wilkus Architects
What:

Construction of new Waukee office building, event venue


Where

: 2565 S.E. Encompass Drive, Waukee


Building permit value:

$12 million


Developer:

2565 SE Encompass Investment Group LLC, managed by developer Daniel Pettit


Architect:

Wilkus Architects


General contractor:

Downing Construction

Update and background: VizyPay, a credit card processing company currently located in West Des Moines, will move its headquarters to Waukee in 2021, locating in a building under construction at 2565 S.E. Encompass Drive, a managing partner in the business said.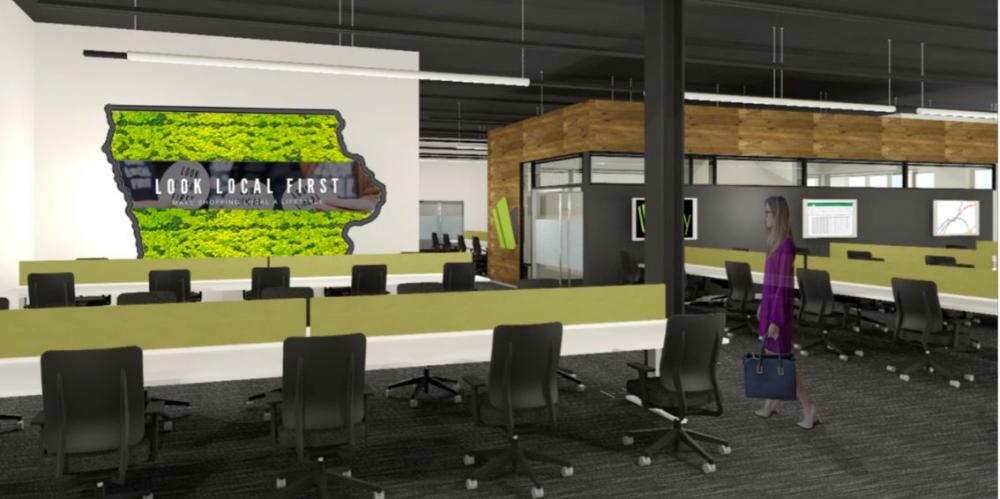 VizyPay, which began in 2017, will lease about 16,000 square feet of the building's second floor with options to expand in the future, said Austin Mac Nab of VizyPay. The lease is for 71/2 years, he said.
Daniel Pettit, the project's developer, confirmed the lease arrangements.
"Having that much space will enable us to expand our operations," Mac Nab said. "Moving to that area will help us retain employees, which is pretty darn important these days. The area has a lot of up and coming entertainment areas and it's all new development. It'll all be brand new and that's important when you're trying to bring individuals from San Francisco and Chicago to Iowa."
Construction on the 45,378-square-foot, two-story building began in July. It is expected to be completed by mid-2021. Mac Nab said. VizyPay will likely move to its new space in August or September.

The building is expected to include an event center and fitness center on the first floor and additional office space on the first floor, according to a site plan approved by the Waukee City Council in May.

VizyPay was started by three entrepreneurs who each either had credit card processing experience or were previously small business owners, according to the company's online bio. The three combined their experiences to develop a processing program aimed specifically at small- and medium-sized businesses.

Earlier this month, VizyPay announced it had processed more than $1 billion in payments since it began in 2017. The firm expects to reach $2 billion in payment processing in 2021.

The growth means the company will soon need to hire additional employees, said Mac Nab, the company's co-founder. Currently, VizyPay employs 35 full-time workers and expects to have about 45 by next summer, he said.

"We're growing quickly, even through [the pandemic]," Mac Nab said. "The new building will allow us to hire and expand our operations to up to 145 [employees] in Iowa."

Included in VizyPay's new headquarters will be an entertainment area that will allow the company to entertain clients, Mac Nab said. More importantly, however, outside organizations will be able to use the space free of charge, he said. The only caveat is that groups buy their food and beverages from one of VizyPay's small business clients.

The entertainment area will take up about 3,000 square feet, he said. The remainder of the space will be used for office and shipping.

"We'll have an open floor-plan design that will allow us to spread people out," Mac Nab said.

Related article: Site plan approved for Waukee office building

A Commercial Real Estate Weekly feature in which the status updates are provided of projects underway in the Greater Des Moines area. Want to include an update about your project or suggest a project to include? Email:

kathybolten@bpcdm.com
Facebook Notice for EU! You need to login to view and post FB Comments!