Proposed Waukee entertainment district grows in size, value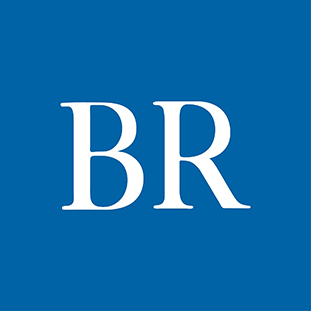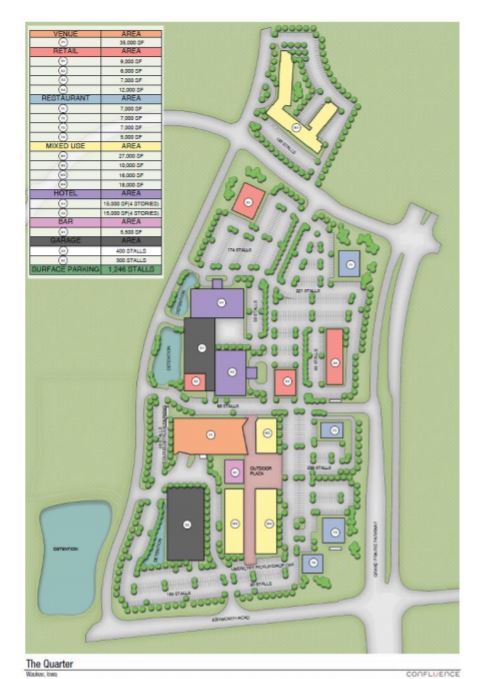 The Quarter, an entertainment district proposed in Waukee, has grown in size and value. Proposed site plan by Confluence
An ambitious proposal to develop an entertainment district in Waukee has grown in size and value and now includes additional developers, according to details shared recently with the City Council.
Called the Quarter, the proposed development now is now comprised of 18 buildings including a 35,000-square-foot entertainment center valued at $24 million; two four-story hotels, each valued at $14 million; two parking garages; restaurants; and mixed-use buildings including one that will include apartments with units as small as 350 square feet.
The project, proposed for the northwest corner of the Grand Prairie Parkway and Ashworth Road intersection, is valued at $103 million.
The release of details about the revamped project comes during the midst of a pandemic that has kept people at home rather than eating out, going to concerts or staying in hotels. Nationwide, entertainment centers and arenas sit empty, restaurant owners are struggling to stay open, and the average occupancy rate of hotels is less than 50%.
An amendment to a development agreement with the major players in the Quarter "is pretty stretched out," said

Brad Deets

, Waukee's development services director. "The dates have really been extended and pushed back to take the pandemic into account.
"The idea that you're going to be building a hotel and opening it next year or two is not realistic. … There's a lot of flexibility that's been built into the agreement based on the current situation."
Original proposal for the Quarter
Last November, the Waukee City Council approved a development agreement with Midtown Waukee Holdings LLC, managed by developer Daniel Pettit. The agreement provided the developer $19 million in economic development grants from the city over a 12-year period.
In return, Midtown Waukee Holdings agreed to deliver an entertainment district that was to be built on 12 acres and when completed would include six buildings that ranged in value from $3.5 million to $22 million. The $80 million project included an indoor event center, a four-story hotel and space for retail shops and restaurants. Construction was expected to begin in late 2020, with the hotel and event venue completed by the end of 2021.
The project has changed dramatically since November.
The council this month heard plans for a project that would be developed on about 28 acres and would include more hotel rooms, restaurants, housing and a larger event center.
"The Quarter will provide a regional attraction … which will provide leisure and enrichment opportunities for residents and visitors while also generating sufficient property tax revenue to pay for the construction of new city infrastructure," a synopsis of the project provided council members read.
The amended development agreement is with The Quarter at Waukee LLC, whose members include Pettit and Aristid LLC, managed by Harry Coin, a developer and former banker who lives in the Quad Cities. Pettit and Coin could not be reached for comment. The agreement also is with Waukee Prairie Apartments LLC, managed by Ben Eastep of Scott County, Iowa.
The amended development agreement, approved unanimously by the council without comment, calls for the city to provide up to $32 million in property tax rebates over 20 years to the developers. The financial package is about 39% of the project's cost.
The financial package is among the largest negotiated by the city, Deets said.
"The project is larger, and also there is the pandemic," he said. "We don't know how long it's going to take for hotels and restaurants to come back without any incentives. … The incentives that are being offered is a property tax rebate so no money is going upfront for any of the actual construction."
The city estimates the development to generate about $50 million in property tax revenue over 20 years.
Deadlines for projects

Deets said the development team is anticipating that it will take about 18 months to construct the event center.
"That gives them some time to accomplish what needs to be accomplished as we wait to get back to a little semblance of normal," he said.
According to the amended development agreement, construction of the indoor, live entertainment venue is expected to be completed by Dec. 31, 2025. Construction of both hotels and two parking garages, with about 700 stalls, is also expected to be completed by Dec. 31, 2025.
The development will also include surface parking with about 1,246 stalls.
More than 108,500 square feet of retail and commercial space spread over 12 buildings is planned in the development. Construction of 34,000 square feet of that space is expected to be completed by Dec. 31, 2022, according to the amended agreement.
Workforce housing planned in proposed development
As Waukee's population grows, an increasing number of service-related business are opening in the Dallas County community.
Last week a Sleep Inn opened along Grand Prairie Parkway, and Fleet Farm is scheduled to open in late August. Dental offices, grocery stores and day care centers are also in the area.
Nearly all employ people who earn moderate wages.
The proposed $103 million entertainment area called the Quarter also is expected to employ hundreds of people whose wages will likely hover around the minimum hourly wage.
Earlier this summer, the Waukee City Council identified providing affordable housing in the city as one of its priorities. Last week, the council approved changing the zoning of 2.8 acres near Southeast Esker Ridge Drive and Southeast Parkview Drive to allow the construction of a mixed-used building that would include retail and commercial on the first floor and residential units on the second through fourth floors. The parcel had been zoned for office.
A majority of the proposed 118 apartment units would be 500 square feet or smaller.
"This particular project would certainly include workforce housing units," said Brad Deets, Waukee's development services director.
Deets said high land prices make it difficult to provide affordably priced single-family houses in new developments.
"With multifamily it's a little bit easier," he said. "You can have different sizes of units or offer fewer amenities.
"This project will help us continue to diversify our housing stock."


A conceptual rendering of the proposed four-story mixed-use building proposed for Waukee. The building would include 118 apartment units, the majority 500 square feet or smaller.
Rendering special to the Business Record
Facebook Notice for EU! You need to login to view and post FB Comments!