Public art on trail in Waukee nearly financed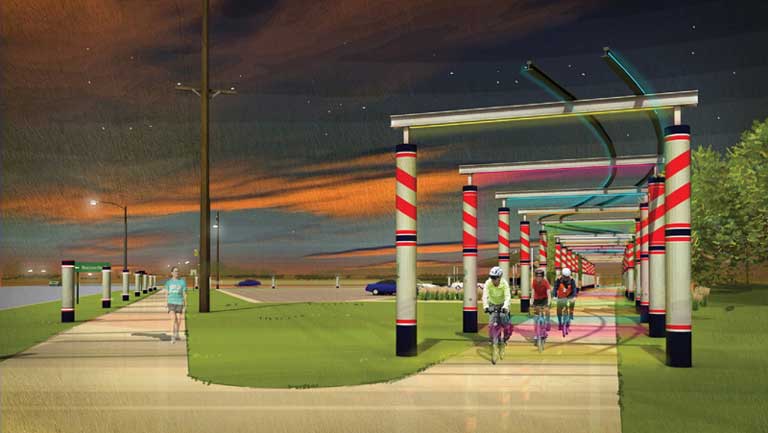 A recent $150,000 Prairie Meadows grant has brought a plan for a public art installation on the Raccoon River Valley Trail within 88 percent of its goal, reports Chuck Offenburger on the
trail's website.
A lighted pergola will stretch more than 340 feet along a trailhead on the west side of Waukee. In bright colors of red, white and black, reminiscent of its railroad theme, its canopy will be 15 feet high and 18 feet wide. The entire installation will be lighted at night, including a colonade of lighted "bollards" along U.S. Highway 6.
The total cost is $1.1 million for the installation by Iowa artist David Dahlquist and RDG Planning & Design in Des Moines. Dahlquist also designed the acclaimed public art over the High Trestle Trail Bridge between Madrid and Woodward. The cost includes planning and design expenses and work (including public restrooms) that is already done at the trailhead.
Jim Miller, chairman of the Waukee Trailhead Public Art Committee, told Offenburger that construction is likely to begin in 2016 and may not be finished until 2017.