Public transit creates a buzz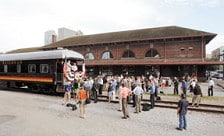 Planes, trains and automobiles – mainly buses – and even bicycles made headlines in Greater Des Moines in 2010.
Ridership numbers for any mode of transportation don't, and won't, tell historians the whole story when looking back at what could be viewed as a monumental year in public transportation in Des Moines, said Des Moines Area Regional Transit Authority (DART) General Manager Brad Miller.
"I would say 2010 has been the most significant year for public transit since probably the 1880s, when they invented the streetcar and started running electric streetcars in Des Moines," Miller said.
If Des Moines public transportation in 2010 were a movie, it could be a prequel. In some cases, the action has already happened, while in others, the storyline is set up to play out in the future. Consider:
• DART gained funding for a new, state-of-the-art transit hub, for which construction will start in 2011.
• A potential passenger rail line from Chicago to Iowa City received the necessary funding to get started, which Des Moines leaders celebrated as a major step toward getting service here.
• Public bicycles made their way downtown with a program expected to be expanded in 2011.
• Bus service from Des Moines to Chicago was more popular than the provider expected.
"There has been a lot of interest (in public transportation), I think a lot more interest – a lot more investment for sure – than maybe we've seen in the last four years," said Dylan Mullenix, senior transportation planner for the Des Moines Area Metropolitan Planning Organization (MPO). "Hopefully that's a sign of things to come."
DART takes big steps
DART faced its issues this year, with budget cuts forcing service reductions and a loss of ridership. At the same time, the organization made strides for the future.
The bus service completed funding for a $21 million transit hub downtown. DART received $10 million from the U.S. Department of Transportation, $6.5 million from the Federal Transit Authority and $4 million through the state's I-JOBS program.
"To go from no money for the hub to having the $20 million you need to construct it in one year is just unbelievably great," Miller said. "It set us on a new path."
Miller echoed the sentiment of DART Commission Chair and Polk County Supervisor Angela Connolly, who said at a presentation in October that "it's somewhat of a miracle really to have this all come together."
The hub, which will be built south of Cherry Street between Sixth Avenue and Seventh Street, comes with a number of necessary upgrades, officials say.
The new facility will ease some of the safety issues that exist at the Walnut Street Transit Mall by providing more space and a more systematic way for buses to enter, park and leave. It will provide riders with climate-controlled spaces where they can stay warm while waiting for the bus on cold days. DART will also provide easier-to-access customer service options than the current main office location south of downtown.
Miller hopes it will be one of many service improvements in the future to give communities a reason to buy into public transit in Des Moines.
DART dodged a bullet in September when Grimes decided to rescind a letter of withdrawal after having service added. It was the third city that decided to keep service after originally deciding to drop it, which Miller counted as a big victory for regional transit in the area.
He said this year might not look monumental to historians on paper.
"But they will remember, when they see that our ridership is much higher in the future, it could be pegged back to 2010," Miller said.
Passenger rail progress
At first glance, it might seem a little unusual for people to pack into the Hessen Haus restaurant downtown to have a pep rally of sorts for a potential passenger rail service between Chicago and Iowa City.
Yet, that was the scene in September and again in October, as the Greater Des Moines Partnership and the Environmental Law and Policy Center held a pair of rallies for just that cause.
The reason: As a passenger line between Chicago and Iowa City becomes more of a reality, extending that line through Des Moines becomes a strong possibility.
The Federal Railroad Administration awarded $230 million to the Iowa and Illinois departments of transportation in October to initiate intercity passenger rail service between Chicago and Iowa City.
"To get it to Des Moines, that was obviously the first critical step that has to happen is to at least get the funding to get it to Iowa City," the MPO's Mullenix said. "If that wouldn't happen, the dominoes wouldn't have fallen to get it to Des Moines."
As it is, the dominoes are still standing, but appear to be in a straight line for a connection to Des Moines.
The Iowa Department of Transportation (DOT) is in the middle of a study determining whether Des Moines will be a stop on the line, which would extend to Omaha. Des Moines is on one of five routes in the study.
Mullenix is confident that bringing the line to Iowa City essentially seals the deal for bringing the route through Des Moines.
"Realistically looking at it, since it's already funded through the Quad Cities and Iowa City, it's not like it's going to deviate off that path to go around Des Moines," he said.
According to DOT estimates, the line from Chicago to Iowa City will divert about 148,000 passengers away from driving, 59,200 away from flying and 22,200 away from riding a bus, and another 17,200 would be new riders who wouldn't otherwise be making a trip.
Megabus sees mega-impact
When Coach USA LLC's Megabus service came to town in April, Chief Operating Officer Dale Moser expected good ridership numbers based on high demand.
The numbers turned out to be even better than he expected. More than 70,000 people used the service in 2010, he said, which provides trips from Des Moines to Iowa City and Chicago. That was 25 to 30 percent higher than Megabus officials anticipated.
"It was somewhat of a pent-up demand for value-added economical service that is an alternative to driving, flying or taking a train," Moser said. "Quite frankly, that's a great response."
Megabus specializes in city-to-city bus service, and decided to take a look at Des Moines after receiving requests for service to Chicago from Des Moines and Iowa City. The company did its own survey and found that the market was there for the service.
The decision paid off.
"It's already exceeded our expectations. We're delighted about that," Moser said.
Two buses leave from Des Moines and two buses come into Des Moines every day, with fares sometimes as low as $1. Moser said Megabus has not yet decided whether to add service in the future, but if the demand is there, the company has the ability to add extra buses for a given time period, as it did during Thanksgiving week.
B-Cycle blazes trails in downtown
Carl Voss saw an opportunity to make Des Moines a leader and took advantage of it.
Voss is the chairperson of the nonprofit Des Moines Bicycle Collective, which operates the B-Cycle rental program.
Des Moines was only the fifth U.S. city to implement a downtown bicycle rental program, where users check out a bike from a kiosk, ride it to the kiosk closest to their destination and check it back in.
"I've probably talked to 18 different cities that were interested in what Des Moines did, and how we do it, wanting to know a lot of detail about how we were able to get this off the ground," Voss said. "So that's encouraging, to have a leading role."
B-Cycle kicked off as a pilot program in September with 18 bicycles at four kiosks. In the pilot stage, it tallied 359 users and 736 trips.
Voss counted the program as a success, to the point that he has goals of expanding operations in the spring. He's working on securing vendors to provide up to 100 bikes at 10 to 12 kiosks downtown, and has aspirations of opening kiosks in West Des Moines as well.
The pilot program didn't go off without a hitch, though, as program coordinators found minor glitches – things as small as replacing kickstands and revising the language for checkout instructions. It was all part of a learning process.
"Working with vendors, there need to be some little things that need to be improved to the kiosks and the bikes," Voss said. "Someone had to go out and use them. It might as well be (Des Moines)."
Airport stays steady
What was perhaps the biggest airport travel story on a national scale was barely a story at Des Moines International Airport.
In November, the Transportation Security Administration (TSA) ramped up safety procedures at airports across the nation, using advanced imaging technology and more extensive pat-downs.
The effect on Des Moines, though, has been minimal, said Jay Brainard, the airport's TSA director.
"There's a lot of hype about the changes and things like that. There really isn't a lot of change to it (in Iowa)," he said, pointing out that none of the commercial airports in Iowa have advanced imaging technology. "This has been a non-event for us. … I don't even think we've logged a single complaint."
Brainard said only 3 percent of travelers go through the enhanced pat-down procedures in Des Moines, and wait times for getting through security essentially haven't changed.
Beyond the TSA regulations, Des Moines airport officials are pleased with the trend of service additions and relative price decreases, said Roy Criss, Des Moines airport marketing manager.
The airport has seen prices increase overall from an $368 average round-trip price in 2009 (excluding Allegiant Air, which doesn't report numbers to the Airline Reporting Corp.). For the second quarter of 2010 – the newest numbers available – the average round-trip price was $392.
Des Moines' place in the national rankings, though, has improved steadily since fiscal year 2008, Criss said, when Des Moines was the seventh-most-expensive airport in the nation. Des Moines is now the 73rd-most-expensive, based on second-quarter numbers, after being the 26th-most-expensive in 2009.
"We're holding pretty steady," Criss said
He said it was unclear exactly why Des Moines prices weren't rising as much compared with other airports, but said it could partly be attributed to picking up service from AirTran Airways in February. AirTran added service to Orlando, and its affiliate SkyWest Airlines added service to Milwaukee.
Des Moines added more service than it dropped in 2010.
Branson Air Express now connects Des Moines to Branson, Mo., as well as Houston. Delta Air Lines dropped service to Cincinnati and LaGuardia Airport in New York, but added seats for service to Atlanta, Detroit and Minneapolis. Frontier Airlines added nonstop service to Denver.
Des Moines is also scheduled to start offering nonstop flights to Newark, N.J., through United Airlines in May.