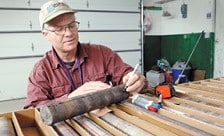 From where Walter Slack sits in a Dallas County farm field, he looks down at a hole in the ceiling of the Iowa Stored Energy Park.
The park, for all practical purposes, is about 3,000 feet below ground, contained within a saucer-shaped structure of rock that is 510 million years old and is part of a geologic marvel called the Mount Simon sandstone formation that stretches through much of the Upper Midwest.
As a geologist, Slack is no stranger to sampling the secrets contained in the earth. His past occupations have included underground mining and drilling. For the past year, he has supervised drilling and coring operations at the energy park along with fellow geologist David Merritt.
Their base of operations is the state of Nevada – both were involved in the testing of the proposed Yucca Mountain Repository in that state, which since 1987 has been designated as the sole site in the country for the disposal of spent nuclear fuel and other radioactive waste.
They are no strangers to big projects and the big ideas that fuel them. And they still marvel at the site of ancient materials.
"It's kind of hard to wrap your head around," Slack said. "For drillers and miners and geologists, you're still kind of amazed when you see that. … It's a particularly unique experience that most people don't have. It's kind of like being an astronaut."
The concept of a stored energy park is a bit of a thumb-sucker, too. The idea is that certain rock formations can be used to store energy – in this case, in the form of compressed air – and cough it out on demand for distribution to businesses and households.
There are two similar parks in the world, one in Alabama, the other in Germany.
In 2001, representatives from Iowa's municipal utilities began toying with the idea of generating their own electricity. They considered a coal-fired power plant, but scrapped that idea when a consultant determined that the energy market was saturated with enough power to meet the type of peak demand usage that was of interest to the utilities. In other words, it would be difficult to compete with the supply of energy generated by MidAmerican Electric Co. and Alliant Energy Corp.
That's when the utility owners came across the concept of compressed air energy storage, an idea playing out in old salt caves in Alabama and Germany. The concept is that any impervious structure could store energy in the form of air, something like a massive subterranean battery, and have it available when needed.
When it is needed, the air will be released through energy-efficient turbines and sold to the power grid. That electricity will be purchased off the grid by municipal utilities that are members of the Iowa Stored Energy Park. The facility should be able to generate 270 megawatts of power, more than would be needed to power every municipal utility in the state.
The idea is intriguing enough that it has attracted $7 million from the U.S. Department of Energy, $3.2 million from the Iowa Power Fund and another $2 million from the municipal utilities in Iowa, North Dakota, South Dakota and Minnesota that are part of the project.
Kent Holst was involved in those early discussions. He is the former general manager of Traer Municipal Utilities, and when he retired in 2004, his cohorts in the industry put him in charge of developing the stored energy park.
Hydrodynamics Group LLC of Edmonds, Wash., was contracted to study geological data to locate a potential site in Iowa for the park. An initial site was rejected after seismic analysis determined that its cap rock was not stable enough to contain air compressed at high pressure.
The site near Dallas Center then became the focus, in part because natural gas is stored about 20 miles southwest near Redfield, Holst said.
Last March, Slack and Merritt, working for Hydrodynamics, began their tests on an 85-acre former tree farm that was purchased by the Iowa Stored Energy Park. They initially thought that the dome of the sandstone structure would be located below a house that sits just south of Iowa Highway 44. Two drilling sessions found that the dome was farther southeast, just beyond a grove of trees.
On Feb. 14, a third round of drilling about a mile northwest of the farmhouse may have found a rim of the saucer and what might be considered the solid floor of a sponge-like aquifer where the compressed air will be stored.
Additional laboratory tests are required to determine whether the rock samples taken from the recent tests will hold up to pressures exerted by the water in the aquifer and the air that will be pumped into it. Combined, those pressures will be about 1,600 pounds per square inch.
Holst said those pressures will be created when ambient air is run through natural gas-fired compressors at pressures high enough to create an air bubble that will displace the water in the aquifer. The water will move down and laterally to make room for the bubble. An initial plan considered the use of wind turbines to compress the air, but the Dallas County site is not in prime wind energy country, Holst said, adding that wind turbines still could come into play at some point.
If tests show that the sandstone is strong enough to withstand the pressures, another step in the process could begin this fall, with the first injection of compressed air into the structure.
"We are trying to get our proof of concept to a stage where we have all of the evidence we need," Holst said.
That additional proof will come through a yearlong process broken into a series of 100-day test periods in which increasingly larger amounts of compressed air will be pumped into the cavity.
"As the bubble grows, we can increase the rate of injection," Holst said. "We'll let it sit for 100 days, then we'll let it sit for another 100 days to make sure it maintains pressure, then we'll inject more air and let it sit for another 100 days. We'll monitor it, and then we'll let it sit again for a while."
Holst's organization recently got some good news about the financial sustainability of the project. A report last month determined that though the project might not return a huge profit for its investors, it will at least pay for itself.
"That's what keeps us excited," Holst said.