Reynolds outlines broadband expansion, increased investment in child care and mental health during Condition of the State address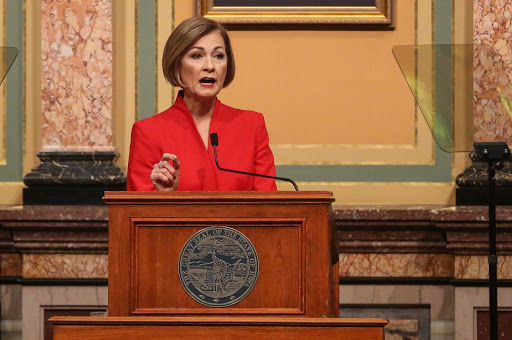 Gov. Kim Reynolds speaks during her Condition of the State address Tuesday evening. Photo by Bryon Houlgrave/Des Moines Register.
Gov. Kim Reynolds called Tuesday for an ambitious expansion of the state's broadband infrastructure and increased investment in child care and mental health services, telling lawmakers the state weathered the challenges of 2020 and is well positioned to move forward.

In her Condition of the State address, the governor also touched on parental choice for schools, workforce training and the continued move toward racial justice while ensuring the state's police officers are protected.

The address, outlining the governor's priorities for the current legislative session, usually occurs in the morning of the second day of a session, but Reynolds moved it to the evening this year to reach more of the state's residents.

The Legislature, where Republicans control both the Senate and the House, convened this week as the effects of the COVID-19 pandemic still loom over a state where the virus has claimed more than 4,000 lives. With cases still on the rise and a positivity rate hovering around 14%, lawmakers arrived at the Capitol hoping to avoid disruptions like the one that caused the 2020 session to adjourn in mid-March and not reconvene again until early June.

Reynolds touched on the effect the virus has had on the state, the economic downturn that has resulted, the racial justice movement that emerged following the killing of George Floyd by Minneapolis police, and the derecho and drought that caused significant damage to farmland and communities statewide.

Despite the challenges of 2020, the state showed signs of its resilience, Reynolds said, citing decreasing unemployment and a gross domestic product that grew by more than 36% in the third quarter.

Reynolds, a Republican who is serving her first elected term as governor, said the state weathered the challenges of 2020 because of conservative budgeting principles, the decision to keep 80% of its businesses open during the pandemic, and the tenacity of the state's residents. For those reasons, Iowa isn't facing a budget shortfall like other states, she said.

Instead, Iowa has a more than $300 million budget surplus, which some lawmakers hope to tap into to fund some of their priorities. While she talked of increased investment, Reynolds did not mention the budget surplus directly.

Reynolds formed the Economic Recovery Advisory Board, a group made up of a 15-member board and 350 working group volunteers, who worked to develop recommendations to help in the state's recovery. The final draft of the board's report hasn't been released (Reynolds said it will be released soon), but the governor on Tuesday outlined what she said were issues she wanted to get to work on immediately.

Broadband
Invest $450 million and leverage millions more in private investment over the next four years to ensure affordable, high-speed broadband is available statewide by 2025. She said that will give Iowa the largest build-out of broadband in the country.

Reynolds said the pandemic highlighted in the importance of high-speed internet for the business community, health care and education statewide.

"About a third of our counties are still broadband deserts, where high-speed internet is rarely offered," Reynolds said. "And for many Iowans, it's just not affordable. Iowa also has the second-lowest broadband speeds in the country."

Child care
Allocate $3 million to jumpstart the Child Care Challenge Fund that was created last year to encourage employers, community leaders and others to collaborate in the development of child care facilities. Use $25 million of child care development block grants to further promote child care startups.

Reynolds said Iowa leads the country in the number of households where both parents work, but the state has lost one-third of its child care spots of the last five years. The system was stressed even harder when schools closed last spring because of the pandemic.

"Even when the coronavirus is a distant memory, Iowa will still need an abundance of high-quality child care so that families can prosper and children can grow," Reynolds said.

"Let's remove the obstacles to high-quality, affordable child care so that Iowa families can nurture their kids while parents maintain the maximum freedom to enter and remain in the workforce," she said.

Workforce training
Continue investment in Future Ready Iowa, a program designed to increase the number of people with education or training beyond high school.

In her speech Tuesday, Reynolds said that while the state has strong universities and community colleges, more investment is still needed for on-the-job training and re-skilling.

"As our economy comes back, we're facing a familiar problem: more job openings than there are people who have skills to fill them," she said.

She also committed to continuing efforts to integrate work-based learning into the state's K-12 curriculum so that every high school student has access to that curriculum, and to make that an expectation in all Iowa schools.

"They see why education matters and it can be key in helping them choose and prepare for a career that fits them," Reynolds said.

Affordable housing
Expand initiatives to meet growing demand for affordable housing.

Reynolds cited an affordable housing apartment complex in Forest City where community leaders raised $4 million by leveraging local and state resources, and a public-private partnership in Davenport that helped convert an old school building into affordable apartments.

"Unfortunately, we have a growing mismatch between where job opportunities are thriving and where people can find affordable places to live," Reynolds said.

Tax reform
Reynolds said that Iowa's strong financial position will keep the state from having to make tough budget cuts this year, but that the state isn't looking to raise taxes, either.

"If anything, we need to continue the conversation about cutting taxes, and we can start by getting rid of the unnecessary triggers that were put in place in 2018," Reynolds said. "Let's make Iowa more competitive and guarantee our taxpayers that they can keep more of their hard-earned money."

Education
Reynolds spoke about the effect the pandemic has had on the state's public schools, and what she said is the need for children to be in the classroom, saying it should be up to parents to decide when and where to send their children to school.

"I am asking the Legislature to immediately send a bill to my desk that gives parents the choice to send their child back to school full time," she said. "We can't wait any longer. Our kids can't wait any longer."

Public schools went online to finish up the school year last spring as the pandemic spread. Many returned either online or in a hybrid format last fall. Some districts have remained in a hybrid format or continued to offer online options for students in 2021.

She called for open enrollment to be made available in all districts, and to allow communities more flexibility to open public charter schools, if needed.

"And we should create education savings accounts for students who are trapped in a failing school; let's give them another choice by making sure money isn't their barrier," Reynolds said.

Criminal justice reform
In 2020, the Legislature passed the More Perfect Union Act to improve law enforcement in Iowa, and on Tuesday Reynolds said she will introduce a bill that would protect law enforcement while continuing "our march toward racial justice."

"The bill will make clear that if you riot or attack our men and women in uniform, you will be punished," she said. "We won't stand for it."

According to Reynolds, the bill will also ban racial profiling and other forms of "disparate treatment."

"Let's come together again, like we did last year, to support our law enforcement and racial justice. Let's make Iowa a safer place for everyone," she said.

Mental health care
Reynolds is proposing an increase in mental health funding by $15 million this year, followed by another $15 million next year to fund reforms approved in the mental health system the past three years. In part, that will help find innovation solutions to the unique needs of children who have been affected by the pandemic, she said.

"While the virus threatened our physical well-being, the realities of last year placed unimaginable stress on so many Iowans."

Reynolds also called on Iowans to continue to help those who are struggling by volunteering and donating to the state's food banks, and to think bigger and better as the state continues its recovery from the pandemic.

"If we can do that — if we can work with and for each other — then we will do great things," Reynolds said.