Scott Avenue portion of Central Iowa Water Trails project gets final nod from city design board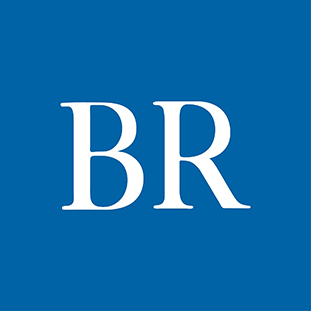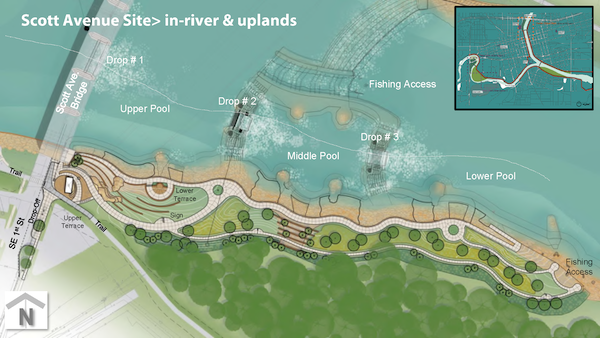 A digital rendering of the features of the Scott Avenue portion of the Central Iowa Water Trails project. The design for this section of the project was approved by the city of Des Moines' Urban Design Review Board today. Image provided by RDG Landscaping and Design
The Central Iowa Water Trails project took another step forward today with the city of Des Moines' Urban Design Review Board giving its final approval for the design of the Scott Avenue bridge portion of the project.

The Scott Avenue bridge section is the largest of the first phase of the initiative, and is intended to create a safer, more user-friendly area for activities from kayaking to fishing. According to board documents, the Scott Avenue portion of the project is funded in part by a $25 million BUILD grant from the U.S. Department of Transportation. The overall cost of the Scott Avenue project is estimated at $27.5 million.

It will include whitewater features created by drops and underwater features, a separate area for fishing, benches, special signage and lighting in the multi-tiered development, and an area for educational programs.

Central Iowa Water Trails is the result of a partnership among the Great Outdoors Foundation, the Greater Des Moines Partnership, Catch Des Moines, Capital Crossroads, the Community Foundation of Greater Des Moines and the Des Moines Area Metropolitan Planning Organization. It will span 150 miles of waterways and 86 access points involving 17 jurisdictions.

The project came into focus following a funding study to determine if it was feasible to raise publicly and privately the $117.5 million needed for the project.

In addition to the BUILD grant, more than $25 million has been raised privately. There also have been various other public-private grants.

This project is scheduled to go back to the City Council in August for agreements and approval of plans. It will be bid by the DOT in December, with construction set to begin in July 2022.

"There's a levee project that will take place first and then there is the construction of both in-river and the upland improvements, and those will last from July 2022 to July 2024," said Mike Bell, a landscape architect with RDG Landscaping and Design, a consulting firm working on the project.

The Urban Design Review Board's unanimous vote (two members were absent) followed a detailed presentation by Bell, who outlined the specific features of the project, including materials that will be used for walkways, steps and walls, saying they would be similar to the Principal River Walk. Native limestone found at quarries within a 300-mile radius would be used in some areas, Bell said.

He said soils and plants will be used to help reduce stormwater runoff, and yet be durable when the river floods.

According to Bell, some of the Scott Avenue dam will be "chiseled away" to provide more continuity in water flow and to provide greater opportunity for fish migration from the south side of the dam to the north side.

The Gatewell sanitary station would also be enclosed with a visually appealing structure, including stone steps and wall, with a larger steel enclosure that would still provide access to maintenance and operation. The improvements are also intended to protect it from future flooding.

"The goal here is to have a series of layers that are set off from each other that emulate movement of water or topography, an organic element," Bell said. "The challenge is it needs to fully open on one side, there's a gate on the other. It will be a work in progress up until the moment it goes out to design. This is really getting to the final design intent to be able to create unique shadows, create interest and conceal what maybe isn't the most aesthetically pleasing thing in the world."

Board member Scott Allen expressed concern that some materials that were used along the Principal Riverwalk and near the World Food Prize Foundation haven't held up, but Bell assured him different types of stone that would be more durable, and aesthetically pleasing, would be used.

Another board member, Tim Hielkema, asked if accommodations were going to be made for motorized boats to access the fishing pool area.

Bell said he was not in charge of policy but he believed boats with motors would not be allowed.

"I assume policy-wise we will say we will not allow motorized vehicles because we're not getting into the dam that much and in the fishing area we're not providing the clearance," he said. "We just won't have the depth of water over certain elements."

He said there has also been a desire to keep motorized boats separate from people in kayaks or on paddleboards.

"There has been a desire for motorized boats to start here and go north … and we really don't want the conflict of motorized boats and nonmotorized boats being in the same place," Bell said.
Facebook Notice for EU! You need to login to view and post FB Comments!