Signify Pink shows new colors to battle cancer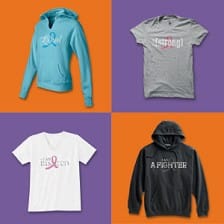 A single line of cause-related apparel wasn't enough to satisfy fans of Sigler Cos.' Sigler Pink brand of merchandise, so the company launched a campaign to help people raise money for those battling cancer and other illnesses.
Innova Idea & Services, the marketing arm of Ames-based Sigler Cos., recently unveiled One Cause Fits All, a fund-raising program with color-coded causes to augment Signify Pink's "Fight Like a Girl" campaign.
Signify Pink began to take shape in February 2008, soon after Kelly Flaucher, a mammography technologist at Waterloo-based Covenant Medical Center, discovered an irregularity in a coworker's breast tissue. Flaucher called Glenda Elliott, who now works as a Signify Pink account executive, to inquire about designing a T-shirt for a fund-raiser.
Flaucher provided the slogan. Innova spearheaded the design. They started with 100 shirts.
"They were scared to death they wouldn't sell them," Elliott said. "They took them to hockey games and everywhere they went. And before they were done, they had raised almost $20,000 for her, between T-shirts and a chili supper that they had."
Staring with four products, Signify Pink's "Fight Like a Girl" line has grown to include a 39-page catalog full of shirts, shorts, hats, jackets, hooded sweatshirts and other items embossed with the popular phrase.
Since its official kick-off in September 2008, Signify Pink has promoted approximately 600 fundraisers in 37 states, helping to raise more than $500,000 in donations for women afflicted with breast cancer.
With the launch of One Cause Fits All, which includes maxims such as "I Am Inspired," "I Am a Fighter" and "I Am Loved," Signify Pink hopes to help individual fund-raisers and charitable organizations raise awareness of other forms of cancer, as well as non-cancer-related ailments.
"We don't want it to be just about cancer; it's about a cause," Elliott said, adding that each design includes the image of a ribbon that could easily be color-coded to denote diseases such as multiple sclerosis or AIDS. "It just gives us a really broad way to expand the line," she said.
It works like this. Signify Pink sells its merchandise to fund-raisers at wholesale cost. It suggests an approximately 30 percent mark-up on the products, and fund-raisers can donate the profit as they see fit.
Cross said Signify Pink donates a portion of its profits from online fund-raising campaings to Free Clinics of Iowa. A portion of its profits from sales on www.SignifyPink.com, Signify Pink's online retail store, go to the Holden Comprehensive Cancer Center in Iowa City.
"We reinvest what we don't give," said Beth Cross, president of Sigler Cos. and its affiliate companies. Any remaining profits, she said, are used to restock inventories and develop new cause-related campaigns.
On Dec. 26, Sarah Palin could be seen wearing a "Fight Like a Girl" sweatshirt on her television show, "Sarah Palin's Alaska." Cross made it clear she wasn't endorsing the former Alaska governor. At the same time, she wasn't disappointed with the exposure given to Signify Pink by the controversial political figure's wardrobe choice.
"It has brought attention to our brand," said Lisa Crandall, an Innova spokeswoman, adding that each time the show has been rebroadcast, Signify Pink has seen a spike in online sales.Now Signify Pink is expanding to include apparel with colors and messages for more people.
"People kept saying, 'Why don't you have a line that supports other cancers besides breast cancer?'" said Cross, who while traveling on out-of-state business trips has seen the "Fight Like a Girl" T-shirts she was wearing evoke emotional responses in a number of individuals.
Her employees have been affected personally by the disease.
"One of the hard things for us, internally, is that we've had co-workers who have been affected by breast cancer, kidney cancer and other kinds of cancers," Cross said. "So this is pretty close to our heart … it's personal for us because we've been affected as a company by losing a co-worker. But we've also been able to celebrate some survivors."
In 2008 and 2009, three Mercy Medical Center departments, including the Katzmann Breast Center in Clive, teamed up to sell "Fight Like a Girl" T-shirts, raising a total of nearly $20,000 to establish a fund to help cancer patients pay for items such as breast prostheses or gas station gift cards to help them get to and from medical appointments.
"They used that money to help patients who otherwise couldn't afford it on their own," said Sarah Todd, a spokeswoman with Mercy Medical Center.
Innova, which designed the logo, catalog and website for One Cause Fits All, is also in charge of marketing the campaign. All orders of Signify Pink merchandise are fulfilled from Sigler Cos.' production facility in Ames.
"The goal has always been to help cause-related nonprofits be able to find a way to take apparel or branded merchandise to raise money for their causes," Cross said. "It extends beyond cancer to other causes."
According to the American Cancer Society, there were an estimated 1,529,560 new cancer cases in the United States last year, and nearly 570,000 people died of the disease. Breast cancer and lung cancer are the most common forms of the disease.