Soaring lumber prices haven't slowed new home construction in Des Moines area
Builders' winter has been busier than normal, says homebuilding association president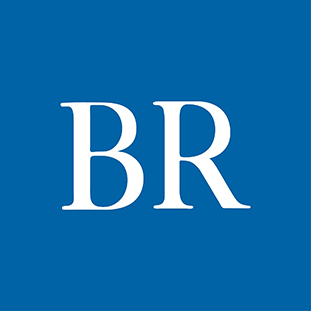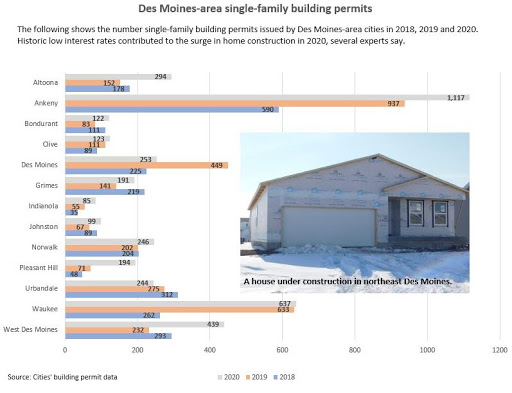 A year ago, Beisser Lumber Co.'s premium framing package for a 1,700-square-foot ranch house cost about $24,000, said Dennis Oder, the company's vice president.

Today that same package is priced at $42,000, he said, a 75% spike from last year.

"We're probably at historic highs right now, across the board," Oder said. "Typically, this time of year we see some leveling off [of prices] but, so far, we haven't seen it. The demand is still high."

The huge uptick in lumber prices, caused by numerous things including the pandemic, hasn't put a damper on homebuilding in Greater Des Moines, with most communities issuing more building permits than they did in 2019. Several, including Ankeny, Norwalk, Pleasant Hill and Waukee, issued a record number of residential permits.

Overall, the 13 communities surveyed by the Business Record issued 4,050 single-family building permits in 2020 valued at more than $983.5 million. The number of permits issued in 2020 is the most since at least 2014, according to a review of records. The previous seven-year high occurred in 2019 when 3,408 single-family building permits were issued.

And 2021 is off to a strong start with the 13 communities issuing 200 residential permits in January, 51% more than the 132 they issued in January 2020, a review of permit data shows.


Homebuilders anticipate demand for new houses to remain strong through at least the first half of 2021, even with the jump in lumber prices, said Kalen Ludwig, president of the Home Builders Association of Des Moines.
Low interest rates for home mortgages are helping fuel the demand for new houses, Ludwig said. Last week, the average interest rate for a 30-year fixed-rate mortgage was 2.73%, according to Freddie Mac, the federally chartered mortgage investor. The average rate has remained the same for three weeks.

"Every builder I've talked with has had the busiest [winter] that they've ever had," said Ludwig, also of Ground Breaker Homes and People's Co. "We know the first half of the year is going to be great. … As long as interest rates stay low, I think we're in for another great year."

Still, the increase in lumber prices is causing builders to raise the price of new homes. A year ago, Ground Breaker Homes listed townhouses for about $215,000, Ludwig said. Now the townhomes are listed for $235,000, a 9.3% increase.

A low inventory of both new homes and existing homes for sale, coupled with low interest rates, has kept buyers in the market, Ludwig said. However, higher interest rates and continued rising material costs could eventually begin to push buyers out of the market, she said.

"I think there's some anxiety for what's to come," Ludwig said.

Mark Leachman, vice president and purchasing agent at Leachman Lumber Co. in Des Moines, said so far, he's getting the lumber he needs for the company's customers. However, the company has changed its policies for locking in prices.

"There's been weeks when the price of lumber goes up 10%," he said. "You can't depend on the market holding steady."

Leachman Lumber is locking in bids for lumber packages for 10 days. A year ago, bids were locked in for 30 days, Leachman said.

Experts say the increased cost of lumber and associated items like windows, doors, cabinets and trim has been caused by several things including COVID-19-related shutdown orders and safety protocols that have slowed production at mills; a larger than normal wildfire season; and an increase in remodeling of existing homes and construction of new ones.

"It's been a perfect storm, Leachman said.

The National Association of Home Builders reported that between April and mid-September, lumber prices increased more than 170%, adding $16,150 to the price of a typical new single-family house. And while prices dipped in October through December, they began rising again in January, reported the group, whose pricing source is the Random Lengths Framing Lumber Composite. Last week, prices were at levels similar to September, the association reported.

Oder of Beisser Lumber, which has locations in Grimes, Coralville and Fort Dodge, said lumber mills can't produce enough product to meet demand. Eventually the higher costs could begin to push buyers out of the market, he said.

"I think there could be a pause," Oder said. "You're starting to put up houses that a year ago were sold for $50,000 less than the ones that are being built. I would think that, eventually, people will start looking at that and decide not to buy new.

"But things are so good right now because of the low interest rates, buyers are just going forward with their purchase."

More online
To see a five-year overview of single-family building permits (and their values) issued in 13 Des Moines-area communities, click here.
Facebook Notice for EU! You need to login to view and post FB Comments!