Takeaways from an IWD workforce roundtable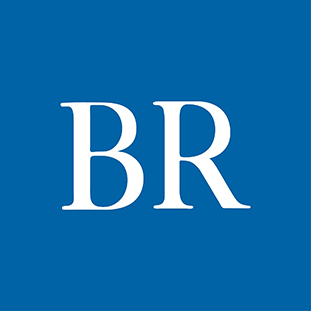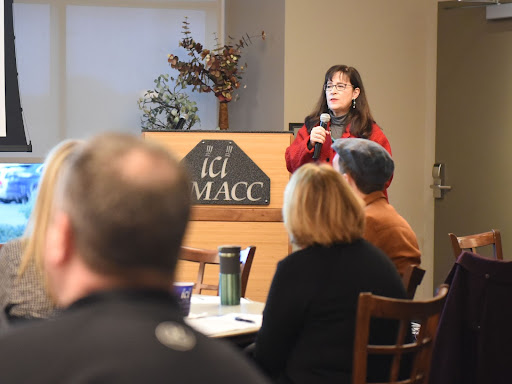 IWD Director Beth Townsend speaks at a workforce roundtable held last week at DMACC in Ankeny. Photo submitted by Iowa Workforce Development
Getting Iowans who are currently homeless back into the workforce should be part of the solution in addressing Iowa's workforce crisis, says Melissa O'Neil, CEO of Central Iowa Shelter and Services in Des Moines.

O'Neil was among the participants of a regional workforce roundtable event hosted by Iowa Workforce Development last week in Ankeny. The event, one of two dozen the agency is conducting across the state through November, drew about 70 participants at the Iowa Culinary Institute at Des Moines Area Community College.

Beth Townsend, director of Iowa Workforce Development, along with Deputy Director Ryan West and other IWD officials, personally led the roundtable event with DMACC President Rob Denson. The events are designed to promote awareness of the agency's programs and to solicit input directly from business leaders about what's working and what could be improved. The state's child-care task force, work-based learning programs and registered apprenticeships were among the topics highlighted.

Strengthening existing pipelines of workers and tapping new sources of workers came out during a discussion that followed an overview of IWD programs. Currently, there are about 86,000 positions available across the state, while about 68,000 Iowans were unemployed in August. (September figures, released after the roundtable last week, dropped to 66,000 unemployed).

O'Neil, whose organization serves about 2,300 individuals annually, said that about one-third of homeless Iowans served are in that situation because they are either under-employed in a minimum-wage job or have lost their job. "I've got your workforce," she said of these potentially employable workers.

Reaching military members during their final six months of active-duty service is another potential source of workers, Townsend told attendees. Through the Department of Defense SkillBridge program, an Iowa employer can recruit a military member who wants to work in Iowa. Under the program, the Department of Defense continues to pay the member's military salary and benefits for up to six months while the person trains for their new civilian job. A handful of Central Iowa employers, among them Northwestern Mutual and Builders FirstSource, are participating in the program so far, according to an interactive map on the SkillBridge website.

The event moved along quickly, but I jotted down some other takeaways that you may find of interest:

Child care recommendations: Townsend said that the final report of the Governor's Child Care Task Force recommendations should be coming out within the next couple of weeks. Recommendations from that report will be used to develop a legislative package to bring to the next General Assembly, she said.

Technology upgrades at DMACC: DMACC's Early Child Education program at the Ankeny campus has been using Swivl, a technology app that has enabled DMACC students in the early childhood learning programs to more easily make high-quality video recordings of their interactions with children they work with at local child care centers for mentoring purposes, as well as to help support staff training, said Katie Champlin, a professor in that program. The program has used Swivl since 2017, and during the pandemic acquired more of the units to support students. "It resulted in increased support in quality practices in those programs directly," she said. Recently, her program and classroom were selected as a model for a $38,000 technology upgrade that DMACC will do to enable distance learning and in-person learning to take place simultaneously in classrooms at other DMACC campuses and programs, she said.

Work-based learning: Work-based learning programs coordinated by DMACC serve more than 2,500 students a year through in-person events; the programs have also been delivered virtually during the pandemic. The events begin with a tour of the DMACC campus and then visit one or two businesses.

The Governor's Economic Recovery Advisory Board, which issued a report early this year, has recommended that 75% of Iowa's school districts should have one or more school-business partnerships by 2023, and that all high school students should be participating in work-based learning by 2024. As stated in the final report, "All Iowa students should have equal access to WBL regardless of where they live or how large their school or community. Businesses need to step up and commit to creating these opportunities with their local school districts to help create, expand, and develop Iowa's future workforce."

Last Dollar Scholars: DMACC is one of the largest participants in the state's Last Dollar Scholars program; in the past two years, 2,883 DMACC students have received Last Dollar Scholarships to take DMACC career programs, said DMACC President Rob Denson.

Statewide, more than $65 million in Last Dollar Scholarships have been awarded through the Future Ready Iowa program, which began distributing funds in the fall of 2019. Townsend said she would like to see $50 million in additional funds appropriated for the program during the upcoming legislative session. "I have no doubt that we could award all of that," she said.

Registered apprenticeships: Registered apprenticeship programs are currently offered by 57 high schools across the state, in 27 occupational programs ranging from accounting to welding. Currently, 160 apprentices are working at Iowa companies through the registered apprenticeship programs.

A personal connection to IWD: Ryan West, deputy director of Iowa Workforce Development, encouraged participants to connect with him and the department in three ways: On his LinkedIn page, by signing up for IWD email updates for announcements of new programs, and to view past and upcoming IWD Mission: Employable podcasts on Apple or Spotify to hear discussions with leaders from across the state. The agency has had about 9,000 of its podcasts downloaded to-date through the Apple and Spotify apps, West said.

Here's a link to the slides detailing the information provided at the roundtable event.
Facebook Notice for EU! You need to login to view and post FB Comments!