Alliant Energy tests solar, battery technology at Marshalltown power station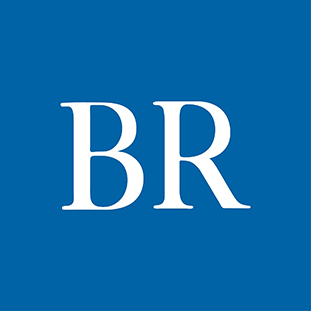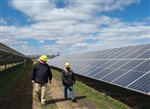 Next to Alliant Energy's generating station in Marshalltown, the utility company has been testing new technology with the goal of building on its Clean Energy Blueprint to provide more sustainable and renewable energy to its customers.
The Wisconsin-based company, which serves nearly 1.4 million electric and gas customers in Iowa, Wisconsin, Illinois and Minnesota, finished construction on what it calls its solar garden near the Marshalltown facility last fall. Since then, it has been testing in tandem the combination of collecting solar energy and battery storage to store and deliver electricity to customers.
"This solar-battery combination allows us to provide our customers with solar power during the day and night," said Terry Kouba, president of Alliant Energy Iowa and senior vice president of the parent company's utility operations. "The solar field adds power to the grid when the sun is shining, and then our battery allows our customers to continue using this renewable energy resource in the evening when the sun isn't shining."
The solar garden is part of the company's Clean Energy Blueprint, which includes adding 400 megawatts of solar energy by the end of 2023 and an increcremental 100 megawatts of solar and storage by 2026, closing its coal powered generating station in Lansing by the end of 2022, and switching the Burlington coal plant to natural gas by the end of 2021. Those moves will lower the company's cost of providing energy by about $300 million over 35 years.
Kouba said the Marshalltown solar array is small-scale, producing about 2.5 megawatts of energy, enough to power 200 homes for a couple of hours.
"It's not large-scale, but think about the future when we start talking about 100-megawatt batteries," he said. "The Marshalltown battery is about a quarter of a megawatt. So when we start installing megawatt batteries, 50-megawatt batteries, as we scale that to provide those future energy needs, we'll see how that really does benefit the customer."
The solar garden is made up of 9,500 panels, which became operational in February 2020. The battery was put into service in October.
It is one of three battery sites Alliant Energy has in Iowa, with each being used to test different combinations of solar power and energy storage technology, officials said.
The Marshalltown site is the first battery that is directly connected to a utility-sized solar field.
Alliant built its first solar system in Iowa at the Indian Creek Nature Center in Cedar Rapids in 2003. In 2015, it installed additional solar panels to increase Indian Creek's capacity. Alliant also has two solar gardens in Dubuque, which have been generating clean energy since 2017.
Kouba said the lithium ion batteries used by the company to store energy can last several decades, depending on how often they cycle or are charged and discharged.
"It will vary, but it's hard to nail down the exact number of years it would be useful," he said. "Battery technology continues to improve, so we'll continue to see batteries last longer if you are charging them and discharging them quite often. When you think about all the research and development going into battery technology, it's just amazing, and that's why we're starting to see the costs of these large-scale batteries going down and efficiency really going up, really making them a cost-competitive energy option for our customers."
Since last fall, engineers and analysts have been monitoring how the system is operating and how to charge and discharge batteries to increase efficiency, Kouba said.
He said the driving force behind the company's Clean Energy Blueprint is the desire by customers for clean and renewable energy sources.
The solar initiative is on top of the installation of 1,000 megawatts of wind by the company in recent years. Once the 400 megawatts of solar is installed, 46% of Alliant's capacity will be from renewable energy.
The company plans to reduce carbon emissions 50% by 2030 and is working to close all of its coal plants by 2040.
"We're very focused on affordability for customers, renewable energy, cleaner energy and taking care of the environment. Those were all things that drove us as we came up with this Clean Energy Blueprint," Kouba said.
He said Alliant works to manage any price increases that would be passed on to customers to keep them as low as possible.
"We'll never say your bills will always end up going down, but we'll be very diligent on making sure we take care of customer affordability and reasonable prices for their energy, making sure we still have reliable and safe energy also, and doing our best to manage customer affordability the best we possibly can," Kouba said.
He said the solar farms Alliant installs can also be an economic driver on the local level, by providing jobs and lease payments to landowners when the company leases land for the projects.
"There's economic benefits associated with these solar facilities on top of the energy benefits for our customers, so couple with that with the environmental benefits of no carbon emissions, no water usage — it's just a really good set of projects when we start talking about the solar projects."
Facebook Notice for EU! You need to login to view and post FB Comments!